Jennifer Hatch: There's been cold feet all over the state.
Brooke's Note: What exactly does it take for an advisor to be covered by the New Yorker? Quite a lot as it turns out. You can be Bernie Madoff or do something good in cool and interesting ways like Christopher Street.
Since 1925, New Yorker magazine has chronicled the crème de la crème of the arts and society scene. But in a recent departure, the publlication's fictional figurehead, the top-hatted Eustace Tilley, turned his monocled eye to an intersection of finance and culture: Christopher Street Financial LLC, an advisory practice that serves the gay and lesbian community in the tri-state area. See: Advisor spotlight: How a former JPMorgan bond saleswoman transformed an iconic advisory into a business.
"I was surprised and charmed," Christopher Street's president, Jennifer Hatch, a longtime subscriber to the New Yorker, says about being approached by a staff writer.
"They took a subject that was event-driven and complicated and made it quaint and whimsical." After the article came out in the magazine's April 23 issue, Hatch received a "couple dozen e-mails from friends and relatives" — some of whom she hadn't been in contact with for a long while. Hatch thinks it might have generated a couple of leads.
From Wall Street to Christopher Street
Christopher Street Financial is named after the historic hub of the gay community, site of the Stonewall Inn, at which the modern gay rights movement was sparked by riots in 1969. The firm was founded in 1981. Hatch, formerly an institutional bond saleswoman at J.P. Morgan, purchased it 15 years ago. It currently has $225 million in assets under management and serves about 350 clients. It is 95% fee-based and is a member of Fusion Advisor Network which accesses asset custody through NFP Advisor Services Group. See: What exactly is Fusion Advisor Network and who did it draw to Las Vegas last week.
The article, "Tax Day," which appeared in the Talk of the Town section, was pegged to the first time New York same-sex couples — some of whom had been together for decades — were able to file joint returns due to the Marriage Equality Act passed by the state Legislature last June.
Bert and Ernie get hitched
For same-sex couples who had married since June, "confusion [was] the word of the day," Tina Salandra, the firm's resident tax expert, observed in the New Yorker article. Adding to the confusion was the fact that the federal Defense of Marriage Act prohibits same-sex couples from filing joint federal returns.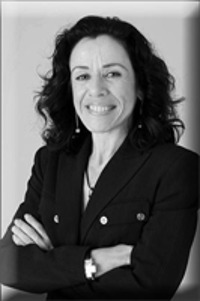 Tina Salandra: Confusion [was] the word
of the day.
"[In order to file the state tax return] you have to fill out the federal return as if they would recognize you, and then tear the faux return up," Hatch says. "There are a lot of iterations."
To address those and other issues, Christopher Street Financial began holding informational sessions and webinars on topics including "What's So Gay About Money?" and "What does 'I do' really mean?"
One of those sessions illustrated potential financial marital pitfalls by featuring Bert and Ernie, characters — and longtime companions — from the famed Public Broadcasting Service children's show "Sesame Street."
As it happens, the Muppets are close to Hatch's heart. Her late father, Robert Hatch, a publisher and journalist who was an avid reader of the New Yorker, also served as the head of public relations for "Sesame Street."
As a child, Jennifer Hatch was a regular on the show.
"My father would be thrilled," she says.
Wedding bell blues
"It's been a tremendous year and a half for growth," Hatch says, but notes, "I don't know if I could attribute it all to marriage issues. It's a long process between making the decision to go to a financial planner [and the transfer of their money.]"
But the legislation, she says, "brought in new people who never worked with a planner before and who needed specialized services."
When the legislation was passed, Hatch says, the majority of Christopher Street's longstanding clients didn't immediately rush off to find a justice of the peace.
"Clients came to us and asked, 'What does this mean financially?'" For many, she says "it was a surprisingly unromantic conversation."
Indeed, some of those couples came face-to-face with the flip side of the fairy-tale aspect of marriage, namely the need for pre-nups and other contractual provisos.
"It can be painful," Hatch says, to deal with the potential legal eventualities arising from divorce or the death of a partner.
"I do know of couples [where one said] 'let's get married' and the other said 'now that I think of it, I don't want to spend my life with you.'"
"There's been cold feet all over the state," Hatch notes.
On the town
But that is not the case with Hatch and her partner, Christopher Street's financial director, Suzanne Smith.
"We're definitely getting married; we're formally engaged," Hatch says, adding, "Gosh, that sounds formal!"
The two have not set a date, but on the day RIABiz interviewed Hatch, she and Smith had plans to paint the town red in celebration of their 18th anniversary.
---
---