News, Vision & Voice for the Advisory Community
In an intra-Kansas City move, Marty Bicknell lures Bill Greiner from Scout Investment Advisors
April 3, 2012 — 3:50 AM UTC by Brooke Southall
Brooke's Note: Remember the brain drain of top mutual fund talent to hedge funds that began in the early 2000s? No doubt it's still happening, but we are seeing more signs that the next wave of brain drain will accrue to the benefit of the RIA business. Here is a chief investment officer at a significant mutual fund company seeing a better and more fulfilling opportunity working directly with investors. This kind of move from a smartest-guy-in-the-room job to a roll-up-your-sleeves job is still a bit of an outlier … but not for long.
Marty Bicknell strikes again.
In the last five years alone, Bicknell has built up RIA Mariner Wealth Advisors to $3.5 billion of AUM and an asset management company, Montage Investments, with about $10 billion of assets. Not only has BIcknell lured breakaway brokers but he has made major acquisitions, such as the nationally sprawled wealth management offices of CBIZ, an accounting firm. See: Big Midwestern RIA buys itself a national presence in deal with CBIZ.
Bicknell has also hired away an important talent from Fidelity. See: Big Midwestern RIA hires away a Fidelity exec to realize its $50 billion plan.
Up the food chain
Still, the Leawood, Kan.-based firm's chief executive has arguably moved even higher up the food chain by hiring William B. Greiner, who is joining the firm as its chief investment officer. The industry veteran with 32 years of experience left his role as chief investment officer of Scout Investment Advisors in nearby Kansas City, Mo. (which offers an array of investment management services for institutional separate accounts and mutual funds through institutional asset managers) and Scout Funds (a proprietary family of mutual funds), to join Mariner. Greiner started with Scout's parent company, UMB Financial Corp., in 1999 as chief investment officer after working for Northern Trust in Chicago where he worked for 12 years.
Scout has $21 billion in AUM, up from $3 billion when Greiner joined the firm in 1999.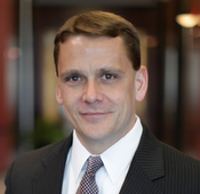 Marty Bicknell created a $13-billion firm
in five years by poaching wirehouses
advisors, gobbling up existing RIAs and
now headhunting top exec talent from
blue chip firms.
Having known Greiner for years because of his prominence in investing circles in the Kansas City area, Bicknell decided to go after him because he felt his CIO, Gary Henson, was becoming stretched too thin between Montage and Mariner.
"As one might imagine, we are thrilled that Bill has made the decision to join our firm," says Bicknell in a release. "He has an excellent reputation and a long track record of providing innovation and insight to help investors meet their goals.
Henson is staying on as president and CIO of Montage.
Forgoing the rarefied air
Many people regard positions such as Greiner's former job at Scout as loftier than working with financial advisors because it involves a purer intellectual experience, insulated from the everyday exigencies of emotional clients and their day-to-day financial issues.
But Greiner says he has spent most of his career, both at UMB and Northern Trust, in client-connected jobs and he longed to be back in a position where he made a direct difference in people's lives.
"I told [Bicknell]: I want to get back in the business of managing money. I said what excites me isn't trying to beat an index by 20 basis points and saying 'Aren't I smart.'"
Greiner's primary mission will be helping Mariner's 35 financial advisors talk to clients about their issues and customizing solutions to fit their needs. "I'm a big believer in the player-coach process."
Yet he also wants to get back on the playing field himself. "I plan on bringing my own book of business — hopefully larger relationships."
Greiner once had management of $250 million of client assets.
I asked if he might manage the assets of Bicknell himself. "We haven't talked about that yet," Greiner replied.
Final Note: Recently we wrote about Mariner adding Orion Advisor Services, LLC. Bicknell says the conversion is coming along. "Integrations are never easy, but it's going well," he says. "We're happy." See: Orion wins a $2-billion RIA account from Advent after two very long drives across the prairie.
---
Mentioned in this article:
Mariner Wealth Advisors
RIA Welcoming Breakaways, RIA Serving Endowments/Foundations, Advisory Firm
Top Executive: Martin C. Bicknell
---
---
Share your thoughts and opinions with the author or other readers.
---