Peter Stein: We'll try to feel as close as possible to as if we're their internal investment team.
Brooke's Note: Here is one more example of an RIA using its core capabilities to look well beyond what was traditionally associated with practices of this model — and attracting A-level talent to do it.
The Presidio Group LLC, based in San Francisco, didn't have any plans to start an endowment-focused arm of the firm. With $4 billion in client assets, it was doing just fine serving high-net-worth individual clients and a handful of corporate and institutional clients.
But, when Peter Stein, a former University of Chicago vice president and chief investment officer and Princeton University Investment Co's. managing director, approached Presidio with a proposal for a venture providing high-touch CIO outsourcing and advisory services to endowments and foundations, the firm couldn't say no.
"We see an opportunity in the marketplace," says managing director Mark Palmer. Palmer joined Presidio just a year ago, with some big plans for the firm. See: Mark Palmer departs Cetera and joins big West Coast RIA.
Getting into the business
"Presidio was not looking to get into the endowment business," says Stein, 48. He, though, was looking to get back into the business.
After working at Princeton and the University of Chicago through 2009, Stein most recently headed a $10 billion fund of hedge funds for the Pacific Alternative Asset Management Co. But, he wanted to get back to what he knew best.
"I missed the endowment world," says Stein.
Stein also serves on the investment committees of The Annenberg Foundation and the Rhode Island School of Design.
He started looking around at other firms, but there weren't a lot of positions that would have made sense for him, Stein says. Instead, he decided, he wanted to build up his own business that would look the way he wanted it to look, but decided, "It's very hard to just put out a shingle and do it from scratch."
That meant joining a firm that saw the new business looking the same way he did, which wasn't easy to find, Stein says.
Most firms that he talked to were interested in a fast, unlimited-growth approach that would have the endowment division going public in a very short time frame. But not the Presidio Group.
Niche market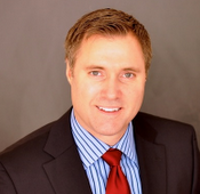 Mark Palmer: This will be one
of our major initiatives.
Presidio will focus on a specific niche of the endowment marketplace, say Stein and Palmer.
Most high-end endowments, foundations and hospitals — such as those of Yale and Harvard universities— have their own internal investment teams and CIOs. See: The Yale endowment model of investing is not dead. Many smaller such institutions have to rely, instead, on buying into an investment pool or fund of funds.
But, Presidio wants to fill that middle ground. It will provide customized, outsourced CIO services for those clients in the $300 million to $500 million range. The plan is to manage a separate portfolio for each client and serve as an internal investment team, making presentations to client boards quarterly.
"We'll try to feel as close as possible to as if we're their internal investment team," says Stein.
Because of that service, it's not a business that is highly scalable or going to grow indefinitely. The resources cap the number of clients the firm can take on and still maintain quality.
"It's never going to be something huge. It's never going to be something we take public," says Stein.
Though it will never hit hundreds of billions of dollars in endowment assets, says Palmer, Presidio still has reasonably big plans for the new business. The firm considered Stein's proposal over 90 days and several meetings and decided it made sense to move into the endowment marketplace, considering the similarities to serving high-net-worth individuals.
Even without any clients signed on yet, Palmer says the firm intends to have endowment assets in the billions.
"This will be one of our major initiatives," he says.
post-Madoff
It's a business plan that makes sense to other industry veterans.
"There are people already doing that," says Tim Keating, CEO of Keating Capital Inc. "It's not new."
Keating points out that the basic endowment model — one of patient investing and higher return opportunities in exchange for illiquidity — make sense for a variety of clients. And, those clients, from ultrahigh-net-worth families to midsize foundations, were being served by the fund of funds marketplace as a way for smaller clients to get access to the best managers.
But, that marketplace took a beating in the wake of the Bernie Madoff scandal, says Keating. Madoff also provided high-touch, much sought-after investment services to those high-end clients and small foundations that couldn't otherwise access such services — or purported to, at least.
The marketplace, though, is bouncing back, says Keating, and these kinds of clients are looking for performance, stability, transparency and an alignment of interests.
"They may not have the checkbook to get access to some of these most sought-after managers," says Keating. And, that is where Presidio comes in. See: How the Harvard and Yale endowment models changed to avoid a repeat of 2009.
The question will be how can Presidio differentiate itself from other established firms that are already offering similar services, such as Morgan Creek Capital Management LLC, Investure LLC and Summit Rock Advisors LLC.
But Palmer and Stein are confident that that won't be a problem.
Winning the marketplace
"This team is phenomenal," says Stein. The seven-person investment and research team at Presidio is one of the key reasons Stein says he was drawn to the firm. In fact, he even considered a job opening that wasn't a good fit for him, because he liked the team so much.
While Stein has a number of connections in the endowment and foundation world that will likely give Presidio a leg up, he says the first question he gets asked is: why this firm?
But, once Stein tells them about the slow-growth business models and about Presidio's approach — pointing to specific investments that were made before he got there — then, he says, "they get it."
In endowment investing, the focus for boards is often on picking the best money managers. But, says Stein, a lot of times the recommended list of managers will include only those big enough to make working with them worthwhile. The model Presidio will be offering will focus instead on a list of smaller managers that are more hands-on.
Both Palmer and Stein say that Presidio already takes an endowment-like approach to investing with its clients and that the framework of serving the ultrahigh-net-worth clients is very similar. That makes this a logical move.
"Offering endowment investing to endowment funds is a natural, logical extension of our capabilities. Given Peter's breadth of experience and deep understanding of the field, we believe Presidio can present an attractive value proposition to a new base of clients," Palmer said in a statement.
---
---
Jeff Spears
Another major competitor in Presidio's backyard is Makena Capital Management, the ex-Stanford Endowment team of 28 senior analysts and $16 billion in client assets.