News, Vision & Voice for the Advisory Community
More than 1,500 advisors came to the Potomac -- including more than a few of Campanale's Smith Barney Consulting alumni
April 26, 2012 — 5:40 AM UTC by Guest Columnist Timothy D. Welsh
Brooke's Note: It bears repeating. There's not a better organization for bringing like-minded advisors from both in and out of the wirehouse world under one tent — or atrium as the case may be — than IMCA. It did so again in Washington with flair this past week. In its comet trail was tremendous buzz and activity that was captured by Tim Welsh with all the attentiveness to detail and spot analysis of complex subplots that could be asked for.
Showing off its growing momentum, the Investment Management Consultants Association convened its annual conference in National Harbor, Md, just across the Potomac river from Washington, D.C. See: IMCA delivers sobering content in high-rolling atmosphere of Las Vegas.
More than 1,500 advisors and 105 exhibitors gathered at the Gaylord National Conference Center this week for three days of industry content, networking and receptions. IMCA, long known as the home of the wirehouse advisor, has in recent years experienced consistent growth, increasing its membership by 7% in 2011 to 8,650 total members — growth that came predominantly from independent RIAs and now-independent advisors who make up nearly 30% of the IMCA membership. See: Once a haven for fee-minded wirehouse brokers, IMCA is becoming a melting pot of advisory channels.
E.F. Hutton resurrection
Frank Campanale, the former Smith Barney executive and leader of this effort, was in attendance at the conference. Campanale was a popular man in the exhibit hall, showing off his new E.F. Hutton business cards while managing to avoid the litany of questions from well-wishers and journalists as to the details of the new firm, why he and his associates were doing it and how the firm would look as they resuscitate the renowned E.F. Hutton name and build a new investment firm. See: What the reincarnation of E.F. Hutton says about the pace at which RIA business is moving.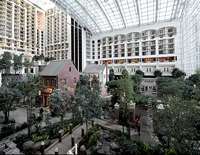 The Gaylord was like a city
of advisors for three days.
There were quite a few advisor alumni from Campanale's Smith Barney Consulting Group in attendance and his appearance was definitely the topic of conversations around the exhibit hall. As I polled the various advisors about this development and the outlook for the success of the new enterprise, reactions that ran the gamut of, "Frank's right, that was a great place to work," to "what are they smoking?"
From the many conversations going on, it appears that Campanale and his team were not ready to go live yet when word got out and were caught somewhat flat-footed when the story broke and received such a big response in the industry and from the media.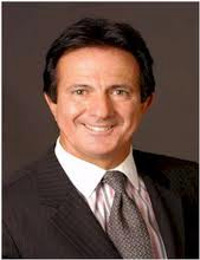 Frank Campanale was the man of
the hour at the conference, handing
out business cards and dodging questions
regarding his revival of the E.F.
Hutton brand.
Although they did register for the conference under the E.F. Hutton name, had business cards with the E.F. Hutton logo, along with a very basic website, the backers of the new firm had not yet put in place a lot of the details and infrastructure. Based on the many conversations at the conference, it appears that this new incarnation will be very similar to a boutique investment banking and advisory firm, along the lines of Montgomery Securities, with a capital-markets operation combined with trading and financial advisory units.
Following the puck
TD Ameritrade also made headlines at the conference when it announced its new head of practice management, Christine Gaze, who comes to TD with a strong industry background working with advisors at Merrill Lynch, Wachovia Securities, and the Morgan Stanley Private Bank. See: TD Ameritrade poaches 'bowled over' Morgan Stanley Private Bank exec to fill key role.
She'll be responsible for the strategic direction of TD's advisor practice management and business consulting services. When asked why she would jump on the independent bandwagon after a long career at the major firms, Gaze noted, "After studying the independent space for the last several years, it was clear to me that the RIA industry is where the puck is headed."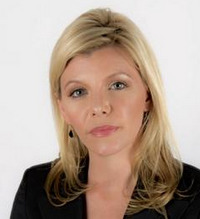 Christine Gaze: it was clear to
me that the RIA industry is
where the puck is headed.
The alpha of alphabet soup
"Our industry is forever changing," noted IMCA chairwoman Elizabeth Piper-Bach in her opening remarks. "Therefore we need to be an organization of change." Piper-Bach updated the attendees on some impressive association statistics and facts demonstrating that IMCA is one of the few industry associations that is actively thriving in today's alphabet soup of industry designations and certifications.
"IMCA's net worth is over $10 million and we are in a very strong financial position, so much so that we haven't had to raise dues in over 14 years," Piper-Bach said. She went on the describe IMCA's strategic priorities. "... To continue to provide world-class educational content, focus on marketing to independent advisors to join IMCA and obtain the certified investment management analyst designation, and lastly to explore international opportunities based on the recent [American National Standards Institute] international certification that IMCA received."
Aggressively passive
A consistent theme in IMCA conferences over the years has been the presence of high-profile keynote speakers, and this year's program did not disappoint. Kicking off the conference with a somewhat controversial presentation was Burton Malkiel, Princeton professor and author of the index-investor's handbook, "A Random Walk Down Wall Street.
"My philosophy still holds: A blindfolded chimp randomly flinging darts at stock tables will do just as well, or better than, the so-called investment experts," Malkiel commented and backed up his passive approach to investing with numbers, stats and other charts showing that the majority of portfolio managers do not consistently and in the long term beat their indexes. Malkiel turned his index approach to investing in China and made the case for why investors should allocate more of their portfolios there. "Most global funds are underweighted when it comes to China, with only a 2% allocation, yet China represents 9% of the world's GDP."
Malkiel further drilled down on why China will continue to grow despite the amazing recent growth of its economy. "China has a strong balance sheet with over $3 trillion in reserves, and an average savings rate of 30% to 40%."
Black swans happen
Contrasting Malkiel's passive approach was the equally famous University of Chicago professor Richard Thaler, known for his work on behavioral finance, which many advisors follow.
"It is not impossible to beat the markets," Thaler explained in response to a question about efficient frontiers. "Because investors are people, they come with biases and make mistakes. If you know this, then you can profit from the over[reactions] and underreactions that they make."
Thaler went on to dissect the recent financial crisis and put the blame squarely on ratings agencies and the overconfidence of investors. "The models are broken. Whether you want to call them black swan events or not, stuff happens.We need to be prepared, and our tests are only as good as the assumptions that we use."
Fireside chat
Sandwiched between the dueling investment philosophies of the academics was a very well-received chat over lunch with Doris Kearns Goodwin. The prolific Pulitzer Prize-winning historian provided some perspective on the current political situation, infusing her remarks with amusing historical anecdotes.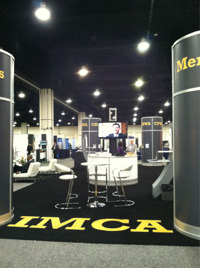 1,500 advisors and 105 exhibitors gathered
at the IMCA conference in National
Harbor, Md., April 22 to 24.

Complimenting Goodwin's presentation was an engaging keynote on day two with the always-popular Greg Valliere of the Potomac Research Group. See: What went down at Barron's Top Independent Advisors Summit in the Arizona desert.
Valliere provided a somewhat troubling perspective on the political situation. "In December, a lame-duck Congress will only have 20 days to deal with some very, very big and important issues such as the Bush tax cuts' expiring, defense cuts and the debt ceiling."
The closing keynote speaker, Patrick Lencioni, a famous business author and motivational speaker, provided a very entertaining speech on how to motivate your team and provide outstanding client service. With his aptly titled talk, "Getting Naked: A Business Fable About Shedding the Three Fears that Sabotage Client Loyalty," Lencioni dazzled the crowd and was yet another example of the outstanding content for which IMCA is known.
Rounding out the conference program were dozens of workshops focused on investing and advanced wealth management, along with a solid set of practice management sessions on topics advisors typically struggle with, such as marketing, compliance and people management.
Custodian-dominated exhibit hall
Because of the large number of wirehouse advisors, the annual IMCA conference has developed a thriving exhibit hall, chock-full of all of the major custodians looking to showcase their products and chat about the many benefits of the RIA business model. Industry heavyweights Schwab, Fidelity, Pershing, TD Ameritrade, LP, and Raymond James all had Gold or Platinum sponsorships, with massive trade show booths staffed with their best business developers.
Other vendors among the sponsors in the exhibit hall were mainly asset managers, ETF companies, aggregators such as HighTower Advisors and Spire Investment Partners, along with a few advisor-focused technology companies including PIEtech Inc., maker ofMoneyGuidePro, and IPS AdvisorPro.
The exhibit hall was the center for the nightly receptions, featuring local seafood delicacies, a magician, champagne and other adult beverages.
The mood was clearly upbeat here at the conference, despite the many potential issues looming on the horizon that could derail the markets. If IMCA 2012 is any sort of leading indicator, the future is definitely bright for the industry.
Timothy D. Welsh, CFP®, is president and founder of Nexus Strategy LLC, a leading consulting firm to the wealth management industry, and can be reached at tim@nexus-strategy.com or on Twitter @NexusStrategy.
---
Mentioned in this article:
---
---
Share your thoughts and opinions with the author or other readers.
C. J. Williams said:
April 27, 2012 — 11:40 AM UTC
I was at the IMCA Conference. I spoke with Frank. He was very clear that EF Hutton was announcing that it would launch later in 2012. Contrary to the impression left by this article, it was obvious that they were well-prepared for the attention. Frank said they are planning an innovate approach that they will announce when they launch. And, Frank said that they would unveil their plans later – at the point they launch. Obviously they purposely decided not to reveal their specific plans. Their website in this pre-launch stage is www.efhuttoncompany.com The site doesn't provide much info at this point. Anyway, Frank is one of the most experienced people in the industry and has been involved in some innovative things that changed the industry. I think it's best not to under-estimate the man. Certainly reviving EF Hutton is unique – a really brilliant move. I am looking forward to hearing what EF Hutton will be doing.
Eric Mabius said:
April 27, 2012 — 4:17 PM UTC
When stock market was doing well, all my friends, portfolio had much higher return on investment than mine because I had kept my portfolio to be a balanced portfolio with 50% invested in annuities with <a href="http://www.conseco.com" rel="nofollow"> Bankers Life </a> & rest was in stock market but with solid companies. But, recession hit hard my 50% of portfolio but since I had fixed return from annuities – I was the winner at the end. I actually advise everyone to do that – it is must to keep your portfolio balanced & Invest only in solid fortune 500 companies. We must learn from our mistakes & not repeat them.
---
---