News, Vision & Voice for the Advisory Community
Spencer Bachus, known to expertly trade options for his own account, seems to be down with what transactions-based advisors like
April 26, 2012 — 5:37 AM UTC by Brooke Southall
Whether or not RIAs will be supervised — largely against their will — by FINRA may depend on the whim of a conservative fixture in Washington politics with an interesting track record of trading securities and options for his own account.
Rep. Spencer Bachus (R-Ala,) has ushered in the Investment Adviser Oversight Bill of 2012, which would allow for one or more SROs, particularly FINRA, to apply to the SEC to be that very SRO. See: FINRA attacks Boston Consulting Group over SRO study.
This turn of events is good news, according to Financial Services Institute Inc. president and CEO Dale Brown.
"Hard-working American investors shouldn't have to be regulatory experts to know whether their financial advisor is getting the proper oversight needed to ensure they're protected," he says. "From a business standpoint, retail investment advisors have an unfair advantage over independent broker-dealers, who are examined by FINRA every two years. It's time to protect investors and level the play field." See: Rick Ketchum reveals plan for advisor oversight at FSI conference.
Lose-lose
But the Financial Planning Coalition sees the legislation as a lose-lose for RIAs and consumers. The organization believes it will have the effect of doubling costs related to regulatory oversight while maintaining the relatively caveat-emptor approach to advisor oversight.
The coalition, representing nearly 75,000 financial planners, is a collaboration of the Certified Financial Planner Board of Standards Inc., the Financial Planning Association and the National Association of Personal Financial Advisors. See: Advisory factions steel for endgame as SEC's verdict on FINRA SRO comes down.
"Consumer-investors who work with RIAs have the added protection of being covered by a fiduciary standard of care. RIAs must put the best interests of their clients first, as opposed to the suitability standard. We always put emphasis on the consumer-investor first, and RIAs do that," says Karen Nystrom, NAPFA's director of public policy and advocacy.
Mostly conservative voting record
The Washington Post has described Bachus' voting record as "solidly, but not completely, conservative."
Bachus voted on Nov. 4, 1999, in favor of the Gramm-Leach-Bliley Act. Some economists, including Nobel laureate Joseph Stiglitz, believe that law deserves some blame for the 2007 financial crisis because it removed barriers in the market keeping one institution from acting as any combination of an investment bank, a commercial bank and an insurance company.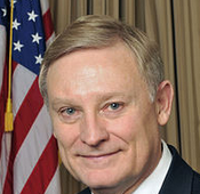 Spencer Bachus has "a mostly, but
not totally, conservative voting record."
Betting against the house
In 2007, Bachus traded stock options, betting that stocks would rise or fall for a quick profit or loss. In early February of this year, the Washington Post reported that he was under investigation by the Independent Office of Government Ethics.
Exorbitant membership fees
Nystrom says that RIAs need to be concerned about developments in Washington because outsourcing oversight to FINRA would likely cost twice as much as working to improve existing SEC oversight. See: Creating an SRO would cost 100% more than SEC exam program, study shows.
"This proposed bill is a big deal to advisors," Nystrom says in an e-mail. "Whether the they are called user fees from the SEC or mandatory membership fees from a FINRA SRO, they all come from the same advisor's pocket. Exorbitant membership fees may ultimately impact the cost of obtaining sound advice in this country."
"In tandem with that, FINRA is an existing SRO for broker-dealers and has no experience overseeing investment advisors, and our stakeholders are concerned about that," Nystrom writes. "A recent investment advisor survey showed that 80% of advisors would prefer SEC oversight to handing it over to FINRA."
Still, Nystrom remains optimistic that Bachus and his committee can be reasoned with.
"We hold out hope that our message will be heard because there are really compelling reasons that the SEC (is the right regulator)" she says. "Many of our advisors came from the broker-dealer world and don't want to go back (to FINRA)."
---
Mentioned in this article:
---
---
Share your thoughts and opinions with the author or other readers.
---