News, Vision & Voice for the Advisory Community
After top executive spots at Schwab Institutional and M Financial, Graves started Filagree Advisors from scratch and is careful to avoid 'scope creep'
April 24, 2012 — 6:17 AM UTC by Steve Garmhausen
Name: Gerald Graves
Firm: Filigree Advisors
Location: Lake Oswego, Ore.
Years in the industry: 28
AUM: 17 clients with assets of between $1 million and $120 million each.
We think it's fair to say that Gerald Graves' career trajectory has been an unusual one. A three-decade veteran of the advisory industry, he may be best known from his high-profile executive stint with Schwab Institutional in several key positions, working his way up to chief operating officer. In 2004, after 13 years with Schwab, Graves, now 50, joined M Financial Wealth Management and M Funds, the Portland, Ore.-based financial services design and distribution company with 125 member firms in 36 states and Canada, and more than 600 producers. After four years as president at M, in early 2008, Graves shifted again, this time starting his own RIA firm from scratch. It's a little as if the president of IBM had stepped away and eventually reappeared as a freelance mainframe salesman. In this interview, Graves explains what his two-man practice gives him that his previous high-profile positions couldn't. Graves also weighs in on everything from Steve Lockshin and Charles Goldman's ambitious new venture (See: Steve Lockshin and Charles Goldman begin to unveil Advizent, a venture that could put thousands of RIAs under a single cooperative) to why he chose a business partner he can look up to (literally).
Q: You were once the chief operating officer of Schwab Institutional, and now you're running Filigree Advisors LLC, in a Portland suburb of 37,000. What is it that you're getting in your current role that you weren't getting before?
A: Whether it was at Schwab or even at M Financial, when you're on that side of the fence, a lot of times the more successful you get, the farther away you get from the end client. I had a phenomenal opportunity to meet some just incredible individuals and I learned a lot about how they operate their businesses. For me, what I found much more interesting was working with the end client.
At Filigree, I just wanted to take that best of the best from what I've learned and create an offering to serve clients. We started it by just serving friends and family; it's really from that that we decided to build Filigree, and it's been great.
Q: Can you talk about your career path? What you've done is almost as if the general manager of the New York Yankees decided that he wanted to quit that job and play centerfield instead.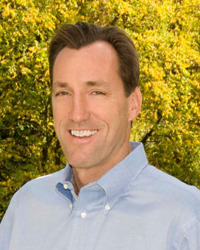 "Chris [Dudley] ... has seen everything,"
says Graves.
A: Back in the old days in the NBA, you could be a player and a coach, and in my case maybe a little more of that. I started in the business in 1984, and I've just been an industry junkie—I love it. For me, one of the elements that's been extremely important is the actual output to the client.
At the RIA, I can make strategic decisions, decide what's the right technology and actually see how clients perceive the offering and whether their needs are being served in the best way. I had to create a firm to do that.
Q: So let's talk about Filigree. Are you looking to expand the business beyond the traditional model to take advantage of your industry knowledge and management skills?
A: One of the things I think is really interesting about our offering is that you've got a guy like me, with 28 years in the industry, looking at it kind of from the inside out. I've been affiliated with mutual fund companies, broker-dealers, M, and have all these great perspectives. [My partner] Chris [Dudley, a 6-foot-11 former-NBA-player-turned-advisor] comes at it more from the client side, as a private investor and philanthropist.
Q: And what's the game plan for your business?
A: Going forward, the thought is, does Filigree want to become this ginormous business? And you know, one of the things I took away from Schwab and smart people is to know what you do well and focus on it. Things like scope creep can be disastrous to an individual and to a company. We do an amazing job for private clients; we like what we do and we're committed to continuing to serve them. Our challenge is going to be to continue to innovate on their behalf and provide better services, that not only will make them happy but will be appropriate for future generations.
In the short term, we're going to be establishing a Southern California presence; Chris is going to be moving down [to head up the office.] And we're going to roll out a client portal for more electronic interaction with clients.
A: Our youngest client is 25, and our oldest is 85. They range from business owners to retirees, from the entertainment industry to sports to very basic businesses.
Q: You joined M Financial, which was best known as a network of insurance-based practices, to build a fee-based management platform. What did you learn from that experience?
A: For me, probably the biggest learning was understanding the insurance world. When I joined M Financial in November of 2004, they had a broker-dealer, but it wasn't really built for wealth management. So getting an understanding of the culture of insurance products and a transaction sort of culture—versus the independent-advisor world, which is asset-based and more service-based—was probably the biggest eye-opener and learning for me.
Q: How do you gauge your success there?
A: I don't know all the specific numbers, but [the fee-based approach] has been adopted by a good percentage of the firms. I think the initial challenge after actually building the platform was really all about educating the different firms about the benefits of fee-based asset management.
In my few years there, I'm sure I probably met with all of [the owner firms]. Statistically speaking, the vast majority do some investment or wealth management, but there's a difference between trying it out with one client and really adopting it across your practice.
Q: It sounds like a challenging job.
A: Schwab Institutional is publicly traded and serves the investment advisor client, and they are independent of you; they are a client and there are definitely clear lines between the client and the employee. M's structure is different. They have an organization where a group of independent firms across the country actual buy into the ownership of the company; in essence you have 100 firms out in the field that own headquarters. For that ownership, they have access to different products and services built by M Financial. Their typical client base is the affluent to ultra-affluent. The good news is that, working with that organization, you basically have 100 [clients] to serve, whereas at Schwab Institutional, you might have 5,500. The challenge is that they all are owners and quite possibly they want different things.
The other thing that's challenging is structural. You might have a firm in one location and they have a strong belief, let's just say, in a pricing model, and you have another firm that has a strong belief about a different pricing model. If you're at Schwab, you build an offering and it's up to clients to choose to use it or not. If you're an owner, it's a different conversation. There are cultural challenges there; adopting a platform versus customizing for individual firms creates challenges for product rollout and management. The model definitely worked phenomenally well for them in the past, and I'm sure they'll continue to be successful. It's just a challenge. See: Why Nick Georgis came back to Schwab and how the old hand may bring new vision.
Q: What's your take on Advizent LLC, which is another attempt to bring independents together?
A: I'm not exactly sure what the offering is or what the economics around it are, and I'm not sure that's been figured out yet. I think it's interesting. [A business partner and I] actually looked at a very similar business model about 10 years ago. Back then, we figured out that it was very hard to create a structure that could survive financially. I know and respect both Steve and Charles, and I think they're a very interesting pair to take this on. You can compare it a little bit to M. It's going to be a balancing act as far as how Advizent actually makes money. How much money will the advisor pay and what's the least amount (they) can spend to make the advisor happiest. See: What the reincarnation of E.F. Hutton says about the pace at which RIA business is moving.
Q: I remember your partner at Filigree, Chris Dudley, from his NBA days. How'd he end up on your team?
A: I was at M Financial when a mutual friend introduced us. Chris had recently retired after 16 years in the NBA, and the first thing he did was to take the CFP exam. When you meet him, your first impression is, "Here's this 6-foot-11 basketball player." But he has a very savvy investment mind. He's a Yale graduate, an investor and a philanthropist. We just kind of hit it off.
---
---
Share your thoughts and opinions with the author or other readers.
---