David Booth: If we can convince the advisor that what we're doing makes sense, then they can translate that to the individual.
Brooke's Note: Chip Roame provided broader media access to his esteemed Tiburon CEO Summit (held this week) than in recent years. It was appreciated. One thing I'm grateful for is that it opened a window on a successful RIA-centric company like Dimensional Fund Advisors. The company continues to find ways to move downmarket, move into more active investing and to serve retirement plans after years of selling enhanced index products to a core group of devoted RIAs. DFA's history of doing things mindfully gives one hope that it can bring that thoughtfulness into other investing spheres.
Dimensional Fund Advisors LP, the $237 billion investment firm that has enjoyed explosive growth by offering low-cost, passive-investing options built on efficient-market theory, is looking to its network of advisors-cum-disciples to distribute new retirement products to compete with target date or life cycle funds.
One offering, Managed DC, became available in the United States in March. It employs a sophisticated user interface to offer individualized calculation of the savings, retirement date, and month-to-month cash needs of workers, and uses those plugged-in numbers to allocate assets among DFA funds, equity and fixed income, to come up with an investing plan, as well as a reminder of how much employees need to save on their own to meet retirement goals. See: DFA and RIAs unite over post-meltdown 401(k) opportunity at Chicago event.
It will be distributed through plan sponsors, consultants and advisors.
Dimensional Managed DC is the brainchild of DFA economist Robert Merton, the 1997 Nobel laureate in economic sciences, who sold his firm, SmartNest, to the money manager a few years ago. He designed a product that looks at the final outcome like a defined-benefit plan, for average people, to take a stab at the likely retirement crisis in the U.S. See: DC Current: Bob Reynolds spoke on retirement reform, but what he left unsaid was more interesting than the speech.
Wealth management for the non-wealthy
More such products to be offered to plan sponsors, consultants, and advisors are in development, David Booth, DFA's chairman, co-founder and co-chief executive, hinted at the Tiburon CEO Summit on Tuesday, in a conversation with Tiburon Strategic Advisors LLC managing principal Charles 'Chip' Roame.
In response to subsequent inquiries, DFA spokespeople declined to provide more details on what those products would entail, but Booth provided some clues.
"We are getting more involved in managed accounts for individuals and DC plans," he said of his Santa Monica, Calif.-based company. "We're integrating the life cycle needs of individuals, insurance, longevity, home equity." See: Dimensional Fund Advisors gins up its first conference dedicated to the 401(k) market.
The underlying philosophy is all about bringing good and cheap investment options to the masses, Booth said. "There's a great opportunity to do very good wealth management for the average person out there. That's really the exciting challenge. How can we use technology, and our distribution channel, to provide integrated lifetime solutions in financial services for individuals."
"Integrating life insurance, home equity, wherever the money is, integrating all that together, in a cost effective way, that's where the business is headed," Booth added. "By having integrated packaging, we can reach a smaller client. We can help the average person have decent wealth management and a chance of having a decent retirement."
Staking out ground
Using advisors to help get individual products to market, likely through their work in advising plan sponsors, instead of offering DFA financial products direct to the consumer, continues to be the right way to go, Booth added.
"We have planted the flag," Booth said. "We have these great advisory folks, where the client is paying the advisor, which is the right way to do it. If we can convince the advisor that what we're doing makes sense, then they can translate that to the individual."
The advisor channel constitutes almost half of DFA's business, at $120 billion in assets. That's an achievement, since advisors have to apply to the firm to offer DFA funds, and must undergo training to use them, as well.
A common mistake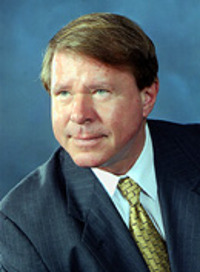 Ronald Surz: It's a pretty lousy
product, but I am sure it
will sell.

Advisors and the broader financial community, especially those who are seizing the opportunity to advise on 401(k) plans, differ on how they view DFA Managed DC.

Ronald Surz, president and CEO of PPCA Inc., and president of Target Date Solutions, is decidedly not a supporter of Managed DC, given that he competes with it.

"It's a pretty lousy product, but I am sure it will sell," he wrote in an e-mail. "[DFA] has made the mistake that everyone else is making, serving up substantial risk to make up for inadequate savings."

A spokesman for DFA declined to comment for this article.

Scott Pritchard, managing director of Advisors Access LLC, uses DFA funds already, and is interested in Managed DC, but said he is not going to be an early adopter, given how much work his firm already has with new retirement plan clients after partnering with BAM Advisor Services LLC. See: RIAs are starting to create their own 401(k) companies as alternatives to John Hancock and The Principal.

"We think DFA has clearly created something innovative with Managed DC and we look forward to integrating it into the tools we already give our 192 advisors," he wrote in an e-mail. "I agree with David [Booth] that our advisors are in a great position to deliver, through 401(k) plans, the same robust solutions to the employees that they already deliver to their high-net-worth employers." See: Dimensional Fund Advisors tells RIAs it's getting active in its quest for 401(k) assets.
---
Related Moves
November 12, 2020 – 4:43 AM
---
---
---
---