News, Vision & Voice for the Advisory Community
The breakaway movement still depends more on Wall Street's moves than Main Street's moxie
April 18, 2012 — 5:58 AM UTC by Dina Hampton
A record 225 CEOs and high-level executives gathered at The Ritz-Carlton Hotel in downtown Manhattan yesterday for the semi-annual Tiburon Strategic Advisors CEO Summit. Charles "Chip" Roame kicked off the two-day event by launching into a caffeinated presentation as he covered a remarkably wide range of industry topics — toggling from master-of-ceremonies mode ("Anyone here from Detroit?") to Econ 101 professor as he called on the execs for basic statistics, to unabashed industry booster. Roame's PowerPoint-rich address was peppered with provocative assertions and predictions that provided grist for conversation among the attendees throughout the day.
1. The rise of the discount brokerage and 'DIY' investors
In what Roame called the "radical prediction" of the session, he maintained that discount brokerages, now spearheaded by Fidelity, TD Ameritrade, E*Trade, Scottrade and Schwab, would dominate in coming years. He predicted that in 10 years, the number of discount brokerages and the number of bank branches will be turned upside down. This trend will be sparked, Roame opined, by a growing investor bent for do-it-yourself trading which has been fueled by the 2008 market crash, the slow recovery and the continuing economic uncertainty. See: Online brokers may be bigger threat to financial advisors than they realize, study says.
"Tropes for investors [these days are] 'I'm scared, I'm scarred and I'm going to do it myself.' "Pay attention," he said. "It's happening."
But while agreeing that these are uncertain and treacherous times to be an investor, some attendees reached a different conclusion.
Mike DiGirolamo, managing director of "Raymond James Financial Inc. investment advisor division, thinks that the crash of 2008 has left an all-but indelible mark on investors.
"They're not forgetting [this downturn] anytime soon. Clients, especially high-net-worth clients, will seek trusted advisors."
Shirl Penney, CEO of Dynasty Financial Partners LLC, also doesn't see the self-serve channel catching fire anytime soon — especially among high-net-worth clients. "There's a lot of coordination needed at that level," he says. "It's not yet commoditized."
But Roame is confident that the self-serve movement is a coming force and believes that it bodes well for the independent-branch-office experiment launched by Schwab last year. Undaunted by the San Francisco firm's slow start in this arena — after much ballyhoo, only a few branch offices have been established — Roame said after his presentation that he was "very optimistic" about the initiative. "They could establish 300 branches," he said. "And eventually, why not 3,000?"
2. Big wirehouse defectors — and the wirehouses themselves — will determine the fate of the breakaway-broker movement
The past few years have seen the "first wave" of "big elephants" — advisors and teams — bolting for independence, said Roame. "The key question is: Who will follow?"
He has no definitive answer.
"The growth [of the breakaway-broker movement] is steady, but it remains to be seen if there will be a tipping point," Roame said.
The wirehouses will have a big say in the outcome, he said. "They can retain [if they want to]" he said. "With signing bonuses — 350% of trailing 12 — they will stay." Roame is doubling down on a previous prediction that the Big 4 brokerage firms will establish "halfway houses" — "what Wells [Fargo's] FiNet did in a big way." See: Wells Fargo's Finet deepens recruiting team, adds regions.
Roame expects one of the other three wirehouses to take the plunge sometime this year.
"They will say, 'you can either stay with us and get a 70% payout and we'll pay for your secretary, or you can set up your own shop with a 40% payout but you'll still be under the Merrill umbrella,'" he said.
If the wirehouses fail to do either of these things, he said, "they are letting [their B-Ds go] on purpose."
Brian Hamburger, principal of MarketCounsel, agrees that the actions of wirehouses, more than those of the RIA channel, will prove decisive. "With us or against us, [the wirehouses] are not in denial," he said.
At present, Hamburger says, the wirehouses are not in a giving vein. "They see that the [breakaway trend] has grown precipitously and they have retracted from service mode." Instead, they are exerting pressure on their advisors to stay put.
DiGirolamo, however, thinks the fall of the mighty wirehouse model may well be inevitable. "The pool [of B-Ds] we're talking to are dissatisfied. Paying out more doesn't fix the banking-versus-broker culture."
Whatever happens, Roame said, the end of the story will not be written by what he wryly calls the "Joe Breakaways" whose stories have been chronicled in certain trade publications. [Many have] $75 million in assets, he chuckled. "Not that impressive."
3. Both sides against the middle
Roame holds fast to his contention — despite some evidence to the contrary — that the predicted demise of hedge funds has been greatly exaggerated — and also that ETFs are continuing to grow.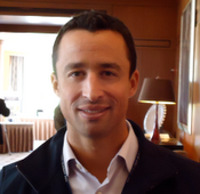 Mike Alfred of Brightscope made the
trip from La Jolla to New
York.
"The number of [ETF] funds and assets are way up …. their growth is the biggest trend in the RIA [arena]."
Roame is betting — against the grain of current opinion — that passive investing is here to stay. Citing the Dimensional Fund Advisors' success story, he says "indexing is booming."
Hamburger echoed Roame's admiration for DFA as did Mike Alfred, principal of BrightScope Inc., who said that people have an almost cult-like devotion to the company. See: Dimensional Fund Advisors still has low RIA acceptance rate and stunning growth.
However, Bob Reynolds, CEO of Putnam Investments, speaking later that day, was decidedly cool to the prospects of ETFs. Although he prefaced his comments by saying that making any definitive decision in the current unsettled investment landscape is a mistake, Reynolds said that indexing leads to inefficient markets. Allowing that ETFs are a great trading vehicle, Reynolds noted that 80% of them underperform their benchmarks — some by 1,000 basis points. After noting that regulators are scrutinizing high-frequency trading, Reynolds — perhaps unsurprisingly — came down squarely in the active-management camp. "Skill," he said "always gets paid."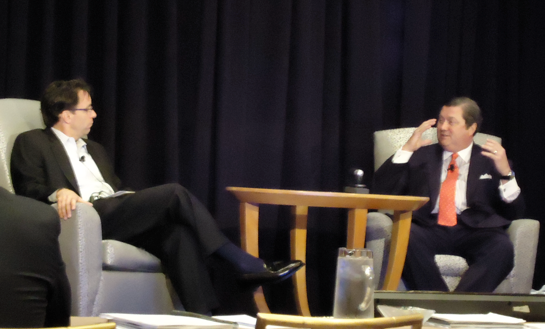 Chip Roame and Bob Reynolds. The
latter exec is not buying the
hype on ETFs.
And despite their sideways growth of late, Roame declared reports of the death of hedge funds are decidedly premature. "[John] Bogle and 2/20 hedge funds are very much alive."
Hamburger is cautiously optimistic about the future of alternatives.
"Don't count them out. As time goes by, people will forget why they shied away from them in the first place," he says.
The loser in these product wars, Roame said, returning to a favorite theme, is the mutual fund industry, which is being crushed between these two extremes.
4. Members only
Many returning attendees at the CEO Summit spoke of how they enjoyed interacting with their high-altitude colleagues.
"People let their guards down among their peers," said Ryan Shanks, CEO of Finetooth Consulting LLC. "Roame delivers raw unfiltered content that these leaders [have the power] to take action on."
On a social level, he said, "they let their guards down. They talk about family, kids, more personal things than at other conferences. It's like a country club."
5. Is SEC the new FINRA?
In his talk, Roame compared and contrasted the executives' views on various topics as expressed at the last conference six months ago in San Francisco and the present one. One major shift concerns the ongoing SRO wars in the regulatory arena. Six months ago, most attendees believed that little-loved FINRA would become the fiduciary overseer of RIAs and B-Ds — an opinion widely shared in the RIA community. See: FINRA attacks Boston Consulting Group over SRO study. Now, they believe the SEC will assume that role.
Hamburger agrees that the regulatory winds have changed — due to a canny move on FINRA's part. "They could have had it if they had made the push," he says. Instead, it is biding its time until after the November presidential election. In the meantime, Hamburger says, the group has taken a number of initiatives to bring broker-dealers in line with the fiduciary standards of fee-based advisors — a move that may neutralize the need for the existence of a separate SRO.
Or, as Roame put it: "B-Ds are becoming fiduciaries while everyone's screaming about it." See: Fearful that the SEC has been overworked, lobbied and bullied into a SIFMA stupor, fiduciary crowd launches 16-page missile.
6. Cain wasn't able
In addition to comparing the attendees' predictions of six months ago to the present, Roame also revisited his own prognostications — gamely owning up to his wrong calls.
Chief among them was his prophecy that pizza magnate Herman Cain would capture the nomination as Romney's running mate.
"He had a dating problem," Roame deadpanned.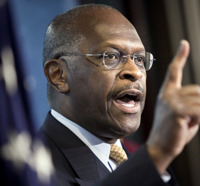 Cain's 'dating problems' derailed Roame's prediction.

Undeterred, he is sticking to his forecast that President Obama will drop Vice President Joe Biden from the No. 2 spot on the ticket, replacing him with Secretary of State Hillary Clinton.
Roame also believes that Obama will win reelection — as do the majority of executives canvassed by Tiburon. Six months ago in San Francisco, Roame had noted that a surprising number of the usually Republican-leaning cohort had self-identified as Democrats or independents. Now, presumably having shaken off the counterculture Bay Area vibe — that percentage has now righted itself.
7. Mass transit
Roame began his address with a shout out to Ric Edelman, who had just struck a conditional agreement to sell "his third business."
"I wish I could sell one," Roame exclaimed. See: Ric Edelman strikes a private-equity deal that subtracts $2 million in expenses — now let the after-bidding begin.
Edelman Financial Services, The Mutual Fund Store and Fisher Investments are the poster companies for the mass-marketing strategy that is enjoying great success employing country-wide seminars, advertising, and public relations to spread the word. That ties into another trend: the emphasis on marketing over sales as an engine of RIA success.
"The Edelman [model] is what works — what can be replicated," says Roame.
8. Supporting independence
Roame lauded the emergence of aggregators who are attracting breakaway brokers. Leaders in the field include Ben Edwards and Co., Focus Financial Partners LLC and Sanctuary Wealth Services. He singled out HighTower Advisors LLC, whose financial advisors overwhelmingly hail from the wirehouse channel.
Roame cited outsourcing "of every flavor" as a dynamic and rapidly evolving tactical issue with customer relationship management software at its center. Even Tiburon is outsourcing, he said. Salesforce.com is also a good example of this trend — so good, in fact, that Tiburon is switching to it.
Envestnet (Roame sits on its board of directors), Genworth Financial Wealth Management and Fortigent LLC were among those singled out by Roame as thriving enterprises. See: With formerly hot TAMP category hitting a cold patch, Envestnet stays on a roll.
Roame announced at this point in his talk that he was joining the board of another TAMP, Loring Ward, stressing that he would be coming on in as a representative of investors
---
Mentioned in this article:
---
---
Share your thoughts and opinions with the author or other readers.
Frederick Van Den Abbeel said:
April 18, 2012 — 5:54 PM UTC
Mr. Roame in regard to his first point was previously reiterated by a report from the Aite Group, LLC., titled "The Direct Business Ambush Advisors Not Seeing the Threat." I believe Mr. Roame is accurate in pointing out the dynamics of a changing marketplace.
---
---