Peter Dorsey already knows the ropes at TD Ameritrade and knows plenty about Fidelity's ropes, too.
Brooke's Note: The head of sales at a major custodian is a key job. Nobody has a greater influence over the day to day process of turning wirehouse brokers into RIAs. People who have held the position include Nick Georgis and Bernie Clark at Schwab, Scott Dell'Orfano at Fidelity and Tom Nally at TD Ameritrade. It's a clear leaping off point to bigger titles. Peter Dorsey isn't well known now. But he likely will be in no time. See: Tom Nally to take the reins of TD Ameritrade's RIA business from Tom Bradley.
Peter Dorsey has been named the new managing director of institutional sales for TD Ameritrade Institutional, a division of TD Ameritrade, Inc. The MBA and industry veteran will oversee advisor recruitment, practice management consulting, relationship management and sales strategy for TD Ameritrade. He replaces Tom Nally, who previously held the position and was recently named president of TD Ameritrade Institutional.
Nally saw many qualities in Dorsey that he liked from years of working together.
"Pete is a strategic thinker, accomplished sales leader, well respected by TD Ameritrade team as well as the advisor community. He's an excellent relationship builder." He's worked with bigger firms including: Beacon Pointe, Mercer, and Partnervest.
Dorsey, 40, has been with TD Ameritrade Institutional for more than seven years, most recently serving as director of sales where he was responsible for the oversight and management of TD Ameritrade Institutional's business development activities within the Western region of the United States. His new position is based in San Diego.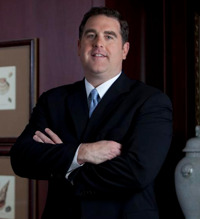 Tom Nally: He's an excellent relationship
builder.
His appointment comes after a thorough search process.
We looked internally and externally and are fortunate to have a strong leadership bench at TD Ameritrade.
His reputation in that job non doubt played a role in propelling him to his new one, says David Selig, principal of Advice Dynamics Parters, an RIA M&A firm in San Francisco.
"I have heard a lot of positives from the people who have worked for him over the years in terms of his ability to lead and manage effectively."
He has been working in the institutional field, specifically with independent registered investment advisors for nearly 15 years. Prior to joining TD Ameritrade, Dorsey served in similar roles working for Fidelity Investments from 1999 to 2005 and with Bear Stearns as an account executive from 1995 to 1999. It follows other big sales moves in the industry. See: Former Fidelity rainmaker lands at Schwab after both big custodians reshuffle their East Coast staffing.
"Pete's strong leadership abilities, industry experience and a continued commitment to serving the needs of RIAs make him the ideal choice for the position," said Tom Nally, president, TD Ameritrade Institutional said in a release. "Pete has a proven track record for leading successful teams at TD Ameritrade Institutional and I am excited to have him on board to head our sales efforts as we look forward to continued growth."
Dorsey received a Bachelor of Arts degree in Economics from St. Anselm College and a Master of Business Administration from Pepperdine University's Graziadio School of Business and Management.
Now Dorsey's job axt TD needs to be filled.
"The process for finding Pete's replacement will be a similar search," Nally says.
---
---
Mentioned in this article:
---
---
---
Greg Brown
Great move for TDA and their clients. Pete is an outstanding executive.
Congratulations!
Greg