Gus Fleites: I was always left with an uneasy feeling.
Invest n Retire LLC has appointed Agustin J. "Gus" Fleites as its chief executive in hopes of moving its technology platform for 401(k) and other defined-contribution plans to a bigger stage.
Darwin Abrahamson, founder and president of the Portland, Ore.-based record keeper for tax-deferred retirement plans, is excited about the former president of State Street Global Advisors Funds Management Inc. taking the helm.
"He knows how to run a big business better than I do," Abrahamson says. "I'm really an entrepreneur." See: RIAs are starting to create their own 401(k) companies as alternatives to John Hancock and The Principal.
Fleites began his new job two weeks ago.
Fleites led the management and distribution of more than $110 billion in ETF, mutual fund and managed-account assets at SSgA. He was also a director of CitiStreet LLC, a State Street-Citigroup venture and industry leader in defined-contribution and defined-benefit plan administration services. Upon leaving State Street, he headed the ETF business at ProFund Advisors LLC. Currently, he is managing director of Boston-based Beta Capital Advisors LLC. See: Cerulli report: Specialized RIAs likely to win middle-market 401(k) plan battle.
Giant slayer?
Yet despite having worked with companies of enormous resources and brand recognition, Fleites saw something in the technology of Invest n Retire that led him to believe it could compete with giants. He wanted to bring the system of asset allocation that his former employer used for institutional accounts and see it used for individuals of more modest means.
"I was always left with an uneasy feeling. Why wouldn't the smaller investor benefit from these [methods]," Fleites says.
Invest n Retire has six employees and less than $1 billion of assets under administration.
A new way to buy ETFs
At the heart of Invest n Retire's value proposition is technology that enables plan participants to buy fractional shares of ETFs even though such transactions are not possible on the stock exchanges. Another company with fractional share capabilities is Folio Institutional. See: Folio Institutional finds its winning formula for RIA custody in specialized trading technology.
This is an another edge that 401(k) plans using mutual funds have maintained because purchases can easily be made in dollar amounts. Another aspect of the firm's technology is its ability to handle transactions of more thinly traded ETFs. "ETFs are harder to trade than stocks [because of liquidity issues]," Abrahamson says. See: TD Ameritrade beats Schwab to the punch with ETF option for retirement plans.
On the other hand, ETFs have big advantages over mutual funds, according to Fleites. "With direct access to ETFs during the trading day, the INR platform overcomes the inefficiencies and lack of transparency inherent in mutual fund transacting, resulting in better asset allocation controls and more efficient trading of plan contributions for participant accounts," he says. See: The basic ETF trading practices that can save your clients money.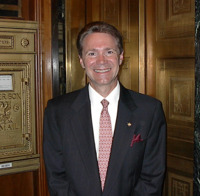 Darwin Abrahamson: [Fleites] knows how to
run a big business better than
I do.
By using ETFs, Invest n Retire empowers RIAs to charge lower rates and undercut legacy plans that get exposed by the new transparency rule sbeing rolled out by the Department of Labor. "We are giving them the technology to go after these accounts," Fleites says. See: DOL tells employers when they must fire advisors to 401(k) plans.
The opportunity to bring this technology to a wider audience doesn't come a moment too soon with regulations that require much greater transparency, according to Abrahamson.
Perfect timing
Schwab has come to a similar conclusion as it presses forward with 401(k) business with ETFs at the core. See: Schwab to make long-awaited move in 401(k) market with an all-indexed mutual fund and ETF strategy.
Invest n Retire was founded in 2000.
Fleites is a graduate of the University of Pennsylvania's Wharton School; he holds an MBA from Babson College and is a chartered financial analyst.
---
---