Bill Dwyer gave a high-energy speech predicting 500% asset growth among independents as 401(k)s roll over.
Brooke's Note: The Barron's Top Advisor conferences get mostly good news — but some bad news — reviews when you talk to advisors about it off the record. The good news is that there is an industry force in Barron's with the heft, organization and brand to bring so many great RIAs and RIA business executives under one roof. See: Enthusiasm simmers in the wake of the by-invite-only Barron's Top 100 conference. Advisors speak very highly of the Barron's people that they come in contact with at the event. The less good news is that — like all-star games in professional sports — there isn't that much intensity. Everybody plays nice. Remember when it got so bad in Major League Baseball that they gave the league winning the All-Star Game home-field advantage in the World Series to spark things a bit? Maybe Barron's could come up with something like that — such as asking the custody heads some harder questions on the panel. The other not so good news, at least from a reporter's standpoint, is that advisors generally don't want to be quoted about the event, except about how honored they are. Being designated as a top Barron's advisor is not immaterial to their practice. It attracts assets. See: What lessons can Barron's #1 rated financial advisor teach us?. I suppose that part is good — especially if they attract the assets from less caring or less capable advisors. Thanks to John Furey for his lively and comprehensive report of last week's goings ons.
Big-name attendees abounded at Barron's Top Independent Advisors Summit last week. The conference, held from March 21 to March 23 at the upscale JW Marriott resort in Scottsdale, Ariz., attracted than 350 advisors, executives and vendors gathered to celebrate advances in the industry while addressing some of its more pressing challenges.
Headliners included Charles Goldman, Cetera Financial Group's Barnaby Grist, Tom Giachetti of the law firm Stark and Stark, and the division heads all of the major asset custodians. The boutique exhibit hall was bustling with intimate conversation, giving the vibe of an intimate reunion as opposed to a conference for the masses. See: Charles Goldman will give a speech and Shareholders Service Group will make noise in the marketplace.
Bill Dwyer on fire
Sterling Shea, managing director and head of advisor programming at Barron's — the architect and host of the event — kicked off day two by introducing Bill Dwyer, president of LPL Financial, who delivered a high-energy speech about the industry's future. Dwyer made a bold prediction that asset growth in the independent channel could increase fivefold over the next decade as baby boomers' retirement plans roll over — music to this audience's ears. As he looked to the future, Dwyer challenged advisors to shift to pure client acquisition and outsource functions such as the back office and even investments — a somewhat self-serving argument for advisors and broker-dealers alike. Dwyer ended with a call to action for this group to solve what he calls "the pending retirement crisis" — given that 28% of U.S. households have no retirement assets. See: What LPL's Bill Dwyer had to say about recruitment, and pressure from custodians.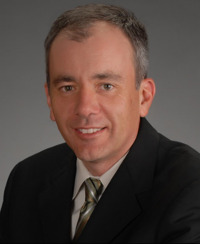 John Furey: Barron's has certainly reached
a new pinnacle.
Love hurts
He delivered a potent yet collaborative message that performance means nothing without the "sizzle" of articulating a well-thought-out value proposition. The crowd was receptive, probing Carson on his investment process and portfolio construction. He said that advisors should be more open to new investment ideas and not to "fall in love with your own opinion." See: Why exactly is Ron Carson forming an RIA and why is it happening now?.
An all-time conference favorite, Greg Valliere, chief political strategist at Potomac Research Group, and CNBC commentator, led the luncheon general session. After noting a turnaround in the U.S. economy he quickly deadpanned, "Now what will Washington to do next to screw it up?" drawing a roar from the crowd. Valliere noted that Congress has only a 9% approval rating, musing, "I want to know what is wrong with that 9%."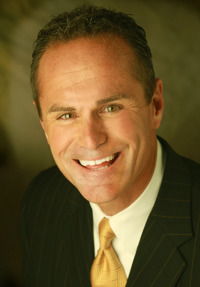 Ron Carson delivered a potent message
that performance means nothing without the
"sizzle" of articulating a well-thought-out value
proposition.
Of course, Valliere is a master at tying the political environment to the markets, and he outlined the biggest risks to U.S. markets: the upcoming election, the future of the Bush tax cuts, the debt ceiling, and entitlement reform. Valliere's biggest concern was a potential conflict involving Iran and Israel, with "the drums of war calming over the past few weeks." Despite these challenges, he was confident about the future. See: Eavesdropping on a well-kept secret: the FPA NorCal event.
Custody chiefs square off
The last general session was an interactive forum with the leaders of all of the major asset custodians — Bernie Clark (Schwab Advisor Services), Mike Durbin (Fidelity Institutional Wealth Services), Tom Nally (TD Ameritrade), and Mark Tibergien (Pershing Advisor Solutions). Barron's Sterling Shea moderated audience interaction, with the dialog ranging from practices of best-managed firms to the future of investment advice.
Instead of a dialog about why one custodian was better than the other, the tone of the conversation was set early as Clark noted, "Our job is to increase the pie for you [versus trying to beat each other]." Tibergien countered. "We like to compete as hard as we can and have beer later," drawing a laugh from the engaged audience. See: Tibergien uses brutal honesty to captivate big Schwab RIAs and others at San Francisco event.
The conversations was advisor-focused with the custodian leaders hitting on some of the major systemic problems facing the industry today. Tibergien noted, "Given our growth, we will need 200,000 new independent advisors to service demand for services." He had said earlier that the RIA business needs to quickly add about 10,000 advisors. This bigger amount, Tibergien said, refers to the broader universe of 320,000 financial advisors.
Durbin said that the RIA industry is maturing and that he felt confident that "new and innovative models from this group will drive the next bull run." Clark added that all the custodians have spent a great deal of time working on key strategic issues such as the Dodd-Frank law and are looking forward to focusing on advisor advocacy that centers on growth. See: Focus shifts to Durbin at Fidelity as Goldman prepares to depart.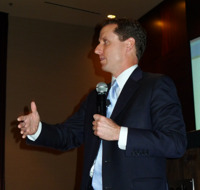 Mike Durbin: Hire an intern, put
them behind a desk, and ask
them to help you to leverage
technology and social media better.
Nally and Tibergien place an emphasis
Toward the end of the session, the focus shifted to the investment advisory model of the future and how firms would be successful yet not be commoditized. Nally said that "advisors today may not be prepared to service generation X and Y," and all panelists agreed that advisors have underserved the needs of female investors. Nally said that the way advice would be delivered would change, as the next generation will want technology supported by people, versus people supported by technology. See: Tom Nally to take the reins of TD Ameritrade's RIA business from Tom Bradley.
Tibergien, drawing from his vast consulting expertise, outlined a high-level blueprint of running a successful practice of the future, which included a well-defined value proposition, finding top talent, and astute attention to profitability.
To wrap up day two, Shea asked the panelists, "What is the one thing you would like the group to walk away with?' In a fun departure, the industry leaders joked that advisors would be best-served by consolidating assets with their respective firms. Another jokingly offered free trades to new advisor clients. Durbin, in a creative departure, recommended that advisors "hire an intern, put them behind a desk, and ask them to help you to leverage technology and social media better." See: How to execute a social media strategy: Take a college kid to lunch.
Over dinner, I asked a few attendees about the their general impression of the conference. Despite the normal ebb of flow of noting what speakers "nailed it" and others "not so much," the single biggest benefit cited was the opportunity to reconnect and engage with the industry's best. "Where else can you find the ability to speak to so many of your peers and industry leaders in an intimate environment like this?" an advisor said. As an attendee myself, I would have to agree.
John J. Furey is the founder and principal of Advisor Growth Strategies LLC .
---
---
Mentioned in this article:
---
---
---
Elmer Rich III
It would be productive if the industry was, and it's leaders were, mature enough to not make conferences just about sales pitches. Also, having presentations based on independent and objective evidence and research would be useful.
Of course, the hype, "happy talk" and self congratulations are just tactics supporting non-stop sales pitches.
Imagine if doctor's professional conferences were similarly self- congratulatory and sales-driven? What would patient's think? What would our medical care be like? That would be scary.
There is just a baseline inability to face and discuss substantive matters at financial services conferences. For example, so called "best practices." What is the evidence, research supporting any of these claims? None. It's just story-telling, and anecdotal experience. Guess work and opinions — at best.
Does anyone offer independent validation that their latest products and offerings work? No.
But ours is a young profession. It will take a few decades to reach maturity — hopefully. In the meantime — ho hum.