Matt Lynch: Tiburon's challenge is to find the right people to respond to the volume of inquiries that come in.
Brooke's Note: Operating from a retail store space on the village square in Tiburon, Calif., Chip Roame is one of the dynamos of the advisory industry. Not only does he turn out a steady supply of research and make speeches at big industry events but he counts the captains of industry as his clients. The former McKinsey & Co. consultant also holds two of the leading advisory exec conferences every year. For example, at his upcoming CEO Summit, Scott Powers, CEO, State Street Global Advisors, David Booth, CEO, Dimensional Fund Advisors, Bob Reynolds, CEO, Putnam Investments and Al West, CEO, SEI Investments Co. are scheduled to speak. But it is also understating the case to say that Roame is fiercely independent, executing on a vision very much his own — so he built Tiburon into what it is without co-principals — until now. With the hire of Matt Lynch, a soft-spoken Ohioan, that streak has ended — and it may set the stage for a bigger kind of growth at the hot consulting firm.
Tiburon Strategic Advisors has added Matthew Lynch as a principal to its firm as it casts its eyes toward doing a larger volume of business in an industry hungry for information about how to evolve and grow.
The Tiburon, Calif.-based firm is making a partner of the former president and chief executive of Capital Analysts Inc., a Cincinnati-based independent broker-dealer where he worked for five years. Lynch, 48, also worked for Moss Adams as a consultant from 2004 to 2006.
Managing principal Charles "Chip" Roame, says that Lynch's hire came down to finding the right person to meet a rising demand for his firm's services. See: Envestnet and Chip Roame forge stronger tie.
"Our client demand vastly outstrips our ability to keep up," he says. Roame adds that Tiburon has served more than 300 corporate clients and completed over 1,400 projects since its founding in 1998.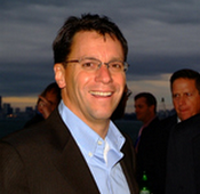 Chip Roame: I think this is
the beginning of a substantial growth
strategy for Tiburon.
"I see Matt serving clients in and around the financial advisor channels, serving their broker-dealers and custodians, serving product and technology companies seeking to better serve advisors, and also serving some financial advisors themselves," he adds.
Burst of growth
Lynch, who will continue to live and work in Dayton, Ohio (but who says he's none too upset that his job requires frequent trips to California), says that he looks forward to the challenge and he appreciates Roame's measured approach to growth.
"Tiburon's challenge is to find the right people to respond to the volume of inquiries that come in … [Roame is] going to do it in a thoughtful way. There are a lot of consulting firms that go out and add bodies. That doesn't really help the client."
There has been a burst of growth in the consulting industry of late, with the launch of FallLine Strategic Advisors. See: Former Morgan Stanley and UBS wealth management chief flirts with roll-up model then pivots to management consulting.
'What can we buy for $500 million?'
Another industry consultant says he's experiencing the same demand.
"My business has blown up just in the first quarter of 2012," says Timothy Welsh, president of Nexus Strategy LLC. "People are coming out of the woodwork. It comes down to the independent space [evolving]. We get calls from private-equity firms saying, 'What can we buy for $500 million,' and I say [jokingly], 'You have $490 million too much.'"
With the demand for knowledge about how to compete in a world increasingly dominated by independent advisors, Roame expects that Lynch's hire may be the first step of many.
"We now have a huge research base and a huge set of satisfied clients. I think this is the beginning of a substantial growth strategy for Tiburon."
Seasoned exec
Roame chose his first partner wisely, according to Philip Palaveev, president of Fusion Advisor Network. Palaveev worked with Lynch at Moss Adams.
"I have known Matt for many years. He is extremely knowledgeable, practical but creative. I think he will be a fantastic addition to any consulting firm. He has deeper knowledge of the interaction of insurance companies and their investment arms than anyone I can think of. He has worked in many leadership roles in that environment and he has consulted with most of the largest companies."
Lynch was president and CEO of Capital Analysts and he left that position when Wyncote, Pa.-based Lincoln Investment Planning Inc. announced iast month that it was buying the Cincinnati firm. He still serves as a consultant to Capital Analysts, which had 280 reps and $61 million of annual revenues at the time of its sale.
Before joining Capital Analysts, Lynch was a director of the business consulting group at Moss Adams, where he was known for his expertise in the areas in succession planning, mergers and acquisitions, and financial services distribution strategies. Previously, he held senior leadership positions for 11 years with Lincoln Financial Advisors. Before that, Lynch was an agent and manager with New York Life Insurance Co.
Lynch is a native of Dayton and earned his MBA from Xavier University in Cincinnati. Additionally, Lynch holds the chartered life underwriter (CLU) and chartered financial consultant designations from The American College.
Lynch will have his coming-out party April 17 and 18 at the Tiburon CEO Summit XXII at the Ritz Carlton Hotel in New York, with more than 200 of the firm's CEO and other exec-level clients expected to attend.
See: 10 things worth knowing from yesterday's Tiburon CEO Summit.
---
Related Moves
September 10, 2019 – 10:52 PM
---
---
March 12, 2019 – 10:14 PM
---
---
Mentioned in this article:
---
---
---