Josh Brown: It's not that I'm so great, but I've seen a lot of ugliness.
Popular financial blogger, advisor and former broker "Downtown" Josh Brown spent the first 10 years of his career with mentors who taught him commission was king and increasing clients' assets took a distant second place.
Brown, 35, says he began questioning his commission-run business during the financial crisis of 2008 and realized he no longer wanted to be a broker. In 2010, he joined New York-based RIA Fusion Analytics Investment Partners LLC, a boutique wealth management firm with about $300 million in assets.
He says even although he'd always dreamed of working on Wall Street, once he got there, he wasn't satisfied. It took Brown a while, however to muster the courage to break free and join an RIA.
"It took me too long to make the change," he says. "For a while, I didn't know any better. I worked for guys who were pure stockbrokers and wanted to generate commission and not make money for their clients. I was stuck in this world where no one was doing any better." See: Fed up wirehouse advisors more eager to leave than ever, study says.
In his daily blog, The Reformed Broker, Brown crafts sarcastic and witty posts about financial happenings — and just yesterday weighed in on the controversial New York Times op-ed written by a departing Goldman Sachs executive. See: RIAs line up behind Greg Smith as Goldman Sachs reels from exec's New York Times op-ed grenade.
Also yesterday, BrightScope Inc. announced that Brown will be joining its advisory board. BrightScope has become well-known to many advisors for publishing detailed information about them — known as AdvisorPages — and making it available over the Internet. Other RIAs already knew the company as the one that rates 401(k) plans. See: BrightScope's huge advisor database is first search-engine friendly way to connect consumers, advisors.
What not to do
Brown describes the first 10 years of his career as shuffling around to various small independent broker-dealers including the now defunct Lew Lieberbaum & Co. He grew up on New York's Long Island and says that, awed by stockbrokers' fancy cars and rich lifestyles, the only thing he wanted to do as a kid was to work on Wall Street.
But once there, the reality of making cold calls pitching new stocks proved a disillusioning experience. Brown says the focus was always on sales and not on clients' best interests.
'Play money'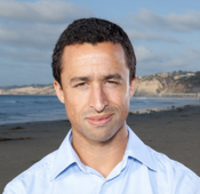 Mike Alfred: We both speak out
in the media about the dangers
and inherent conflicts of interest in
non-fiduciary business models.
When the financial markets were melting down in 2008 it became crystal clear to Brown that he was in the wrong place.
"When you're a broker, you're only getting paid when you're buying stocks and that's what made me realize I'm not in the position to do the right thing."
He actually started his blog in 2008 while he was still a broker.
"I watched brokers all over the country destroy clients and destroy firms," he says. "Someone in the trenches had to say — here's what's going on."
Once Brown made up his mind to leave the B-D world, making the leap was a lot easier than he'd imagined. All 125 of his clients came with him.
"I always had their play money," Brown says. But once he explained to clients he was making the change so he could be a better advisor, Brown was pleasantly surprised to discover that clients' gave him additional assets. He began managing clients' entire portfolios rather than just small portions of them.
Hot topics
Brown says that blogging is his only hobby other than spending time with his wife and two children. He writes for his blog twice a day during his hour-and-a-half round trip commute from Long Island to Manhattan. Brown doesn't make investment recommendations but he's never shy on opinions and he routinely throws off-color words and phrases into the mix. See: Five ways that big, savvy RIAs are winning clients online.
It's no surprise that Brown was one of the first to jump on Wednesday's widely discussed New York Times op-ed by a disillusioned Goldman Sachs executive about why he left the New York firm. Greg Smith, a London-based executive director at Goldman Sachs who oversaw equity derivatives, publicly slammed his firm in a New York Times editorial, saying that the culture of Goldman Sachs has changed dramatically of late.
In his post, titled, "How to quit a job without posting an op-ed," Brown said that, on the contrary, nothing has changed at firms such as Goldman Sachs.
"The 'culture' of Goldman Sachs is and always will be about making money, often at the expense of a client," he wrote. " ... It is a peculiar and yet telling fact of history that during the crash of 1929, not a single major Wall Street brokerage firm went under. Wanna know why? Because when the sell-off began, they dumped all their holdings prior to wiring the news out to the rest of the investing public and their clientele across the country." See: A Goldman Sachs advisor breaks away, sits out for 90 days and builds a $1-billion-plus RIA.
Goldman CEO Lloyd C. Blankfein and chief operating officer Gary D. Cohn sent an internal e-mail to employees yesterday emphasizing the firm's ongoing commitment to clients. In the e-mail, the executives cited a recent employee survey in which 89% of surveyed Goldman employees say they feel they provide excellent service to clients.
"We are far from perfect, but where the firm has seen a problem, we've responded to it seriously and substantively. And we have demonstrated that fact," the e-mail stated. "But, our response is best demonstrated in how we really work with and help our clients through our commitment to their long-term interests. That priority has distinguished us in the past, through the financial crisis and today."
Venting on Internet
Brown says he finds social-media sites to be quite therapeutic for him and other advisors.
"It helps to have an outlet," he says. "When you're responsible for people's retirements it doesn't get more weighty than that. If you don't have some type of outlet with all of the hysteria in the markets, you could really go crazy. A sense of humor really helps too."
Most of Brown's topics are financial-related, but he also writes about personal issues such as turning 35 and questioning whether he's doing his best as a husband and father.
Brown even wrote a post about why he blogs. "Blogging is essential to my career;" he says in the post. "Before the blog, I was a jerk-off retail stockbroker. I was always smart but, man, I didn't know a goddamn thing about anything. I only knew the stock I was pitching that particular day and how to get people to buy it. That part of my career is over. Now I must know everything there is to know about why and how markets are moving so that I can effectively manage allocation and risk for my customers."
Brown says that blogging has expanded his knowledge of global finance because of the dozens of stories he must read each day to be able to post about topics.
"I don't get into controversy. I have strong moral opinions. I don't have strong stock market opinions. I have opinions about what is right or wrong. It's not that I'm so great, but I've seen a lot of ugliness."
Like minds
Brightscope co-founder Mike Alfred is also a former advisor. When the two met some months ago they got along immediately.
"Mike is on a mission to liberate public data that's been locked behind firewalls and buried across an unnavigable archipelago of different websites," Brown says on his site. "What he's presenting to the public is the most accurate, up-to-date intel possible on everyone who holds himself or herself out to the public as a financial advisor."
Brown says he is hopeful that AdvisorPages can improve the industry. "I believe that AdvisorPages will help to revolutionize my slumbering, stodgy industry and shepherd in a new age of transparency." See: BrightScope debate has familiar feel of an industry being dragged kicking and screaming into the new world.
Alfred and Brown have known each other since a little less than a year ago when they began e-mailing, and they first had lunch a few months back in a midtown Manhattan steakhouse.
"We hit it off right away," Alfred says. "We share a similar worldview and vision for where the financial services industry is heading," he says. "We both speak out in the media about the dangers and inherent conflicts of interest in non-fiduciary business models. Josh is not afraid to speak his mind and share his opinions about where the financial advisory industry is going."
---
---
Mentioned in this article:
---
---
---