News, Vision & Voice for the Advisory Community
The San Francisco-based company will have Andy Gill and John Clendening assume the duties
February 9, 2012 — 9:59 PM UTC by Brooke Southall
Brooke's Note: We just became truly aware of Ben Brigeman in 2011 when he announced the introduction of Schwab's franchise concept and quoted him for this article. See: Why Schwab is embracing a franchise-like strategy to fast-forward branch growth.
Benjamin L. Brigeman is leaving his position as The Charles Schwab Corp.'s head of retail investing.
The executive vice president of investor services will vacate the position with the San Francisco-based company later in the year and his duties are being transitioned to G. Andrew Gill and John S. Clendening. Gill has been serving as the chief operating officer of retail, making him Brigeman's number two man. Clendening has been overseeing OneSource, Windhaven and central advertising, among a long list of duties.
Hong Kong to Indianapolis
Brigeman leads the development, strategy and delivery of Schwab's broad array of investment services for individuals. He is responsible for approximately 300 domestic and international branch offices, including offices in London, Hong Kong and Puerto Rico, and also oversees client service centers in Austin, Texas; Denver; Indianapolis, Ind.; Orlando, Fla.; Phoenix and San Francisco.
This transition has been underway for more than a year, and Brigeman has held his current job for the last five years and has been with Schwab since 1996.
In the company's Feb. 2 business update for Wall Street analysts, Schwab chief executive Walter Bettinger spoke warmly of his colleague.
"He and I have worked together for almost 16 years, [and] have a very, very close business relationship. As many of you know, Ben has done a wonderful job for us. He has traveled extensively over the last 15 years, and certainly the last five, in which case that five years is the longest tenure of any individual leader in our retail business since I joined Schwab back in the mid '90s. But with his family in Ohio and all of the issues that go along with that, Ben's made the decision to leave the firm later this year."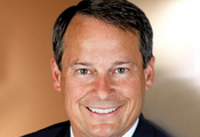 Walter Bettinger: Five years is the
longest tenure of any individual leader
in our retail business since I
joined Schwab.
Peak earning years
An executive recruiter who asked not to be identified says she finds it very difficult to believe that an executive like Brigeman would simply walk away from a job of this caliber in this job market during his peak earning years. Brigeman is 49. He made about $2,563,404 in total compensation in 2010 and had a salary of more than $511,000, according to Forbes.
The recruiter added that there is considerable buzz in the headhunting community about big structural changes afoot at Schwab because of the company's desire to jump-start its growth — particularly on the retail side where things have been relatively stagnant. The recruiter believes that Brigeman's departure could very likely be tied to those fast-coming changes. Those changes are indeed likely, according to a second observer who asked not to be identified.
Central management function
Alison Wertheim, spokeswoman for Schwab, explains Brigeman's departure in this way:
"The head of the retail business is a central management function within Schwab and as such needs to be a job that is located in headquarters here in San Francisco along with the other enterprise heads, CEO and CFO. For personal reasons, Ben is committed to remaining in Ohio, and a move to San Francisco wasn't something he was able to do at this time. With other capable and experienced executives in our management team available, he and Walt felt this was a good time to make that transition, which he'll do over a period of time."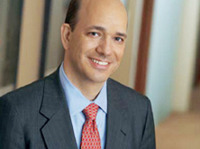 John Clendening already oversees OneSource and
other key areas of Schwab.
Bettinger and Jim McCool, Schwab's executive vice president for institutional services, are also formerly from Ohio, and both moved to the San Francisco Bay area.
Schwab declined to have its executives interviewed for this article.
Brigeman has been stationed in Ohio during his full tenure at Schwab. He held various positions in Schwab's retirement plan business, which he joined as a vice president in 1996, bringing to Schwab more than 11 years' operations, technology and relationship management experience in servicing the retirement plan market. Brigeman eventually assumed responsibility for all aspects of Schwab's bundled 401(k) product — SchwabPlan — including sales, servicing, relationship management and product development.
Before joining Schwab, Brigeman held various positions in the trust and investment management area at Key Bank in Cleveland.
Retail urgency
Schwab's new determination to have its retail leadership in San Francisco may speak to the urgency of getting that aspect of the business rolling. Schwab has continued to be a big winner in claiming net new assets. It brought in $145 billion of such assets in 2011 alone and $300 billion since the 2008 crisis, more than all its publicly traded competitors combined, according to the company.
It has not been yet been able to translate those gains yet into the kinds of profits that lift a stock price. Schwab shares today were trading at below $12.50 per share and this range was seen in 1998 and during the 2003-2005 era. In 2008, shares reached the $26 point.
Succeeding Brigeman as the head of retail at Schwab is very difficult because of the nature of the playing field, according to Timothy Welsh, president of Nexus Strategy and a former director of marketing for Schwab's RIA business. It was always difficult going up against sales forces at brokerage firms in a company, Schwab, that does not have a strong sales culture. But it's become even more challenging to grow profits in this interest rate environment. Only so much income can be derived from $9 trades. "They had interest rate leverage and now that's gone," Welsh says. Welsh has TD Ameritrade as a consulting client.
Schwab also has a budding fee-based private-client business but it is still relatively small to competing full service brokers at about $50 billion of assets. See: Starting 2012 with a bang, Schwab will place its private client business under a new RIA.
Brigeman also oversaw retail during the beginnings of a potentially explosive branch expansion using independent operators as franchisees. See: Are Schwab's independent branches an opportunity or a threat to RIAs?. There have only been a handful of branches opened thus far and there are questions about whether the bold program will make a material impact on Schwab's earnings anytime soon. See: Schwab spells out the details of its franchise plan.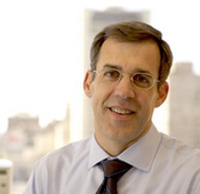 Andy Gill will share in the
responsibilities abdicated by Brigeman.
Smooth, smooth
Bettinger said at the business update for analysts that Brigeman's replacements are poised for a passing of the baton.
"You know, as we had built and planned, Andy Gill and John Clendening will be overseeing the Investor services area. Of course, Andy has been chief operating officer. John already has been overseeing many of the areas that are part of investor services, like our advertising, marketing, things along those lines. So we expect a very, very smooth and positive transition, and, again, Ben will be staying around for a number of months assisting us in this process."
But the executive recruiter says it remains to be seen whether two executives in relatively back-end roles can succeed in front-end roles.
Gill is currently listed by Schwab's website as being responsible for leadership of the retail-client-experience organizations, as well as portfolio consulting; retail strategy; and supervision and controls.
Clendening has an exhaustive job description on the website with both front- and back-end roles, including: product management for the firm's net interest income-generating products, including deposits, client cash, and margin lending; third-party product platforms such as Schwab OneSource; alternative investments; fixed income; money management services through Charles Schwab Investment Advisory and Windhaven Investment Management; central marketing, including advertising, public relations, marketing services, research and the firm's client loyalty initiative. See: Schwab's purchase of Windhaven made its asset growth soar — and RIA assets may be the afterburners. Also platform strategy and management for the firm's websites, broker desktop, customer relationship management systems, and client reporting solutions. See: Schwab's big effort yields big improvements.
And he oversees the Schwab Center for Financial Research, which provides individual investors and Schwab's proprietary portfolio managers with commentary, and decision-making tools; corporate strategy development, including assessment of consumer sentiment, competitive landscape, market position and operating environment, and implications for corporate and business line strategy.
Brooke's Note: It is notable that Schwab's head of retail is on his way out at the same time as TD Ameritrade's head of retail has announced his exit. See: John Bunch is hired as the new CEO of The Mutual Fund Store.
---
Mentioned in this article:
---
---
Share your thoughts and opinions with the author or other readers.
---