News, Vision & Voice for the Advisory Community
Tom Bradley will become president of retail distribution, setting him up as a potential successor to Fred Tomczyk in the CEO role, one expert says
February 6, 2012 — 10:39 PM UTC by Brooke Southall
Brooke's Note: What TD could only have hoped for if it ever lost Tom Bradley as head of its RIA business was a second Tom. It seems to have one both in name, experience and personality. Tom Nally is a strong personality who has made TD unusually effective in winning breakaways, considering its size. He can think on his feet and speaks well publicly. Still, this is unexpected, somewhat shocking news.
After years as the faithful lieutenant to J. Thomas Bradley Jr., Tom Nally will move from his job as head of sales to Bradley's post at the helm of TD Ameritrade Holding Corp.'s RIA business, with Bradley becoming president of retail distribution. The changes were announced at 5 p.m. today. See: Tom Bradley answers 10 questions about TD Ameritrade's competitive stance in his 25th year.
Bradley, 49, has long served the company as president of TD Ameritrade Institutional, the firm's business unit serving independent registered investment advisors. Bradley, who has nearly 30 years' financial services industry experience, has been a fixture at the company, and within the RIA business community, for the last 20 years. See: What Tom Bradley's reign at TD Ameritrade says about the RIA business.
After having been on the RIA side of the business for decades, Bradley will round out his knowledge of the business by heading the retail unit — and this could have a larger purpose with respect to Fred Tomczyk, president and chief executive officer of TD Ameritrade, according to Charles "Chip" Roame, managing principal of Tiburon Strategic Advisors.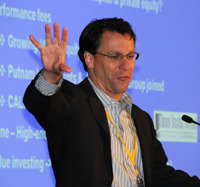 Chip Roame: If Tomczyk sees him
as a potential successor, this is
the obvious career move; running the
other core business unit seems like
a savvy career move.
"If Tomczyk sees him as a potential successor, this is the obvious career move; running the other core business unit seems like a savvy career move," he says. Roame adds that the move consolidates power from Nebraska to New Jersey for Tomczyk. Tomczyk and Bradley work from Jersey City, N.J. and the firm is based in Omaha, Neb. Tomczyk is 56.
Nally, 40, is based in Fort Worth, Texas.
Next step
"Tom Bradley has been a strong member of the TD Ameritrade management team for many years," said Fred Tomczyk, president and chief executive officer in a statement. "He understands our company, and the industry, and is widely respected for his work supporting RIA advocacy and development. He has grown TD Ameritrade Institutional into a major player in the fastest growing segment of financial services by expanding technology and product offerings and putting clients first. I am confident that he will put his broad knowledge base and determined management style to good use within our retail-client organization."
Bradley says he is excited to be taking this next step in his career.
"My time spent working for independent RIAs, helping them better serve their clients and create successful practices, and supporting the issues that are important to them on a national scale, has been a joy and a privilege," Bradley said in the release. "I am fortunate to have created a number of meaningful relationships that I hope will continue as I move on to the next chapter in my career. I look forward to guiding our retail sales, service and product businesses in a similar capacity and building an even better experience for our clients."
Bradley's ability to straddle both businesses intellectually could help advisors to get more benefit from branches.
"My guess is he will drive more coordination (think referral programs) between the two businesses," Roame says.
Versatile player
Nally has been with the company since 1994, spending the last 12 years on Bradley's management team at the custody unit.
In his most recent position, Nally and his team were responsible for developing new RIA relationships and practice management consulting. Nally has held a variety of positions for the firm and has had responsibility for, among other things, trading, fixed income, advisor relations, client service, advisor technology, and account services and operations, serving the more than 4,000 independent RIAs who have assets under custody with TD Ameritrade Institutional.
Nally will also join TD's senior operating committee, a group of senior executives reporting directly to Tomczyk who are responsible for the strategic direction and decision-making at the company.
"I can't be more excited about the future of TD Ameritrade Institutional with someone like Tom Nally at the helm," Bradley continued. "He, too, has dedicated the better part of his career to advisors — building relationships, putting clients first and always asking how we can better help advisors succeed. We have worked together for nearly 20 years. I cannot imagine our associates or advisor clients in better hands."
John Bunch, 45, president of retail distribution, has resigned his position, effective this Friday. Bunch, who had been with the company since 2004, leaves to take the top leadership role at an investment advisory firm.
"When you consider the organic growth that TD Ameritrade has delivered over the last several years, much of that success is due to the leadership of John Bunch," Tomczyk continued. "John developed a talented leadership team with a depth of knowledge and experience in serving retail investors. Together they helped transform our client service teams into a true service and sales organization. John's approachable, straightforward manner will be missed by our associates and clients alike. We thank him for his contributions to TD Ameritrade and wish him well in his future endeavors."
Bunch started his career as a Schwab branch manager in 1993 and was the general manager of 103 branches in 29 states when he left Schwab to join TD in 2004. He has been with TD ever since in various capacities relating to managing branches.
---
Mentioned in this article:
---
---
Share your thoughts and opinions with the author or other readers.
Greg Brown said:
February 8, 2012 — 2:50 PM UTC
Great move for TDA and both of these outstanding leaders!
---
---