Dick Cheney expressed some gloomy views about the economy and the terrorist situation.
Brooke's Note: If you're kind of bummed that you missed out on TD Ameritrade's Florida extravaganza last week, you're like me. But I found I made up some major ground by reading Tim Welsh's overview and I think you will, too.
Sprawled out over multiple hotels and properties, 2,500 attendees, including 1,300 advisors, convened in the sunny and friendly environs of Orlando, Fla. for the annual TD Ameritrade Institutional national conference held from Feb. 1 to Feb. 4.
Building on the growing momentum of its RIA custody business See: Once good for a few million, TD Ameritrade's foot-in-the-door strategy is starting to net billions, TD impressed the crowd with high-profile keynote speakers, a technology showcase, practice management gurus, elegant parties and a legendary 1970's-era disco band.
Winning!
Key issues Bradley offered for consideration were managing market volatility, ways to take advantage of the coming wealth transfer opportunity and the importance of better serving women investors and the next generation.
"Women today control $8 trillion in investable assets and that is projected to grow to $22 trillion by 2020," he said. "The wealth transfer opportunity is also right around the corner, so what are your strategies to prepare your practice to take advantage?" See: Forget their reputation; rich women are more fearless investors than supposed.
Following Bradley was Fred Tomczyk, CEO of TD Ameritrade, who was interviewed by the charming Mandy Drury of CNBC.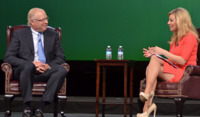 Fred Tomcyzk speaking with Amanda Drury:
The potential 'black swan' event is
the unstable situation in Europe.
Tomcyzk explained how his company has been able to thrive despite current low-interest levels.
"We lost one-third of our revenues because of the decline in interest rates, so we've had to find ways to make up for that shortfall by moving to bank deposits rather than money market funds, keeping a focus on expenses and being opportunistic with increased marketing during the recession."
But Tomcyzk was less gung-ho on the outlook for the economy. "I think we are in for a long and slow recovery, with the potential 'black swan' event being the unstable situation in Europe."
Bite of the Apple
A key focus for the conference was displaying the integrated technology offering of Veo Open Access. This initiative features dozens of third-party software vendors who are integrating their purpose-built systems into Veo's Application Program Interface, TD's advisor brokerage workstation and portal. The firm says it is quickly bringing to market the efficiencies of integrated technology by providing access to the vendor community to create custom integrations. See: TD Ameritrade's technology, Veo, wins high praise from advisors so RIABiz took a look.
"We're taking the Apple model of opening up the platform and allowing the advisor to choose what systems they want to use," said Bradley in his keynote.
Veo Open Access was on display in a special pavilion in the exhibit hall that featured over 30 advisor software vendors demonstrating how their integrations will work.
Tech talk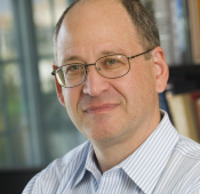 Joel Bruckenstein: More levels of integration,
something that we've been predicting for
years, finally coming to fruition.
Continuing the technology theme, and one of the more compelling panel discussions, was a panel featuring technology industry heavyweights who shared their experiences and predictions for the advisor industry.
Noted tech consultants and journalists Joel Bruckenstein of T3; Bill Winterberg of FPPad.com Andy Gluck of Advisor4Advisors; and Davis Janowski, technology reporter for InvestmentNews, were excited about the technology prospects for the industry. They did, however, provide some cautionary thoughts for advisors.
"There are online applications available now that are free or low cost and can provide a similar level of financial advice and money management that you do," warned Gluck. Janowski echoed that theme. "These apps [such as Wealthfront, Betterment, LearnVest, and Mint] will get better and better and therefore you need to be aware of them, particularly for the next generation of client that will most likely be comfortable using them."
Other solid advice for advisors behind the technology curve came from Winterberg who said, "If you can't rebalance your portfolios in one day or find a document in 30 seconds or less, than you are losing money and you need to take a hard look at updating your technology." See: Volatile markets spark interest in rebalancing software – along with questions about how much is necessary.
Bruckenstein pointed to the role of the custodians in driving integrations. "The industry is evolving quickly, with more and more levels of integration, something that we've been predicting for years, and it is finally coming to fruition."
One of the newer and more popular features of the conference this year was a Social Media Lab that was frequently buzzing with advisors who were learning how to enhance their presences on the popular sites through "Social Media Makeovers." Marketing experts and consultants were on hand to introduce these new channels to advisors and show how to use them effectively in their businesses.
A-list speakers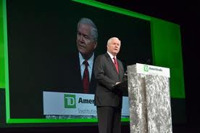 Former Secretary of Defense Robert Gates
provided a somewhat depressing view of
the world scene.
This year's conference featured an impressive lineup of politicians, academics and government leaders. Former Secretary of Defense Robert Gates provided a somewhat depressing view of the world scene, based on his decades of experience in politics and diplomacy.
Researcher, author and professor at The Wharton School, Jeremy "I never met an equity I didn't like" Siegel, was one of the more bullish additions to the agenda. "The stock market currently is undervalued by 25% and there are great opportunities with dividend- paying stocks," he said.
Rounding out the program were a couple of keynotes from former Vice President Dick Cheney and Sheila Bair, chairman of the FDIC. Cheney grumpily blamed Obama for all of the nation's problems while painting a fairly doom-and-gloom view of the economy and the terrorist situation. Bair, on the other hand, was hopeful about keeping the best of Dodd-Frank in place. See: The 7 government actions that could reshape the advisory business in 2011.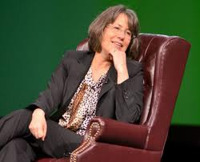 Sheila Bair is hopeful about keeping
the best of Dodd-Frank in place.

Saturday night fever
In contrast to the serious tone of the conference and sobering views from the keynote speakers, TD hosted a string of receptions, dinners and after-hours parties capped by a closing night gala event headlined by the remnants of the 70's era disco group, Kool and the Gang. Kool put on a lively show while attendees dined on exotic appetizers and took full advantage of the open bar. The evening continued with many gatherings in downtown Orlando, hosted by the exhibitors and sponsors.
Proving that he is one of the hardest working and most approachable executives in the RIA business, Bradley and his management team managed to stop by seven dinners in one night, welcomed attendees in the hallways and individually thanked the over180 exhibitors. This personal touch did not go unnoticed and was appreciated by all.
Timothy D. Welsh, CFP® is the president and founder of Nexus Strategy LLC, a leading consulting firm to the wealth management industry and can be reached at tim@nexus-strategy.com or on Twitter @NexusStrategy.
---
---
Mentioned in this article:
FPPad.com
Consulting Firm
Top Executive: Bill Winterberg
---
---
---
http://jandjbigyard.com/jandjwelcome.php
So,people who deal with hurdles to have married with each other for your quantity of situations can elope to Italia as well as the wedding day organizers will require suitable treatment in the peace. Couple who would prefer to experience the fun and experience of elopement and acquired married can even be welcome through the .Ensure it is simple using the ideal Graduation Dresses
http://uatk.kz/user/carpinteyroyrj/
On moving into, my spouse questioned me who was within the door and that i spelled out that it absolutely was an more mature person asking me if I required to order an apple thinking that probably he's a burglar casing the house to view if any individual is dwelling!