Ryan McDermott: It's a proven business model, highly, highly validated. I get to work within that.
Brooke's Note: It's one of the biggest overt moves that a bunch of ex-Goldman Sachs guys have made since founding an RIA in 2000 and building it into a $6 billion firm with New York-centralized, tightly controlled service: Cloning their efforts on the West Coast with a San Francisco office opening and a vote of confidence in a young, talented — you guessed it — Goldman Sachs defector to head it. Still, Art Black, a founder of the firm, downplays the Goldman Sachs angle. "It's not a raid on Goldman Sachs. We have people from U.S. Trust and Morgan Stanley [among other companies], too," Black says, adding that he found Ryan McDermott by "word of mouth" and not through an active recruiting process.
It's not easy to forgo a lucrative career at a big-name financial services firm to forge a path as an entrepreneur. But back in 1999, when Michael Anson, Brett H. Barth, Arthur Black, Evan Roth and Todd C. Whitenack, all in their late 20s, spotted a wide-open opportunity in the marketplace to serve business owners and other clients with a multifamily-office model, they pounced.
Fast forward to 2011 — their firm, BBR Partners LLC, has opened a new office in San Francisco's financial district — its first location outside New York since its founding. It recruited Ryan McDermott, a former vice president in the private-wealth-advisory division of Goldman Sachs. In June, he began leading the new, four-person office, which already manages the assets of five family groups. See: A Goldman Sachs advisor breaks away, sits out for 90 days and builds a $1-billion-plus RIA.
"There is an untapped need here that we see," says McDermott. The dream for the office, he says, is organic growth that is in sync with the New York headquarters, where he spent three months learning the culture. "It's a proven business model, highly, highly validated," he says. "I get to work within that."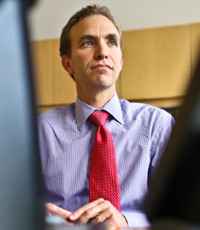 Evan Roth: If we didn't do
it then, it would be less
likely in 10 years.
New money
What drove a New York wealth manager to replicate itself 3,000 miles away? BBR has traditionally served older money accounts but the West Coast office will serve a blend of old and new money. But there is also the advantage of having people who can talk the West Coast language. "There's a bit of a different culture and knowledge base on the West Coast," Black says.
"Our clients are super-accredited investors, and typically don't have as much need for liquidity as others saving for retirement," he says. BBR Partners' approach — which starts with a top-down view to determine an appropriate asset allocation for each client — combines the use of traditional investment vehicles with private-equity and hedge fund strategies and real assets. "It's not a plain vanilla, cookie- cutter mutual fund portfolio," he says.
While it's not uncommon for RIAs to focus on a particular niche in the marketplace, BBR's approach is a strong differentiator.
"Focusing on entrepreneurs like BBR does is pretty unique in the industry," says John J. Furey, founder and principal of Advisor Growth Strategies, LLC, a national practice management consulting firm based in Phoenix. "I think their strategy works well because there are a finite number of people who can execute it successfully."
"We felt there was an opportunity [in 2000] where a boutique could provide an additional level of servicing that the banks just couldn't because of their girth," says Roth. Their goal was to provide a much higher ratio of staff to clients than at the typical wealth management firm. BBR has 63 employees serving 75 ultrahigh-net-worth families today.
'Zero paychecks'
And the timing was right for them as young adults with no dependents. "If we didn't do it then, it would be less likely in 10 years," says Roth. At the time, the Goldman Sachs alum was working at Global Asset Management, where he knew Anson and Whitenack as colleagues. That same year, GAM was acquired by UBS AG. Barth was a vice president in Goldman's equities division, while Black was a client advisor in Goldman's investment management division. Seeing friends in other industries jump into the startup scene in New York at the time, they were drawn to launching their own business in a field they knew well.
So, in 2000, the founders of what was to become BBR Partners set up shop in Barth's apartment in New York City and set to work recruiting clients. "We went to zero paychecks," recalls Roth, now managing partner. To keep costs down, they worked at folding tables in one room.
The group decided early on to stay focused on clients with a minimum of $10 million in assets to invest. As they networked to attract accounts, they found that entrepreneurs were often drawn to the fledgling firm. These company owners were willing to take a chance on working with BBR because they saw the value of being served by entrepreneurs who had an innate understanding of the financial realities they were facing. As the business grew through word of mouth advertising, they found themselves working with business owners in industries ranging from jewelry retail to scrap metal.
But they were not just looking at clients' wealth. They also wanted to work with people they enjoyed serving and turned down one family with wealth above the minimum because the members did not get along well. See: Are ultrahigh-net-worth clients really worth it?.
"They were not nice to each other," says Roth. "It was going to be a difficult situation to service this client." One way BBR won the confidence of potential clients was by using custodians such as Schwab and Fidelity. "The money wasn't held at BBR Partners," says Roth. BBR relied on investment managers ranging from small independents to those at large institutions such as J.P. Morgan Chase & Co. The team's investment philosophy is, as Roth puts, "somewhat bottom-up." He notes, however, that BBR does deep research to come up with the right investment strategies for each asset class.
12 years later
"Those first few clients were taking a pretty big leap of faith that we were building something that would serve their families well," says Roth. BBR gradually added some clients who were not entrepreneurs, as well. The partners also found that some people they served in their previous firms wanted to follow them.
The business started picking up traction through word of mouth, and, the team quickly moved, using a U-Haul truck, to the Graybar Building above Grand Central Terminal in 2000. In 2006, BBR increased its minimum account size to $20 million in investible assets to focus on the clients the partners felt they could best serve, given their expertise in sophisticated investments and complex financial issues.
Today, with nine partners and 63 employees, BBR has an average account size of $70 million. Using the same investment strategy as it did in the beginning, the firm now oversees just under $6 billion in assets.
---
---
Mentioned in this article:
---
---
---