Joel Bruckenstein (with David Drucker): It is the only time during the year that all of the technology vendors to the industry are gathered in one place.
Spread out over three days, the 7th annual T3 Technology Tools for Today conference convened in downtown Dallas at the massive Hilton Anatole hotel last week from Feb.16 to Feb.18. Over 500 advisors, software vendors, and custodian executives gathered to see first hand the latest enhancements, innovations, trends and news in the advisor technology business. From last year, see: T3 Friday Liveblog – updated every two hours – latest: RIA and vendor critiques.
The brainchild of technology gurus Joel Bruckenstein and David Drucker, T3 is the largest gathering for advisor technology in the RIA industry; a trade show environment with nearly 75 software companies displaying their wares, sandwiched around an agenda chock-full of keynote speeches, panels, workshops and parties.
For conference attendees this year, those issues focused around technology integrations, mobile apps and cloud computing.
"T3 is the only conference devoted exclusively to the technology needs of the advisor community, says Bruckenstein. "It is the only time during the year that all of the technology vendors to the industry are gathered in one place and it is the only educational program of the year devoted exclusively to advisor technology." From last year, see: The T3 conference hit its stride Friday with key speeches and a hum of activity.
Adds Drucker, "This year's conference content shines a light on the most pressing technological issues of the day for independent financial advisors."
Tech splash
T3 kicked off with 30 pre-conference workshops hosted by the industry's leading technology firms, including major RIA custodians such as Schwab, TD Ameritrade, Fidelity and Pershing. Top of mind for these institutions was the continuing quest for integrations among systems to streamline advisors' back offices and help drive operational efficiencies. See: Fidelity is set to add Envestnet, Redtail, Morningstar, AppCrown and Salesforce to WealthCentral.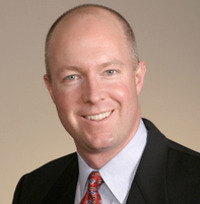 Tim Welsh: The $54 million deal
news caused much buzz among the
many software firms in attendance…as they
speculated whether they, too, may be
in line for a big-time payday.

"We've invested millions of dollars into this initiative and will continue to invest millions more," noted Zohar Swaine, managing director of Institutional Strategy and Product for TD Ameritrade. See: TD Ameritrade brings some Florida heat to the RIA winter.
News flash
The biggest news of the conference broke on the first day when word spread rapidly that Envestnet had purchased Tamarac to bolster their platform and appeal to more RIAs.
This juicy news item had many at the conference doing the math on napkins to reverse-engineer the price to see what cash flow multiple this represented and to speculate on the reasons for the deal and what it portended for the industry. See: Big deal: Envestnet will acquire Tamarac for $54 million.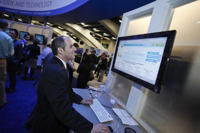 Brian Shenson of Schwab Advisor Services
demonstrates its integration CRM Junxure 9
onto its Schwab Intelligent Technologies platform.

The $54 million deal news caused much buzz among the many software firms in attendance, many of which are small and family-owned companies, as they speculated whether they, too, may be in line for a big-time payday. See: Can the new Envestnet-Tamarac Godzilla take on the Advent-Black Diamond King Kong?.
Salesforce slugfest
One of the more interesting sessions, and probably the most hyped at T3, was the afternoon session on the second day that featured the three leading custodians on a panel, each touting the benefits of their custom integrations with SalesForce.
Moderated by the energetic industry rising star, Franklin Tsung of AppCrown, LLC, the panel consisted of custodian executives, Brian Shenson of Schwab Advisor Services Andy Wang of TD Ameritrade; and Mark McGillivray of Fidelity Investments.
Designed to be controversial in nature, the panel was actually quite collegial, with the panelists more often than not agreeing with each other on how they are all focused on making advisors more efficient. While the session focused on Salesforce, each of the panelists voiced support for advisor choice and flexibility in selecting CRM packages beyond just Salesforce.
Perhaps the most telling aspect of the panel discussion occurred in the question and answer portion.
"I custody with all three of you," said one advisor. "So, which version of Salesforce should I go with?"
The answer to this question is actually not as simple as it sounds since the custodians are each designing their own proprietary integrations, certain aspects of those integrations won't work with accounts held at different institutions. Thus, advisors using multiple custodians may not fully benefit from the substantial investments the custodians are making into customizing Salesforce.
While many at the conference were looking to handicap which custodian won the panel discussion, it was pretty clear that it was a three-way tie and that the ultimate winners will be advisors as they benefit from these customizations. The other clear winner, of course, is Salesforce itself, as custodians trip over themselves looking to sell the benefits of the business cloud to advisors. See: Dreamforce review: Social media enters the business cloud and why RIAs should care.
Robot in the hall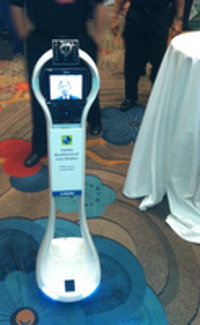 Fidelity's VGo, a four-foot-tall robot on
wheels, sporting the live image of
Fidelity's applied technology head, Al Lee,
was one of the stars of
the T3 gathering.
At the heart of the T3 conference is the crowded and busy exhibit hall. It was here that advisors were able to sample products from nearly 75 technology vendors ranging from document management firms, financial planning applications, portfolio accounting and performance reporting systems, CRM platforms along with other related vendors touting the latest in portfolio analytics, asset allocation systems, risk management and other killer apps.
One of the more show-stopping features in the exhibit hall was Fidelity's roving robot that was controlled remotely from the Fidelity booth. The robot from VGo — a four-foot-tall robot on wheels with a webcam for a head — in this case, a video display of Al Lee, senior project manager for Fidelity's Applied Technology group. Lee controlled the robot remotely and was able to have conversations with attendees.
"The robot is a proof of concept for the ability to project yourself and be able to be in multiple places at the same time," noted Lee. Definitely an attention-getter, these robots from VGo could very well replace the need for tech vendors to staff booths in person in the future.
Chocolate and chili
While the T3 organizers keep costs down by using a no-frills approach to the usual conference amenities of celebrity speakers, rock bands and open bar cocktail receptions, attendees were able to party-hop from the many vendor-sponsored after-hours gatherings.
Sporting many different Texas related themes, including a dessert bar that combined chocolate and chili, these evening events provided attendees the opportunity to continue their technology conversations with leading companies and also allowed the many vendors opportunities to build relationships with each other.
The growing and continued success of T3 portends great things for the RIA industry as more and more attention is paid to the technology needs of these fast growing firms. Based on the positive feedback from attendees and vendors, the 7th annual T3 conference was a rousing success.
Timothy D. Welsh, CFP is president and founder of Nexus Strategy, a leading consulting firm to the wealth management industry, and can be reached at tim@nexus-strategy.com or on Twitter @NexusStrategy.
---
---
Mentioned in this article:
---
---
---
http://www.garysisson.com/meatGary.asp
As a result of so quite a few steps which includes to occur for powerful digestion, it really is no surprise that a lot of people today must consider a digestive supplement that can help retain everything working easily — and it really is even simpler to determine why selecting the top digestive supplement is absolutely vital.
http://symbian.kh.ua/user/carpinteyroykw/
The iphone is additional an iPod Contact that has a net browser, a camera, a go-anywhere mail client together with the option to create cellular phone calls if you feel the need to have. The excitement surrounding the apple iphone is testimony into the brilliant minds in Apple's marketing department, simply because in all honesty the iphone is just not genuinely that great. It's fantastic to have a cellular phone with extra functionality which the apple iphone contains a whole range of, nonetheless it fails within the simplest mobile phone orientated jobs. The apple iphone has no Java app assist, so those of you who use Mxit is going to be out of luck. The camera won't have a zoom, not even a digital a person, and there is absolutely no option for taking videos. There isn't a MMS functionality which would seem to become a step backwards for technological innovation.