News, Vision & Voice for the Advisory Community
CEO says Kansas firm will also add 100 advisors in its quest to become $50 billion company
February 2, 2012 — 4:34 PM UTC by Kelly O'Mara
Brooke's Note: It's game on in terms of building big RIAs with smaller RIAs as building blocks. Yesterday's revelation that Focus Financial, the New York-based aggregator, can now tap $320 million to buy advisory practices is a case in point. Yet study after study shows that the dominant buyers of practices are RIAs themselves — not aggregators. Who are these citizen buyers? The poster-child RIA for this movement may be Mariner Wealth Advisors. It already bought smaller RIAs, a national RIA and invested in new Orion technology. See: Orion wins a $2-billion RIA account from Advent after two very long drives across the prairie. Now it's just ready to make more deals in a no-private-equity atmosphere.
Mariner Wealth Advisors returned to the acquisition trail this week, announcing on Tuesday that it has taken a majority stake in the Tulsa, Okla.-based wealth management firm Adams Hall Asset Management LLC, which brings $1.3 billion in assets and six new advisors to the rapidly expanding RIA.
This is the first acquisition Mariner of Leawood, Kan. has announced since its deal with CBIZ last year gave it a national reach. See: Big Midwestern RIA buys itself a national presence in deal with CBIZ.
But if Mariner chief executive Marty Bicknell has his way, this won't be the last big acquisition the firm makes this year.
"There will absolutely be more deals [this year]," said Bicknell, noting that a number of other acquisitions are actively being worked on and are in the pipeline.
Mariner also plans to increase its number of advisors by 100 as it deliberately moves towards a wealth-management model — a shift that began with the CBIZ deal. With the Adams Hall deal, Mariner has now 41 advisors on staff.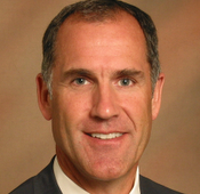 Dan Inveen: Mariner is representative of
a new type of serial buyer
in terms of coming from a
different place in terms of their
roots.
Serial buyer
The ambitions of Mariner mirror the objectives of some of the larger aggregators — companies funded with private equity and built for the express purpose of growing rapidly with acquisitions. See: This generation of advisor aggregators puts the roll-up ghosts to bed, for now.
"They can be looked at as the go-to deal for RIA-to-RIA consolidation," says David Selig, CEO of Advice Dynamics Partners. There are a certain number of RIAs that want to be part of a big company but simply aren't comfortable linking their destiny to a private equity-backed venture. For many of those advisors, Mariner stands out.
Dan Inveen, principal of FA Insight, agrees and says that this type of buyer is a big part of a "Real Deals" report that he is working on. "One person I interviewed said that this is the epitome of what a real deal is all about. It's like-minded advisors doing a transaction — and that might not always be the case with consolidators or roll-ups. Mariner is representative of a new type of serial buyer in terms of coming from a different place in terms of their roots. They start out as an RIA themselves."
The motivation of such a buyer is often more concerned with achieving scale and gaining a deeper bench of expertise, he adds. Aspirant and Edelman Financial are other RIAs that are flexing their deal-making muscles, Inveen says. See: How Rob Francais combined two giant RIAs and then added the assets of Deloitte Investment Advisors.
David DeVoe, managing partner of DeVoe & Co in San Francisco, says that the importance of cash in the deal also determines the best merger partner.
"In most consolidator transactions, equity is 30% to 60% or more of the consideration paid. Sellers are making a bet on the consolidator's success, defined here as a arbitraged liquidity event in the future. With a sale to another RIA, most or all of the consideration paid in cash."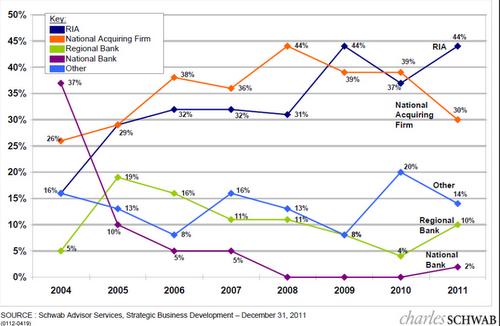 The story of RIAs as the
overtaking force in RIA M&A is
told by this Schwab chart.
Balancing act
The deal, which closed on Monday, was paid for without outside financiers. The terms were not disclosed.
Mariner Wealth Advisors is a fast-growing unit of Mariner Holdings, which includes Montage Asset Management. In 2010, Montage went on an acquisition spree, growing to $6 billion at the time.
The CBIZ deal in January 2011 expanded Mariner's wealth management sector, though, and pushed it into the national market with offices in New York, Los Angeles, and Philadelphia. It is now focusing on further expanding that wealth-management arm of the company, Bicknell says, starting with the Adams Hall deal.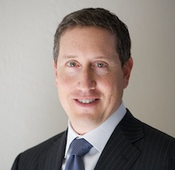 David Selig: They can be looked
at as the go-to deal for
RIA-to-RIA consolidation.
"It's another example of a large RIA whose business model has become partially focused on growing through acquisitions," says Devoe.
According to Bicknell, before the Adams Hall deal Mariner Holdings had just over $10 billion in assets, which was balanced 80% in Montage Asset Management and 20% in Mariner Wealth Advisors. But the firm is aiming to move that balance to 65% to 35%.
"We've made a conscious decision to shift that gap," says Bicknell.
"They've made it clear they're trying to achieve balance," says Selig. "From my perspective, they're achieving their vision."
Or at least Mariner is on its way to achieving that vision.
Bicknell and Jana Shoulders, the founder and CEO of Adams Hall, met three years ago at a Fidelity conference. See: Fidelity holds exclusive annual conference and gets an unforeseen jolt of energy from Bin Laden's death
Over the years, the two advisors kept in touch with each other about ideas and issues that would come up. Both say they share a similar client-focused model.
"We were philosophically aligned," says Shoulders.
Both Adams Hall and Mariner are planning-focused advisors. While there are lots of wealth advisors that focus on investment management and returns, Bicknell says, both Mariner and Adams Hall specialize in "goal-based financial planning."
Adams Hall will keep its name for branding purposes and there will be no staffing or office changes. The transition for combining services is still being worked out, but Shoulders said there are some areas, such as compliance and human resources, where Adams Hall hopes to access Mariner's capabilities very soon.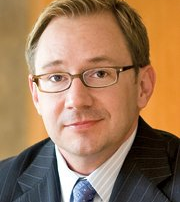 David DeVoe: RIAs are becoming the
dominant buyers in the marketplace.
Selig also notes that the similarity of the firms made the acquisition a natural process.
"Mariner and Adams Hall achieved what is often the hardest in M&A, and that is a cultural fit," he says.
It was because of that cultural fit that, when Mariner was ready to initiate more growth after the CBIZ deal, Bicknell thought of Adams Hall as a natural acquisition. "[Shoulders] was one of my first calls," he says.
$38 billion to go
Mariner continues to aim to be a $50 billion company by 2016. After the Adams Hall deal, it has just about $12 billion in assets and 325 employees, including 41 advisors.
To help with its wealth acquisition, Bicknell hired long-time Fidelity Investments business development executive Brian O'Regan in November. He heads advisor acquisition at Mariner, focusing on bringing on those 100 new advisors in the next few years and expanding the wealth management side of the company. See: Big Midwestern RIA hires away a Fidelity exec to realize its $50 billion plan
Hiring O'Regan "sends a pretty clear signal," Selig says.
Along with some exciting deals in the pipeline, Bicknell says, the firm is going to be doing less exciting — but just as important —recruiting efforts, which O'Regan is leading.
O'Regan, in fact, was responsible for helping convince Bicknell to leave A.G. Edwards in 2006 and start his own RIA, using Fidelity as the custodian.
RIAs buying RIAs
Adams Hall actually already had a local bank, F&M Bank & Trust Co., as a 51% partner, but recently reacquired that majority stake because it wanted to move it to Mariner, Shoulders says.
"They bring more resources to help our clients," she says.
DeVoe says this deal is just one example of the trend of RIAs becoming the dominant buyer in the marketplace. While big banks got back into the acquisition space in 2011, RIAs have been the dominant buyer in two of the last three years, he says. See: RIA deals fizzle in the fourth quarter but big-paying banks are getting back into the game.
---
Mentioned in this article:
Mariner Wealth Advisors
RIA Welcoming Breakaways, RIA Serving Endowments/Foundations, Advisory Firm
Top Executive: Martin C. Bicknell
---
---
Share your thoughts and opinions with the author or other readers.
---