News, Vision & Voice for the Advisory Community
Getting recruited away from TD Ameritrade was a shock but ultimately one that captured his heart
February 14, 2012 — 6:04 AM UTC by Brooke Southall
Brooke's Note: It's been a long time since one person's move in the RIA business captured so much interest. John Bunch is leaving a big-name company in the industry in the prime of his career to go to an RIA. Granted, The Mutual Fund Store does not look and feel like most RIAs — but down deep, that is what it is. It's a concept that has shown promise, but making it truly click and mushroom on a national basis is still a work in process. Bunch is taking a risk — but from what he says — and based on what he's doing — he's fine with that. See: John Bunch is hired as the new CEO of The Mutual Fund Store.
The Mutual Fund Store is a string of very simple retail stores — often found in strip malls — where the main item on the shelf is mutual funds with advice to go along with it. This makes the branches less sophisticated than Schwab's branches, for instance, but it also allows for low overhead and a concept that can be easily explained to investors. It's an RIA for the little guy.
Taking the reins
The business captured the imagination of John Bunch, 46, who is leaving his position as head of retail at TD Ameritrade to take the chief executive reins from founder Adam Bold.
"It's got an incredible business model that works, a visionary leader [in Adam Bold] and it serves a market that's underserved. I also get to work for a world-class private-equity company in Warburg Pincus," says Bunch.
Leaving TD
"One of the reason I can do this is because of what I learned from Fred Tomczyk."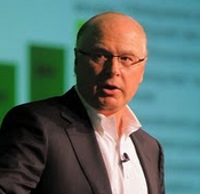 Bunch: "One of the reason I
can do this is because of
what I learned from Fred Tomczyk."

Still, the move to MFS is in keeping with Bunch's modus operandi. He says he's worked under a series of charismatic leaders — including Charles R. Schwab from 1993 to 2004 — at companies that were in intensive-growth phases. Bunch says The Mutual Fund Store under Adam Bold and Warburg Pincus fits his vision. "I'm taking somewhat the same playbook and doing the same thing … There's so much upside."
When I reached Bunch on Friday, I asked him about whether the deal opened up the possibility of TD Ameritrade and his new employer doing business together. The Mutual Fund Store is known for keeping its assets under custody with Schwab Advisor Services. Bunch said that he happened to be on vacation in Arizona — having been in attendance the previous week at TD Ameritrade's conference in Orlando. He planned to meet with Bernie Clark, head of Schwab's custody business, the next day. Bunch and Clark knew each other well when Bunch worked at Schwab.
Indeed, Bunch's personality seems to stand out for people who know him.
The right guy
"If he wasn't my CEO, I'd hang out with that guy," Bold says. "We interviewed a number of people, and he was the right guy."
The move to The Mutual Fund Store means uprooting Bunch's family from Omaha and moving to Kansas — a three-hour drive. Bunch says he likes Omaha but has plenty of friends in the Kansas City area.
There's also a universally comprehensible reason for the move.
"I felt like I can go out on top and do something different," Bunch says.
Tom Bradley, who leaves his position to take Bunch's role at TD, and Tom Nally, who leaves a good run as chief of sales for TD Ameritrade Institutional to replace Bradley, might be inclined to make the same remark about their own moves. See: Tom Nally to take the reins of TD Ameritrade's RIA business from Tom Bradley.
---
Mentioned in this article:
---
---
Share your thoughts and opinions with the author or other readers.
---