News, Vision & Voice for the Advisory Community
Peter Giza was always the RedBlack guy until this year but now he's free to admire and comment on other vendors
December 6, 2012 — 7:32 AM UTC by Guest Columnist Peter Giza
As a free agent at last month's Schwab IMPACT conference in in Chicago, I was free to roam about, visiting technology vendors without boundaries. IMPACT is known for attracting technology vendors large and small, incumbent and cutting edge, making it one of the best technology showcases. See: Eight software vendors give insider accounts of their IMPACT 2010 booth experiences.
While making my rounds, I made my way over to FinFolio:http://www.riabiz.com/d/113134 to take a test drive of Matt Abar's latest creative works. Its reputation has begun to precede it, coming out of beta mode. See: Braving setbacks, FinFolio wins a $1.6 billion RIA and dark-horses its way on to the software track.
Won over by Windows 8
As I approached, I was struck by the large touch-screen Lenovos at the FinFolio display and the interesting new look to its interface.
Matt said he felt that employing Windows 8 user interface capabilities would be a good way to attract the attention of IMPACT attendees — and he was right. The display proved to me that tactile interaction with the computer is here to stay.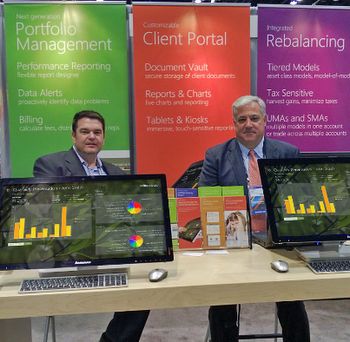 The FinFolio booth in question with
Matt Abar on the left and
Doug Moses, his senior vice.
Apple, Motorola, Google and others had already proved that touch was in, but Microsoft had yet to convince me that it could pull it off. I need be convinced no more, Windows 8 appears to be a game-changer for Microsoft products.
There are bumps in the road, such as the fact that Windows 8 doesn't play terribly well with a conventional mouse and keyboard — but what else would you expect? It's a tactile interface. This is just part of the growing pains of platform evolution. And just as there are folks still using Microsoft Office 2003, there will be those who hold on to Windows XP until the bitter end. See: FinFolio looks to offer unprecedented flexibility and power, with an intuitive interface.
Please do touch
After just a few weeks of using Windows 8 as well as Apple and Android platforms, I find myself trying to touch all screens — it's almost comical, in fact. There are points in applications where it is instinctively intuitive to reach out and touch to effect an action.
It's only natural.
While I was talking with Matt at FinFolio's booth, the founders of clearTREND Research appeared and introduced themselves. They wanted to talk shop with Matt, since his was one of the few Windows-8-user-interface-capable applications on display. It may sound corny, but it was a magical moment, something you don't see often — especially at a trade show. The ClearTREND founders offered to show off their wares and compare notes with FinFolio. See: An advertiser's-eye view of Schwab IMPACT: Who's doing what right?.
What ensued was an interchange of ideas, and new friendships were struck. This really made IMPACT 2012 a memorable experience for me. This is the kind of cooperative competition that sets this industry apart from so many others, makes it fun and drives improvement.
It appears that Windows 8 and native IOS applications could breathe new life into conventional desktop applications. But most important touch-capable user interface design paradigms will force software product designers to think differently about the user experience and how they design.
A glimpse of the future
It is easier to take a well-designed mobile application to the desktop than the reverse. If an application is designed to operate in a mobile environment, it will result in a more efficient and pleasurable user experience. Workflows and use of screen real estate must be carefully thought through, thereby improving application quality.
For advisors, this means that the next couple of years will be exciting times for new applications and vast improvements of the existing ones. As vendors and custodians alike improve their ability to share data and streamline processes, these will translate directly to the user interface.
Think for a moment of some of the tasks that you perform on a regular basis, and how these can be transformed, streamlined from 15 mouse clicks to a couple of screen gestures. This is what mobile computing and touch screen technology will enforce on all platforms.
Data will become interactive, feeding alerts that will become actionable. Interfaces will become more graphical in nature rather than the status-quo text and grid still so prevalent. I cannot speak for everyone, but I think in pictures. If I see a chart, I want to interact with it in a way that results in action. I want to invoke an action based upon the data presented. And this is what I received a glimpse of at IMPACT 2012.
Out for a spin
Getting back to FinFolio, it is quite an impressive platform. It is well-thought-out and is clearly inspired by the many years of experience of its progenitors. Powerful features such as its reconciliation engine with a customizable rules set really distinguish it from competitors. See: FinFolio looks to offer unprecedented flexibility and power, with an intuitive interface.
When first encountered, the platform can seem a bit daunting. However, once you have a few miles under your belt, you become very comfortable. Almost everything is customizable, so if you are a do-it-yourselfer, you can add custom reports galore and even extend the user interface.
Out of the box, FinFolio integrates with Microsoft Sharepoint, so sharing client reports and other data is greatly simplified. There are just too many high return-on-investment-value features to consider in the scope of this article. Needless to say, FinFolio and Windows 8 were made for each other, and that will become ever more evident in the coming months.
With all the negativity in the air these days, I think there is a lot to be positive about. Technology is quickly coming together in ways we never thought possible or imagined. And each day we are striving to make things simpler and easier to use. There will be bumps along the progression, but that is the evolution of any technology. After this, "touch and go" takes on a new meaning — one with a good connotation.
Peter Giza. recently founded Spitbrook LLC a financial technology consulting firm. Spitbrook specializes in product design and management, data systems and cloud technology consulting for a wide variety of clients. Prior to Spitbrook he was co-founder at Blackpearl and RedBlack Software and has over 25 years of technology experience.
---
Mentioned in this article:
---
---
Share your thoughts and opinions with the author or other readers.
---