This American flag showed its colors on Portland Harbor as a nor'easter raged
After scouring the small, quaint shops of Portland, Maine for gifts I was about half-successful. Parking wasn't easy, winds were blasting up to 45 knots and it was raining sideways.
I stopped in on the temporary RIABiz offices — AKA a friend's advisory firm that gives me a spare desk over the holidays — and got drawn into the bantering kind of conversation that always seems to go on there when the markets are open but it's really a holiday. That didn't help my shopping progress. I took note that these relatively conservative fellows are not impressed by Republicans at the moment — and blame them for the Fiscal Cliff problem of the days. See: Fiscal Cliff is ready for his close-up — whether we are or not.
There hasn't yet been the usual jarring shift from West Coast to East Coast living. It's been pretty warm so the snow only exists in dirty banks at the sides of big parking lots and the ice on the ponds is more of a slush from what was apparently skate-able surfaces a couple weeks ago. See: RIABiz counts down to Christmas in Maine, Oregon, Indiana, New York, Seattle and San Anselmo, CA.
Celtic pride endures
I'm staying in the house I grew up in South Freeport, Maine. The big storm took down two trees on our property and both fell conveniently on our power and Comcast wires. This effectively put me out of business and made the neighborhood noisier. Growing up, power outages brought peace. Now everyone owns generators and they roar to life across the countryside shortly after the lights go out.
There were really no complaints in our family because among the scramble of spitting wires, the cable television signals still made it through so we got to watch the Boston Celtics as per the custom.
What would L.L. Bean do?
So after what was an eventful start to my time in Maine I was still a little giftless but knowing that I hadn't yet played my shopping trump card — driving the four miles up to L.L. Bean. My journey had two missions: One was to get the final haul of gifts; the other was to once and for all stop the onslaught of catalogues that go straight from the mailbox at my houseboat homestead in Sausalito to the recycling box.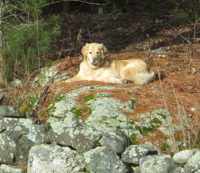 Simba back in her sun spot
was a Christmas maker after veterinarians
offered little hope.
I saw my opportunity when the cashier asked me whether she could be of any further service the way L.L. Bean people do at every turn. In a bit of a vent, I explained that I had tried to stop to the offending marketing tomes — thicker by the year — from coming to my home, in duplicate, and that they tend to stop and then resume. She directed me to the comment area but another alert Bean employee told me that I needed to go higher up the chain. I went to a service island where one Bean woman looked bewildered by my request but the other burrowed into the Bean system and supposedly put a stop to mailings going to two variations of my address.
I might add at this juncture that, since I grew up in Freeport, I have mixed feelings about L.L. Bean. The place made our town prosperous in the last 40 years. But it also changed its character — not all bad, but certainly a change. In giving millions of people around the world a taste of Maine, it has, at least with the outlet stores that glom onto its marketing coattails up and down Main Street,, stolen a measure of Freeport's essential Maineness.
What is undeniable was that it always has been a guidepost in forming RIABiz. When various questions of service, image and quality come up, I think: what does L.L. Bean do in these circumstances. It has always been a place willing to grow at its own pace and to be a big business without too heavy a corporate feel. It's nice to have such a role model.
More importantly, it's a place where I can finish my Christmas shopping. And I did. See: A chief investment strategist asks: Exactly how efficient is holiday gift shopping?.
Reasons to be thankful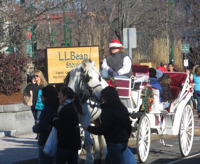 L.L. Bean is a little bit
up on its high horse but
still a top shopping bet for
us Freeporters.
I enter Christmas in a thankful, appreciative mood. RIABiz has found its way through to its fourth Christmas. Founded in 2009, it has yet to live through any boom times but the RIA business has continued to make its own luck amid plenty of challenges. The help we get throughout the year to keep on through that 24-7-52 challenge (it's not actually right to say 365) knows no season. Though I like to think our hard work earns us some of that help, the spirit we encounter daily can not nearly be accounted for by that. Thank you.
Here at home, a notable gift to me (for whom single life with a series of roommate dogs has rendered humans and canines nearly interchangeable in my mind) was that our family dog in Maine is looking good. Simba, 9, riddled with cancer, and dropping weight alarmingly, not only made it to Christmas so I could see her but has been taking all her walks and looking good. She's regained her weight and she's drooling up tennis balls with a vengeance. I've been taking lots of pictures of her. My mother decided against a course of chemotherapy so Simba could go naturally. Simba apparently has her own plans. See: RIABiz wishes you a relaxing holiday to rest up for an exciting New Year.
---
---