Jeff Spears: JMP's financial stake in Sanctuary played no part in the appointment of Johnson to the chairman post.
Sanctuary Wealth Services LLC has announced that Craig Johnson of JMP Group Inc. — a large investor in Sanctuary — will become the firm's first chairman. The San Francisco-based firm is bringing him aboard as chairman but expects him to roll up his sleeves and make things happen — namely recruiting.
Johnson, 58, is vice chairman of JMP Group Inc. and a member of its executive committee. He joined Sanctuary's advisory board in 2010. At that time, JMP made a $1.5 million investment in Sanctuary — the only outside investment the firm has received to date, says founder and CEO Jeff Spears. Johnson served at JMP Group from 2007 through 2010 and was president of JMP Securities from 2002 until 2007. Johnson spent 20 years, from 1980 through 2000, at Montgomery Securities and its successor, Banc of America Securities. See: Notes from the RIABiz one-year anniversary party.
Spears met Johnson in 1995 when he was working at Montgomery and Johnson was running institutional-equity sales there. "Craig has had the experience at successful growth companies and you can learn a lot from best practices of other successful firms," says Spears. "Also, Craig through his career has been successful at recruiting top professionals, which is an important part of our model. See: Four brokerage-world practices that could ramp up RIA asset growth.
Spears says that JMP's financial stake in Sanctuary played no part in the appointment of Johnson to the chairman post.
Co-founded in 2008 by Spears, San Francisco-based Sanctuary runs and operates its own broker-dealer and its own corporate RIA. Sanctuary currently has four advisors in California, one in Boston and one in Chicago. Spears says the focus right now is acquiring West Coast firms. See: West Coast breakaway drops UBS in favor of Sanctuary/Fortigent outsourcing.
Fully stocked pond
Sanctuary has $2.5 billion assets under management and advisement, the bulk of which come from its stand-alone RIAs. Although breakaway brokers using Sanctuary as its corporate RIA make up only a small portion of that figure — $350 million of discretionary assets under advisement — that sector has seen dramatic growth in the last year, up from $20 million. Spears says Sanctuary's current pipeline is made up exclusively of wirehouse advisors looking to make a leap to independence, and that's the stream in which he will fish for business going forward. See: A giant San Francisco RIA is poaching a Northern Trust talent to create a Chicago duchy.
"I'm constantly surprised by market trends," says Spears. "It's humbling. If you'd asked me two years ago what our business would have looked like, my guess would have been 50% [stand-alone RIAs] and 50% [breakaway business].
An eye on FINRA
Now, Spears says, he is ready to follow his member firms' leads when it comes to opening offices. "The next leg of growth is dependent on the advisors in the pipeline and what their timelines are," says Spears. "If an advisor came to us tomorrow [that wasn't located in one of the firm's current locations], that's where we open up an office. It's advisor-dependent, not Sanctuary-dependent."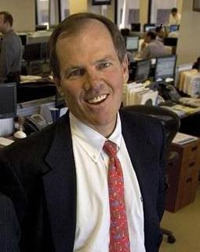 Craig Johnson spent two decades at
Montgomery Securities in San Francisco, later
Banc of America Securities.
Next year, he says, will see even more wirehouse defections, not only because of retention contracts but because of other problems with wirehouses that make them less attractive to advisors such as lack of adequate tech support. Another factor that will have wirehouse advisors looking to make the leap to independence is if a proposed FINRA rule mandating B-D fee disclosures goes in to effect. "You'll have to disclose if you get more than $50,000, and any large advisor will be getting multiples of that number," says Spears. See: Analysis: Beware of a FINRA bearing gifts for RIAs.
Milestone
A while back, the firm announced that it was expanding to support a third business model: advisors who act as portfolio managers. To date, Sanctuary has signed up one such firm: Crosspoint Capital Management, headquartered in San Francisco. See: Why the San Francisco Bay area is almost certainly the capitol of the RIA business.
---
Related Moves
August 15, 2019 – 7:58 PM
---
---
---
Elmer Rich III
December 19, 2012 — 7:41 PM
Yes, growth is the key. Our consulting experience is that our clients are lucky to do one thing well and to help them focus on that.
Being a good investor and driving growth are probably two different skill sets.
The problem with the "Golden Rule" is when I invest my money I am better to monitor my investment but let the people dealing directly with the market do their job and support them. Since I have shown confidence in them by my investment and I believe they are going to make me money, my approach is usually to serve them and always ask them what they need.
It is best if people closest to people giving the business money set the "rules."
That said, good research suggest growth comes not from any internal things but solely from whether a business is in a growth market or not. Growth comes from being in a growing market, of course.
Elmer Rich III
December 18, 2012 — 7:53 PM
"JMP's financial stake in Sanctuary played no part in the appointment of Johnson to the chairman post. " Sure, I believe that. What is JMP's core business?
It's the Golden Rule – whoever has the gold sets the rules.
Jeff Spears
December 19, 2012 — 3:08 AM
Elmer you are correct. Of course JMP's financial stake in Sanctuary had a lot to with the appointment of Craig. My poorly worded statement to Dina was that Craig was not named to try and protect JMP's financial stake. He was named to help us grow and enhance JMP's financial stake.
The Golden Rule is still alive and well:)