Shirl Penney: We're keeping the numbers small.
As Dynasty Financial Partners celebrates its second anniversary, the firm's still got business development on its mind, but CEO Shirl Penney says he intends to limit his firm's growth to no more than 150 firms. See: What exactly is Dynasty Financial Partners and why is the Smith Barney execs' startup gaining so much attention?.
Dynasty currently has 15 firms in its network that comprises more than 40 advisor partners, which manage 21offices in the United States and manages more than $13 billion in assets under advisement.
"We don't want any more than 150 firms," Penney says. "We want to really deliver a focused service model and you can't do that effectively with 1,000 firms. You have to limit the number of firms. We want to have a meaningful impact with the growth of our partner firms and to do that, we're keeping the numbers small."
Penney believes that by limiting its growth of new firms, Dynasty can help its partner firms to expand organically and inorganically by adding tuck-ins. He points out that the total number of advisors will be much higher than the target of 150 since many of the firms have multiple advisors.
In the short term, Penney says his firm is poised to bring in a number of teams in the first quarter of 2013 and some firms are already working to transition over. "Our first quarter looks pretty good," he says. "I expect we'll add a few more firms."
Rate of growth
Penney points out that on average, breakaway firms who use Dynasty to leave wirehouses have seen their assets grow to 120% compared to what they had been at their previous firm. An average Dynasty firm moves over around 100% of the assets it had with its previous firm and, in a matter of months, grows 20%.
He says there are a few firms, such as RPg Asset Management that have doubled its growth organically, since they began using Dynasty nearly two years ago. See: Dynasty Financial Partners launches a branding and marketing subsidiary peopled by ex-Citi execs.
Hightower on its trail
But now that Dynasty has a proven success, it should brace itself for more competition. In fact, in the two short years of its existence, Dynasty's landscape has already begun to change. It had no competition when it first started and that didn't last for long.
Given Dynasty's success, HighTower announced last summer that its firm would be offering a similar type of option. See: HighTower throws open its doors to non-partner firms who want service and/or brand.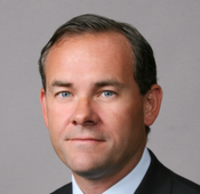 Bill Crager: Dynasty's investment division is
one of the fastest growing businesses
we have seen.
One kind of client, one type of service
HighTower believes its advantage over Dynasty is its multiple choices. Penney acknowledges his firm is more a of a one-trick pony but believes that is Dynasty's advantage over competitors that offer a menu of models. Penney says he feels the firm is still a better solution for many advisors because they don't offer numerous options for office and focus instead on one service model.
"Here, they're not employees and they are not captive and I have to wake up every day to keep our business. If we're not providing world class information, they'll leave," Penney says. "We have one type of client to serve. I'm not comparing it to anyone else's but when you have multiple constituents you are serving, than you can't be all in on one client base like we are."
He says he welcomes more competitors in the marketplace and anticipates that others will begin crowding the field. "I think there is room in the marketplace. I think it'd be great to have a similar approach to working with truly independent advisors. I think HighTower and Dynasty are targeting different advisors. I hope HighTower is successful and I think there's plenty of room for HighTower and other players in the marketplace."
Stunning SMA growth
"I think this is one of the fastest launches in the independent space," Penney says. "Envestnet is one of our best partners. We're very excited to be partnered with them."
Envestnet's own president, Bill Crager, echoed his sentiments in a statement.
"It has been remarkable to witness the rapid acceptance of Dynasty's unique SMA program. Dynasty's investment division is one of the fastest growing businesses we have seen, and we are excited by the future prospects of our partnership with them," he said.
Next up, alternatives
The SMA program has been so successful that Penney says his firm intends to launch an alternatives investment access program early next year. See: Dynasty Financial hires an expert to help it build an alternative-investments inventory.
---
---
Mentioned in this article:
---
---
---
http://www.crowsnest-highway.ca/crows.asp
A-line clothing which are empire waistline and straight reduce are pleasant alternatives for that women getting pear fashioned figures. This kind of types of lengthen the torso and legs. They supply an attractive look of height and balance. Ladies movie star clothing is accessible in many dimensions even so, you should ward off from restricted fitted garments. Always decide for getting an outfit that matches the human body sort without having defects.Cosmetic Medical procedures Implies to fix Pounds troubles
http://www.khomein.gigfa.com/member.php?action=pro
The Apple Certified Guidance Professional (ACSP) is designed for helpdesk and help professionals who would like to assist end-users primarily based on the operating system. The exam Mac OS X Aid Essentials v10.five (9L0-402) could be the first of lots of tests for various complicated, more specialized OS X certifications: Apple Certified Technical Coordinator Apple Certified Process Administrator or this kind of. The ACSP certification is designed to provide a essential or fundamental understanding of important aspects of Mac OS X.