News, Vision & Voice for the Advisory Community
Kris McCabe has admired Andrew Rudd's company from afar and now he believes he can get its brand humming
December 10, 2012 — 4:41 PM UTC by Brooke Southall
After a really rough patch in 2008 and 2009, Andrew Rudd is looking to build up Advisor Partners LLC to its former glory — and then some — with the hire of an esteemed veteran of Fidelity Investments and, most recently, Wealthfront Inc..
The principal owner of Advisor Software Inc., which owns Advisor Partners, appointed Kris McCabe as national director of sales and marketing for the company, reporting directly to Daniel Kern, president of Advisor Partners.
In this role, McCabe will be responsible for building relationships with advisors and institutions. Advisor Partners, founded in 2001, sells four separately managed accounts but its oldest, biggest and most famous one essentially is an index fund that harvests tax losses aggressively.
The McCabe hire marks a further return to offensive mode after the company was set back on its heels in the fall of 2008, when it sold itself to San Jose, Calif.-based Bellatore Financial Inc. — a deal that quickly went south. See: Long a tech innard for Schwab, LPL and TD, Advisor Software is looking to push its own brand with new product.
"It wasn't a particularly happy event for us because it was in the worst of the financial crisis," Rudd says.
Bellatore's president, Jonathan Scheid, agrees that "it wasn't a good fit." At the time his company was a private-equity-backed roll-up of turnkey asset management programs, but the investor, Leucadia National Corp., lost about 80% of its market cap during the 2008-09 crunch and pulled back its investment capital.
Investments deferred
At the time of the sale to Bellatore, Advisor Partners, based in Lafayette, Calif., had about $350 million of assets, but when Rudd bought it back the next year, it had only $150 million. In 2010, in an unrelated incident, the company lost a $100-million client that decided to take its money management in-house. The number of Advisor Partners clients has stayed pretty steady through all this turmoil, at about 40 advisory firms, according to Rudd.
One issue, Rudd says, was that Bellatore had been expected to make a number of investments in the company's systems, including research, trading and accounting. But because of the financial crisis, those investments never got made. Scheid declined to comment on this point, but says that Bellatore is succeeding and saw its assets rise from about $405 million to $465 million this year — serving as a TAMP and third-party manager for advisors.
Since buying back the company, Rudd has endeavored to make those infrastructure investments in Advisor Partners himself. "It's a brand-new system," he says. Last year, he hired Kern, formerly a portfolio manager and overseer of third-party managers with Charles Schwab Investment Management. Kern succeed Dennis Clark, who built up the company before moving on to the California Investment Trust.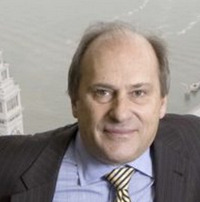 Andrew Rudd: It wasn't a particularly
happy event for us.
Rudd made his name when he co-founded Barra Inc. in 1974, while working toward his Ph.D. at the University of California, Berkeley. Barra went public in 1991. Rudd was the chairman of Barra from 1974 till 2004, when it was acquired by Morgan Stanley Capital International and renamed MSCI Barra.
Under Rudd's guidance, Barra developed risk management technologies, investment portfolio analysis methods, trading technologies and a vision for the modern management of large pools of assets, which subsequently became the professional standard on a global basis. See: Why technology is vital for RIAs looking to steady client nerves in stormy markets.
Oversaw $4 billion for Fidelity
McCabe has his own pedigree. From 1996 to 2010, he served in various senior capacities at Fidelity. His last position with the mutual fund and custody giant was in San Francisco, where he was vice president, relationship manager, responsible for the growth and profitability of 39 independent advisors collectively managing more than $4 billion on the Fidelity platform in the Western region.
"Kris has a demonstrated record of success helping advisors grow their practices, with an excellent understanding of the investment solutions they need to meet complex client goals, Kern said in a release.
Immediately prior to joining Advisor Partners, McCabe was senior vice president for sales at Wealthfront Inc., where he introduced the company's money manager solutions to registered investment advisors. McCabe, 42, is a graduate of Southern Connecticut State University, with a degree in accounting. He earned his MBA from the Boston University School of Management. See: Looking more like Windhaven after a revamp, Wealthfront names a noted academic CIO and boosts its assets 15-fold.
"Advisor Partners has distinguished itself by working closely with advisors to develop highly personalized investment strategies for their clients," McCabe said. "I'm excited to bring my experience of more than two decades in business development, brand penetration, practice management and operational efficiency to this team, as we continue to implement and extend Advisor Partners' creative investment solutions for advisors and their clients.
McCabe left Wealthfront in 2011. He was hired there to create a business-to-business offering that would be sold to RIAs. Wealthfront returned to a pure B-to-C orientation, eliminating the need for his expertise.
---
Mentioned in this article:
---
---
Share your thoughts and opinions with the author or other readers.
---