David Loeper: We're not a litigious firm.
Ringing down the curtain on a long-running legal narrative in the advisory community, Wealthcare Capital Management Inc., Wealthcare Capital Management IP LLC, UBS Financial Services Inc., and PIEtech Inc. announced today the settlement of the patent infringement lawsuit brought by Wealthcare.
Payment terms and other terms of the settlement were not disclosed.
"We're extraordinarily pleased with the settlement," says David Loeper, chairman and CEO of Wealthcare. "What it means to us: Our patents are valid and our licensees are going to be the only ones allowed to use the intellectual property to prepare both clients and advisors for the uncertainty of the capital market by understanding and being prepared to advise on the recommentdation that includes both the investment ideal and acceptable goals."
UBS said: "We are pleased this matter is settled."
In the lawsuit, Wealthcare of Richmond, Va., alleged that UBS infringed on its U.S. Patent Nos. 7,765,138 and 7,991,675 for use of systems that included PIEtech's MoneyGuidePro software. PIEtech joined in the suit and both PIEtech and UBS denied liability and brought counterclaims of invalidity and non-infringement. The lawsuit was pending in the U.S. District Court for the Southern District of New York. See: David Loeper is taking on UBS but his patent lawsuit is raising alarms in the RIA business.
Blip
Bob Curtis CEO of PIETech, says that his company and its product, MoneyGuidepro came out of the lawsuit strengthened.
"This was a little blip," he says. "It strengthened our relationship to everybody. We had the best year in our history….we were very pleased with the settlement."
Not only is MoneyGuidePro still going strong with UBS but it added 6,000 users at Raymond James this year and built on relationships with Morgan Stanley, JPMorgan, ING and Cetera, he adds.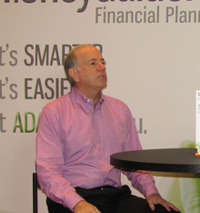 Bob Curtis: This was a little
blip.
One and done
Loeper's response to these concerns: "We're not a litigious firm. Since 1999, we filed one lawsuit, and it's been settled."
Wealthcare's planning process is currently used by 30,000 financial advisors, including brokers at Bank of America Merrill Lynch and Morgan Stanley. The technology is best known as the basis of Wells Fargo Advisors LLC's Envision Process financial planning program.
The case is captioned Financeware Inc. d/b/a Wealthcare Capital Management and Wealthcare Capital Management IP LLC v. UBS Financial Services Inc. and PIEtech Inc., Case No. 11-cv-5503 (JFK) (S.D.N.Y.)
---
Related Moves
---
---
February 28, 2020 – 11:09 PM
---
---
Mentioned in this article:
MoneyGuidePro
Financial Planning Software
Top Executive: Bob Curtis
---
---
---