Eddie Wong: It's been quite an adventure with FinFolio -- a good one.
Brooke's Note: The silence has been deafening. There was a golden time in 2010 and 2011 when it seemed like we were writing about a legacy portfolio management software provider being toppled by a relative upstart every couple of weeks. The winners of these battles were tigers like Tamarac, Orion and Black Diamond — too large to be called start-ups and too small to be considered mature — winning clients away from companies like Advent and Schwab. Am I the only one noticing how quiet it now seems? Orion has shown some teeth of late but Tamarac is pretty quiet and Black Diamond is quiet as hell in terms of reporting deals adn their details that are so helpful to advisors faced with the same difficult choices. When Envestnet and Advent swallowed up Tamarac and Black Diamond respectively, cynics warned it would mark the end of feistiness.So with that preamble it is exciting to see FinFolio come rolling out of the bulrushes and taking down some big RIA game with what sounds to be some refreshingly innovative technology.
A $1.6-billion RIA in Irvine, Calif., has chosen FinFolio's freshly minted portfolio accounting software to replace an outsourced version of Schwab PortfolioCenter — shaking up the playing field for such vendors in the process.
Index Funds Advisors Inc. has gone live on FinFolio Workstation for 1,750 clients spread fairly evenly across the United States.
IFA uses FinFolio Workstation to manage client assets across portfolio management, trading and rebalancing, billing and client reporting. The connection of advisor with software came after an unusually intense process of discovery. "It's been quite an adventure with FinFolio — a good one," says Eddie Wong, the RIA's operations manager. See: FinFolio looks to offer unprecedented flexibility and power, with an intuitive interface.
Unexpected turn of events
The success of FinFolio in starting to win a series of larger accounts comes after an unanticipated lull in 2010 when it looked as if all systems were go: A key developer became ill, and Matt Abar, CEO and founder of FinFolio, found himself stepping back into the role of chief technology officer. But it was also a more ambitious undertaking than originally contemplated.
"We bit off a lot," he says. "We took a chance on several technologies."
IFA's purchase of FinFolio's long-incubating product went against the grain of many firms that are moving to an outsourced system of software and managed data. In fact, the company found it had reached critical mass where it made sense economically to drop its outsourcer and go in-house and use existing staff. IFA has three staff web developers and four other people servicing technology. The company is largely an online RIA that brings in 80% to 85% of its business via the web. See: Online RIAs will mostly fail — and here are 10 reasons why.
Backsides in seats
"This trims hundreds of thousands of dollars from our technology budget, as well as increases our operational efficiencies." Mark Hebner, founder and CEO of IFA, said in a release.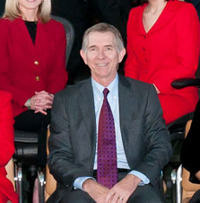 Mark Hebner: This trims hundreds of
thousands of dollars from our technology
budget.
IFA supplies portfolios comprising almost exclusively index funds from Dimensional Fund Advisors LP and it uses Schwab Advisor Services, Fidelity Institutional Wealth Services and TD Ameritrade Institutional as custodians.
IFA started looking for new software after it realized that setting up portfolios in Schwab PortfolioCenter was starting to require rekeying entries on an ongoing basis. It was also very difficult to integrate proprietary business software with the Schwab technology hosted by Back Office Support Services, according to Wong, He says he has no complaints about BOSS. His firm simply outgrew it.
In its yearlong search for software to replace BOSS, the company considered going with the online version of Schwab PortfolioCenter and hosting it itself. This would have been simple and expensive because of the familiarity with the technology and the lack of necessity to undergo a data conversion.
But Wong said the company does not have a solution for end-clients to view their performance — something he is convinced is coming down the pike fast with FinFolio.
Unreconciled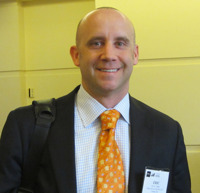 Eric Clarke: We have a firm
conviction that advisors are better off
... not doing the daily reconciliation.

The front-runner for most of the year was Orion Advisor Services LLC. Eric Clarke, president of Orion, says he understands why his firm lost out to FinFolio. See: Eric Clarke delivers a behind-the-scenes account of his own Gemini & Orion Advisor Forum.
"IFA is a great firm and I am very familiar with this opportunity as we had our sales staff out in their offices on three different occasions," he says. "In speaking with Dan Gleason at their offices, IFA decided to go with FinFolio so that they could do the reconciliation internally. At Orion, we have a very open and well-documented API with dozens of advisors and integration partners that use our API daily to power their operations and integrations. That said, we have a firm conviction that advisors are better off spending time with their clients and managing portfolios — and not doing the daily reconciliation. We have never unbundled the hosting nor reconciliation portions of our portfolio accounting solution because of this core belief that we have at Orion. That said, this is one of the key differences between our solution and FinFolios. If the advisor wants to host the software and do their own reconciliation — FinFolio may be a good fit."
A tech odyssey
Tamarac and Black Diamond also received strong consideration. "They have awesome reporting but set-up and work process was too much like PortfolioCenter," Wong said. And not choosing Tamarac was difficult because a number of people inside IFA loved the rebalancing software that came with it, he adds.
What Wong loved about FinFolio was its open API that allowed IFA to integrate without having two separate systems. This is a long-promised aspect of FinFolio that Abar has touted as a difference-maker ever since he began the odyssey of starting FinFolio after making a small fortune building, then selling, Techfi — a firm that Advent Software Inc. acquired, then mothballed. See: The executive Advent bought and buried is back with a vengeance.

Matt Abar: We lost several of
the Techfi guys. That was a
fairly major setback.
Still, Wong is more than aware that he is taking a gamble on a smaller, less-proven company with only a staff of 10 people, including two 1099 consultants. What turned the tide in the decision-making process were referrals to two existing FinFolio users who had connections with Abar from his Techfi days.
They told Wong that they had left Techfi but came back after trying another product, all the better to appreciate Abar's genius. See: Matt Abar is rewarding loyal Techfi customers as beta period ends.
Complex client relationships
Wong also contemplated a worst-case scenario — FinFolio shutting down. "Should development stop .. It's stand-alone software, so it wouldn't be the end of the world." FinFolio can be purchased as desktop software or as a hosted software.
The one thing Abar may be most determined to do is to stand by his clients. He did not see the orphaning of his original customer base coming when he sold Techfi to Advent. Since then, he's had a bit of a love-hate relationship with the old Techfi clients, some of whom have followed him through a tangle of loyalties and complex emotions.
The nadir came back in 2009 when Techfi customers' deadline came up with Advent Software for discontinued servicing. Many of them planned to switch right over to FinFolio, but it wasn't ready. See: The executive Advent bought and buried is back with a vengeance.
"We lost several of the Techfi guys," Abar says. "That was a fairly major setback."
The good news for Abar is that when he decided to start over, he decided he would target the upper end of the market and now has multiple $1 billion-plus AUM RIAs with more in the pipeline, he says.
---
---
---
Matt Abar
November 6, 2012 — 5:19 PM
Hi Bill,
FinFolio has a patent-pending error and alert system that identifies data errors. It makes it much easier for advisers to manage databases. And it's allowed FinFolio to make our data interfaces extremely accurate. I'm not sure this is entirely the reason IFA was able to use existing staff, but we get rave reviews about the alerts from our other advisers.
Data management isn't as hard as it used to be. ;-)
Regards,
Matt Abar
Bill Winterberg
November 6, 2012 — 5:01 PM
"it made sense economically to drop its outsourcer and go in-house and use existing staff."
Wow, I'm amazed at that statement. They have 7 FT EEs who, in one form or another, will need to take time to reconcile and massage daily portfolio data (among other things), which likely is not their highest and best use.
And that came in at a lower price than an outsourced provider?!?
Dan Gleason
December 12, 2012 — 10:41 PM
As a follow-up on our conversion from BOSS/Portfolio Center to FinFolio, I can tell you that the reconciliation process that we were concerned about 6 months ago, has proved to be a non-issue as we are a bit more than 30 days into our cut-over to FinFolio here.
Originally, Eddie Wong and I discussed the possibility of the Client Services Reps performing the recon process for the Advisors they supported (to help spread the workload to several bodies), but in the end it turned out to be the job of one person for between 20 to 60 minutes each morning and without much excitement or complaints (hat's off to Matt's Errors and Alert's system). I think an article should be written to explain how that works since the recon process seems to have this air of the "Wizard behind the curtain" to it when we were considering taking this process in-house.
I've got to admit that I am happily shocked to discover the reconciliation process was not the nail-biting, problem solving, data correction nightmare that I had heard it might be before we began this.
Director of IT
Index Funds Advisors