News, Vision & Voice for the Advisory Community
The notion of a boardroom in every Starbucks is out -- now the mobility of mobile devices is just a walk down the hall
November 5, 2012 — 4:56 AM UTC by Brooke Southall
Brooke's Note: I have taken two flights cross country on Virgin when they handed me a notebook-style computer in a sweet little case as I got on the plane and collected it when I got off. After reporting this article, I'm not sure why I never thought about how well that might apply to a client arriving for an office meeting with their advisor. But apparently some advisors did and it's part of what has Schwab jumping with greater abandon onto the iPad bandwagon.
Schwab Advisor Services' release of an iPad app for RIAs is the latest sign that the San Francisco custodian is starting to buy in to all the tablet hype.
Advisors will now be able to access balances, positions and transactions from their iPads — an entree into Schwab info formerly on iPhones for the mobile-minded. Available since June, it currently has nearly iPhone 4,000 downloads. See: Schwab finally hops on the iPhone app bandwagon — to the iTune of 30,000 potential RIA employees.
The new iPad app will produce large charts that show daily account movements and scrolling quotes that help advisors track the movements of indexes, stocks and funds.
Masters of universe, meet John Wayne
Trading will eventually be added but is not a priority, she added. Schwab has learned that even Schwab's self-directed investors place few trades on mobile devices and mostly just use them for on-the-go consumption of information.
No more paper
But It was hard to base a technological future on caffeinated cowpeople.
The reality is proving less Hollywood and more of a pragmatic and inviting proposition — the ability to get advisor, client and information together without handing out photocopies or scrunching together at a desk. See: Why RIAs are shunning mobile apps and why Black Diamond, Orion, Fidelity and others are still placing their chips on an iPad future.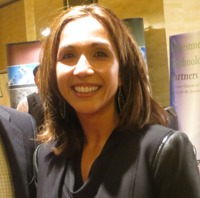 Neesha Hathi: We see clients hand
their clients an iPad when they
walk in.
"We see clients hand their clients an iPad when they walk in," Hathi says.
The migration then may be to a good, old conference room with the iPad as the fount of elegantly delivered graphics depicting a client's account information.
A mobile 2013
"Advisors have told us they're using iPads to access key client information and custodian websites while away from their desks," says Hathi. "It's also becoming common for advisors to load reports and presentations on their iPads so they can use them in client meetings. We hope our new Schwab Advisor Center app for the iPad will help advisors become even more productive and also assist them in delivering an enhanced client experience."
Schwab is just getting rolling with mobile delivery of its information.
"This will be a key and ongoing area of investment for us in 2013," Hathi says.
---
---
Share your thoughts and opinions with the author or other readers.
---