Andy Rachleff: Mark Zuckerberg should not use us.
Brooke's Note: The Sand Hill Road venture capital crowd doesn't love the idea of the endless human interactions — and the inherent costs — that mark most successful relationships between investors and financial advisors. They have the confidence — or hubris — to believe they can create an ongoing, cheaper and superior advice service and deliver it to a laptop screen. But they also have the wisdom — or humility — to know that they don't know everything. Andy Rachleff has radically shifted his Wealthfront RIA from being a purveyor of other RIAs' advice to being an advisor for a niche market of the mass affluent. The new strategy is to be an ETF manager but with an ear out for client goals and with Burton Malkiel, the famous dart thrower, calling some shots. The company is not big yet, but its asset growth is notable.
One of the early venture capital-backed efforts at creating the Expedia.com of financial advice has a radically refurbished its business model and there are signs that it's working much better than the old model. See: Why big RIAs are taking a risk on Wealthfront.
Wealthfront Inc. has named Burton Malkiel, 80, its chief investment officer a year after quietly changing its business model from being a place where RIAs could gather assets online to one that looks more like a deep-discount Windhaven Investment Management Inc. — Schwab's highly successful manager of exchange-traded funds. See: Schwab's purchase of Windhaven made its asset growth soar — and RIA assets may be the afterburners.
The noted economist, academic and author, whose most well-known book is "A Random Walk Down Wall Street" (W.W. Norton & Co., Revised and updated edition 2003) is jumping into a role not dissimilar to the one Stephen Cucchiaro plays at Schwab's Windhaven, which Cucchiaro founded and sold to the big broker. See: A look inside Schwab's big deal with a small asset manager. The company announced Malkiel on Nov. 12 in its blog.
Affirmed by asset growth
The Palo Alto, Calif.-based company was founded and run by Andy Rachleff, a former eBay financier and current lecturer at his alma mater, the Stanford Graduate School of Business. It has increased its assets under management from $4 million as of Oct. 28, 2011, to $67.3 million as of Oct. 26, — a more than 1,500% jump — according to the company's ADV filed with the SEC. The company now has 20 employees and serves 1,390 accounts, according to those SEC documents. The company is consistently growing its assets about 15%, Rachleff says.
As a website, Wealthfront, appropriately, has developed a substantial following in the slim geographical corridor of Silicon Valley. A full 70% of its clients are young rank-and-file workers at web giants. It's top three client pools are Facebook, LinkedIn and Google respectively. See: After outcry, Betterment 86's (but not on purpose) a blog post inflaming advisors.
That said, Rachleff plans to step up advertising to reach a wider audience. The current advertising budget is only about $300 per month.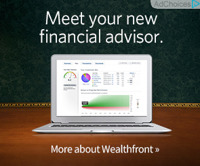 An example of a Wealthfront advertisement.

Wizards attracting wizards
Rachleff says the business model shift came about after the company became frustrated with slow growth. When it asked its target clients, young tech wizards, why they were not signing on, they said that they were looking for a place that could manage all of their assets superbly and cheaply rather than a slice of assets super well and more expensively. See: Online RIAs will mostly fail — and here are 10 reasons why.
What is winning at Wealthfront with the young, smart, web-savvy and affluent — but not too rich — phenoms is the ability to use modern portfolio theory across six asset classes and tax harvesting that occurs on an ongoing basis. Most of Wealthfront's 20 employees are engineers, and they recently wrapped up the tax-loss harvesting capability. Wealthfront assets are held in custody with Apex Clearing. See: Eavesdropping on the MoneyShow: The great debate between MPT and technical analysis.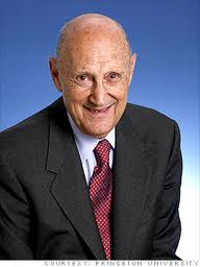 Burton Malkiel: The noted octogenarian is
joining the Palo Alto upstarts at
Wealthfront.
Rachleff says he is sincerely not trying to step on any RIA toes with his new venture.
"We're screwing up if we're talking to the same person as a JPMorgan financial advisor. Mark Zuckerberg should not use us. He can do better by finding an advisor who can invest some of his assets in alternatives assets." See: How the Facebook IPO is creating the mother of all RIAs, Iconiq, and what an in-your-face it is for Wall Street.
Still, he allows that he would not turn away any account of less than $10 million of assets.
Cucchiaro-like role
The Malkiel appointment is a further affirmation that Wealthfront likes its chances with the new ETF-managing model. See: Windhaven's success draws attention to emerging ETF managers. It is a paid position, and Malkiel, who had been serving as a director at The Vanguard Group Inc., has already made recommendations that have resulted in shifts in the Wealthfront allocations, Rachleff says.
But Wealthfront differs from Windhaven in one important respect, according to Rachleff.
"Windhaven is actually pretty expensive for what it is," he says
Wealthfront allocates to asset classes and how it evaluates risk and applies it to the management of individual client portfolios, according to Wealthfront's blog. Wealthfront charges just 0.25% for its services and does not charge an advisory fee on the first $25,000 of assets under management. Windhaven's fees are 0.75% for the first $500,000, .65% for the next $500,000, and to .50% for assets over $1 million.
Handing assets back to clients
Under Wealthfront's old model, clients picked RIAs and used them as money managers after examining their investment performance and receiving recommendations from Wealthfront. The money-managing RIAs charged 1% and Wealthfront kept 25% of the fee. Wealthfront succeeded in attracting 44 RIAs to its website that believed they stood a good chance of beating the market averages. During the two years when RIAs managed the client assets, these managers did in fact beat their benchmarks by 4%. When Wealthfront changed business models, it handed all the assets back to the clients, Rachleff says.
Wealthfront received funding from DAG Ventures LLC and such angel investors as Marc Andreessen, Ben Horowitz and Jeff Jordan.
Wealthfront is not the first online RIA to change its model. See: Unfazed by declining assets, VC-backed Covestor has another go with a new CEO and some concessions to the old-fashioned machinery of investment advice.
Narrowing focus
The old model sought to shoot the lights out but Rachleff — after achieving superior returns — found out what many RIAs have learned.
"In the grand scheme of things, nobody cared."
Note: A previous version of this article incorrectly pegged Windhaven's basic price at .95%. It's .75%.
---
Related Moves
December 31, 2020 – 4:37 AM
---
August 14, 2021 – 2:20 AM
---
---
---
Mentioned in this article:
Wealthfront
Portfolio Management System
Top Executive: Andy Rachleff
---
---
---
Michael
November 28, 2012 — 7:55 PM
ok, so let's get this straight. their assets are up big
— great. wait, including that big percentage growth gets you now to $67mm in assets ——> at 0.25
fee. So that is $157,500 (one-hundred fifty-seven thousand) in annualized revenue —- yet they have 1390 accounts to administer and 20 employees to pay.
3, 2, 1…. that is the countdown starting until another 'pivot' is coming. Would love to see the marketing pitch to Venture Investors willing to absorb lots of losses and no payday…. ever. The more accounts you gather, the lower the quality of the experience. There is no leverage in this model for a very long time unless there is some secret big stealth strategy in place nobody knows about —- probably not even the management!
B
November 27, 2012 — 6:10 PM
Not sure how an online RIA startup can out-market or out-gun the likes of Vanguard, Fidelity, Schwab, TDA, Scottrade, Sharebuilder, E-trade, etc. There are simply too many options online now, with big brand awareness, low costs, and infrastructure that is already in place.
If you look at their numbers, how are they ever going to be profitable? It's going to take years and hundreds of millions of dollars of AUM (realistically billions, if they are really supporting 20 employees and only charging 25 Bips and have thousands of accounts).
Maybe the idea is to build it to a point and then hope to get bought by an existing RIA or fund firm, that is looking to establish an online presence to compete with the big boys mentioned above. Or maybe a company that could sell ancillary products to the young client base (ie. term insurance, mortgages, etc.)
Elmer Rich III
November 27, 2012 — 7:50 PM
We are marketers so always love to here new marketing stories – successes of failures. The more data and information we have on what people will buy in money management the better. Especially since we are an industry that, effectively, does zero market research.
It's really hard to know what the business model is as described above – aka: what market demand they are serving. Time will tell – or not.
We all have to laugh out loud when them mention "advertising" and "$300." This industry has decades of hard work to go thru to even start to understanding the basics of marketing and advertising.
We would never, ever work with a client who had ever called $300 "advertising" "spend." lol Too funny.