Joel Bruckenstein: As things turned out, some better pure technology opportunities came along.
Bob Veres and Joel Bruckenstein have chosen to go separate ways and end their brief co-promotion of conferences.
The two thought leaders from San Diego, Calif. and Miramar, Fla. respectively sat down after their last conference and decided to part ways.
"Their expertise was not what we wanted to do," Veres, publisher of Inside Information, says.
Joel Bruckenstein, producer of the T3 conferences, agrees that it was an amicable split.
"For me, the theory was that there are some advisors who are interested in technology, but perhaps not enough to attend a full three day technology conference like Technology Tools for Today (T3)," he says. "As things turned out, some better pure technology opportunities came along that we could not pursue because of the time Dave and I were devoting to BWMF. Dave and I decided that were better off devoting our resources to more pure technology/practice management activities. That's exactly what we'll be doing in 2013…focusing exclusively on what we do best." See: What Messrs. Bruckenstein, Drucker and Veres cooked up in a Chicago airport hotel.
One glut, no conflict
With no conflict of vision, Veres is planning his dream conference of advisors. Despite what he views as a "glut" of events for advisors, he believes he can build an agenda and roster of speakers that can satisfy the kinds of advisors who walk away from events with a sense of general dissatisfaction — and who other conference organizers find to be too high maintenance to be worth serving.
"Here is a category of senior, experienced advisors who don't learn very much from the presentations at the established national conferences because they've been around long enough to know the basics. These people are looking for much deeper, more sophisticated material, which, of course, is much harder to provide. These advisors are our constituency."
Veres was the editor of Financial Planning magazine from 1982-1989 before embarking on Inside Information, his newsletter, ever since.
"Unfortunately too many conferences lack any sense of community or belonging; there is no unifying idea or sense of belonging and they create little exchange of ideas. Often the same speakers make the same presentations over and over and over again (often using the same opening jokes). Advisors eventually give up on that," he says. "I think Bob is very good at creating the sense of an idea and an ideal — he is passionate and principled and that tends to unite the people who follow him and create a community. Not everyone agrees with Bob but those who do feel like they are part of something good. Bob also tends to be provocative thinker and invite provocative thinking to his forums and that always results in exchange of ideas and learning."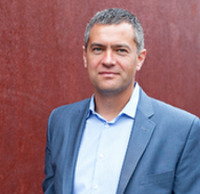 Philip Palaveev: Not everyone agrees
with Bob but those who do
feel like they are part of
something good.
CEO, CFO and COO tracks
Veres plans to create tracks at his conference for CEOs, CFOs and COOs with material that is nitty-gritty enough that it wouldn't appeal to the dabbler.
"The idea is that it's the key decision makers at every level in the best firms," he says. "..."We hope to attract the key decision-makers at several different levels of the best firms, and provide them not only with great cutting-edge information, but also give them a chance to network with the relative handful of people who are operating on their level."
Another objective that Veres has is to get out of moderator mode and out onto the intellectual playing field.
"At the last conference, I moderated seven panels and four in a row. My plan is to become more integral than a moderator is."
The other way that Veres plans to differentiate his event is to have exhibitors that he believes are truly unique and helpful to RIA practices.
"It leaves out big-booth habitats but it's somebody who can do something for advisors' practices — like MacroRisk Analytics or HiddenLevers. See: MacroRisk Analytics makes Ph.D.-grade economic insight almost RIA-friendly.
Veres believes that he is ready for producing his first event on a solo basis. He learned much from Bruckenstein (and his partner, David Drucker) and has found a new primary partner, his wife, Jean Sinclair, to sweat the details so he can focus on the program. Sinclair is a planner in San Diego. Veres met her at a financial planning conference and she has experience as an organizer — having run various advisor conferences before.
---
Related Moves
January 7, 2022 – 11:40 PM
---
---
Mentioned in this article:
---
---
---
anonymous
November 24, 2012 — 9:30 PM
T3 conference is a bunch of tech people getting together and looking at eachother. after speaking with many, no one was happy to be there as there were basically no advisors. They all felt they HAD to be there but few were happy about it and they said they received no buisiness from it.
Stephen Winks
November 26, 2012 — 6:35 PM
I agree with Bob Veres, big vision that technology alone does not respond to the needs of the advisory industry.
Though terribly important, technology alone is not a solution, it must be incorporated into a comprehensive (expert authenticated prudent) process which focuses is on the end product of continuous comprehensive counsel required for fiduciary standing which greatly simplifies expert counsel. The result is large scale institutionalized support for fiduciary standing.
As Edwards Deming said, if you can not define what you are doing as a process, you don't know what you are doing.
What Bob Veres is doing is treating advice as a process which incorporates technology, but also goes beyond the brokerage approach to portfolio construction so common in financial planning to include work flow management tied to a functional division of labor (Advisor, Chief Investment Officer, and Chief Administrative Officer functions) which makes expert advice safe, scalable, easy to execute and manage as a high margin business.
The refinement of an expert authenticated prudent investment process (asset/liability study, investment policy, portfolio construction, monitoring and management) in support of fiduciary standing and a properly resourced functional division of labor optimizing the use of technology and advanced approaches to portfolio construction are the missing links in advancing advisdory services as a profession with inviolable fiduciary standards.
Bob, just forgot to mention work flow management and advanced approaches to portfolio construction which are part of his vision.
SCW
Stephen Winks
November 27, 2012 — 9:21 PM
Thanks Bob,
Process mitigates complexity and the more complete the process the simplier it gets. This is why the devil in the details must be managed in a comprehensive manner so the highest level of counsel can be simplified and easily achieved. This is why Edwards Deming still universally resonates so well today—continuous process improvement is literally the definition of modernity.
The industry is just now awakening to what can be achieved. The broker and advisor are astounded by what is possible as innovation has been supressed so long. The sticking point has been the reticence of the industry to acknowledge advice is rendered as a precaution against fiduciary liability. The unintended consequence of no acknowledgement of advice is the crippling of any support for advice. In a brokerage format it is an act of insubordination to work counter to the firms rigorous compliance protocol of denying advice is rendered by the broker as the principle means to mitigate fiduciary liability. With Dodd-Frank, the door is finally opened for modernity and a series of innovations fostering the free flow of data and the development of diagnostic and evaluation apps that greatly elevate the role and counsel of the advisor. An in unprecedented level of investment and administrative counsel results.
It about to really begin to be exciting for those who are really interested in restoring the trust and confidence of the investing public and care for the well-being of the broker and advisor and their professional standing.
SCW
VendorX
November 27, 2012 — 8:48 PM
Brooke,
At the risk of being flayed alive by JB… T3 is a "must attend" because as a vendor you are expected to be there. Annecdotally speaking many vendors have expressed the lack of advisor attendence so sales opportunities are minimal at best.
If as a vendor you do not attend (and T3 is not alone in this ploy) you don't get media coverage. Please don't bother flaming me over this since everyone in this industry knows its a pay-to-play game when it comes to media. This fact alone puts T3 in a very precarious position with Vendor and advisor alike.
The vendors go because they have to. Advisors go with the attitude the vendors are bought and paid for. Very much like the advisor community reaction to Schwab's vacilating technology platform. When the "favored applications" were announced then left advisors unhappy at best and disillusioned at the worst.
If T3 were marketed to vendors to be The showcase for what is up and coming AND marketed to advisors as a place to "see the future" then it would perhaps be more useful. Additionally advisors want to learn something. If vendors were required to offer interactive venues whereby attendees can learn how to put the product ot use. Similar to a users group track there could be advanced training or birds-of-a-feather sessions that are run by vendor advocates that come from their client base
I think that FPA Business Tools is taking this sort of approach and in doing so has been reasonably successful where it counts – advisor satisfaction with the venue.
VendorX
Jean Sinclair
November 27, 2012 — 9:36 PM
As the co-producer of the Business & Wealth Management Forum event with Bob, Joel and Dave for the past two years, it has been interesting to read the posts following Brooke's article. We take very seriously – and have actively sought feedback from advisor attendees and sponsors/vendors – how to improve the conference experience for everyone.
Bob and I are spending a lot of time, thought and effort to continually raise our game and create an innovative new event in the independent advisor conference space. And while the comments posted all contributed to the dialog on what people like and dislike about conferences, I had hoped that the focus of the article and the comments would be less about the "parting" of the four business partners and about T3, and more about what we are all trying to accomplish going forward. But perhaps I'm just "sweating the details" while we build what we think will be a great event.
Peter Giza
November 27, 2012 — 8:51 PM
I think Bob Veres' niche approach is a great idea. I spend a great deal of my time working with firms that are either advanced or are willing to admit what they don't know and want to learn. I believe Bob is absolutely right – "It's almost impossible to create a session that is too advanced for them."
Pete
Pete Giza
Spitbrook LLC
Bob Veres
November 27, 2012 — 6:40 PM
I have to say, I sometimes wish I was nearly as smart, or had nearly the complicated, sophisticated vision, as people like Steve attribute to me.
The idea of the Insider's Forum is really pretty simple. There's a small but select group of successful, advanced, experienced advisors who have gotten to the point where they don't learn very much from the traditional conference experience. In my experience, they are the most underserved members of the advisor community, and they are by far the most interesting people to plan a conference for. It's almost impossible to create a session that is too advanced for them.
That is our target audience.
Then we create tracks for the key members of their teams, because it's hard to find training and challenging sessions for people who are managing the investment side of the most successful businesses in the profession, or the people who are running their growing back office operations. The idea there is to lift up not just the founder/owner, but the whole team. We want the firms to get everything they need, in two days, to blow a hole through their next glass wall.
The other idea is to create a by-invitation-only exhibit hall, so these advisors aren't wasting their time in conversations or encounters with companies that they have no interest in talking to—much less doing business with.
In concept, the Insider's Forum is very much a niche conference, but I suspect that it will consistently offer the best and most advanced thinking in the profession. As I said, not for everybody…
Brooke Southall
November 27, 2012 — 10:04 PM
Jean,
I very much second your thoughts. It's easy to criticize things.
I'd love to hear fresh thinking on what people would like to see at their ideal advisor event. My respect for conference organizers of all stripes has been heightened by our efforts at envisioning an RIABiz conference. You have to be a high-energy maestro with vision to make it all come together. Somebody needs to sweat some serious details but getting thought from "out there" can only help. Most people have a sense that they'll know it when they see it but that they haven't quite seen it, except in glimpses — and then even what is seen in those glimpses is hard to articulate. But try!
Brooke