Addepar hits $50 billion of assets and turns its eyes to Advent-Black Diamond's plump RIA market
With close to $12 million in revenue, a hotshot tech startup is looking to move into second phase of development: Attracting RIAs despite naysayers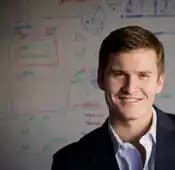 Mike Paulus: We're not just a Black Diamond replacement for RIAs.
---
---
---
---
Bill Winterberg
November 26, 2012 — 7:00 PM
Brooke,
Please consider removing the pagination split in your latest columns.
From <a href="http://www.slate.com/articles/technology/technology/2012/10/website_pagination_stories_should_load_into_a_single_page_every_time_.html" rel="nofollow">Slate</a>: "In the long run, unfriendly design isn't going to help websites win new adherents, and winning new readers is the whole point of being a website."
Peter Giza
November 27, 2012 — 12:30 AM
Ditto here on the pagination
Brooke Southall
November 27, 2012 — 12:55 AM
Guys,
Feel free to reach me directly on the pagination. Obviously, we're not big fans of it here or we would have used it before. Bottom line: we plan to use it on long, heavily researched pieces — as a means of paying for that level of in-depth reporting.
thanks for caring,
Brooke
Mike Golaszewski
December 4, 2012 — 3:52 AM
Contrary to what is stated in this article, Black Diamond's platform is already designed to look at transaction effects rather than the transactions themselves. This is exactly how our system was designed over eight years ago! However, we don't stop there. Properly accounting for these transaction effects is exactly why data reconciliation with custodial sources is so incredibly important—a detail that wasn't overlooked by TrustFort LLC's Atindra Barura but one that was not adequately explored in this article. Black Diamond has designed numerous systems to reconcile and audit transaction effects to custodial data but we also employ an army of operations and servicing personnel to ensure accuracy.
It's also noteworthy to point out that custodians like Schwab, Fidelity, Pershing and others began including cost basis information in their data files starting in 2012, mainly in response to Congressional legislation as well as demand from their advisor clients. All portfolio management system vendors are able to benefit from this inclusion; in fact, Black Diamond now provides the option to automatically synchronize cost basis information to the custodial record when a high-quality source is provided to us. This allows us to ensure accuracy and consistency of critically important (certainly not mundane!) items like tax-related reporting.
Respectfully,
Michael Golaszewski
Head of Platform Development & Engineering
Black Diamond—an independent business unit of Advent Software, Inc.
J L. Livermore
December 4, 2012 — 4:42 AM
Mr. Southhall,
l am of the opinion that this transaction code dilemma underscores the fact that a room full of neurons and testosterone (apologies to the women minority in software development) cannot replace gray hair and experience. Information held within the hallowed halls of custodians is protected and not privy to any single person making acquisition at that information tricky at best.
Perhaps Adepar should consider pilfering talent from Advent – who knows?
JLL
George
December 7, 2012 — 8:14 PM
Transaction effects have long been used and for Addepar to claim they are on the forefront of effects is ridiculous and irresponsible of you to print.
http://alimix.uz/user/g2uovqnc2/
Reduces weight- These that have received a pounds and desire to get rid of more excess fat of their lethargic system also fulfill their drive by normally consuming the apple cider vinegar.
http://www.wadecraiggroup.com/_vti_inf.html
Believe it or not, the earliest e-book dates back to 1971 throughout the Gutenberg Venture. Michael Hart was doing work over a desktop prototype for your proposed notebook personal computer called the Dynabook.