Dwight Mathis: By the time they graduate after 43 months it'll put clear blue sky between us and our competition.
Brooke's Note: This is an eye-opener. It shows that wirehouses still have weapons, real ones, in the arsenal. It also shows that the industry's talent shortage can be addressed the old fashioned way — by training. There are critics in this article but overall you have to say this looks pretty impressive on the part of Merrill Lynch.
Merrill Lynch has been overhauling its longstanding training program for the last couple of years and when the transformation is complete the newest members of the thundering herd could look more like RIAs than brokers.
The New York-based wirehouse has reignited its 66-year-old training program and the company's approach is much more like that of an RIA. In the first year of the three-and-a-half-year program, trainees now receive the financial planning module from the CFP course. In the second year, they'll learn how to build an optimal practice and develop business strategies. In the final year, they'll receive instruction about executive strategy and even classes on emotional wellness. Previously, the firm's training program was 18- to 24-months long.
The company receives about 150,000 applications for its training program annually. There are 4,300 people in the program right now and company will have hired 2,500 by the end this year. Trainees who are part of the Practice Management Development Program take on new clients while they are learning the business and are paid a salary during the program. They also receive commissions and bonuses based on productivity. They're required to bring in $10 million of net new assets annually.
Diverse pool, strong leader
The wirehouse is matching the trainees up with advisor mentors and encouraging them to join existing Merrill teams. While the trainees include some wide-eyed new college graduates, the average age of the trainee is 36. Many of the trainees are career changers: former teachers, attorneys, accountants and former members of the military. More than 200 new trainees in this year's class came from the military.
The efforts are headed by Dwight Mathis, a former history teacher and coach who went through Edward Jones training program in 1998. Edward Jones has a strong track record for its training program, adding 1,600 in 2011.
Mathis started at Merrill in 2001 as a financial advisor and new hire training advisor. He took the helm of Merrill's training program in February 2011 and has been overhauling it since then. Mathis feels confident that this new program will set Merrill apart from competitors.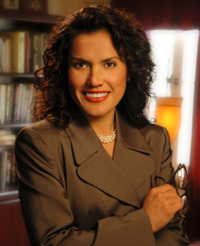 Cecile Munoz: They've brilliantly observed the
success points of RIAs and they're
using them in their training.
"By the time they graduate after 43 months it'll put clear blue sky between us and our competition," Mathis says. "We're very proud of our training program. We've got a great picture of Charlie Merrill speaking to our first training class in 1946. It's the longest running program in the industry. But we have more clarity and purpose today. We made significant enhancements to the program."
'Monumental investment'
People in the RIA arena who would normally disagree with him actually are quite impressed with Merrill's program.
"What Merrill's doing brilliantly is they realize they have the scale and capacity and are making a monumental investment and it's nothing less than that," says Cecile V. Munoz president of U.S. Executive Search Inc. in Los Angeles, an RIA-advocate. "They're training advisors the proper way. They're giving them a 360-degree view of the business. Merrill Lynch is swimming in the independent model because they've brilliantly observed the success points of RIAs and they're using them in their training."
---
---
Mentioned in this article:
FA Match
Consulting Firm, Specialized Breakaway Service, Recruiter
Top Executive: Ryan Shanks
---
---
---
Lisa Shidler
November 26, 2012 — 4:52 PM
Hey Scott T., sounds like you've got the real inside scoop on this program. Feel free to e-mail me and give me some more insight. Did you go through the program yourself? Or know someone who did? We'd love to get more details about it. My e-mail is: lisa@riabiz.com
Thanks! Lisa Shidler
Scott T
November 25, 2012 — 6:42 PM
This entire article is a barefaced lie. The training program at Merrill Lynch is an ill conceived, poorly managed farce. The entire program is designed to make recuits fail NOT succeed. They give the recruits ridiculous goals to meet with absoulutely no support. They worst part is that the "traininers" are people who were never successful in the business to begin with. Couple that with the fact that the ultimate decision on who stays and who gets fired lies with the branch managers who really have no desire or ability to train people themselves. The whole thing is a recipe for failure.
Abe
September 12, 2013 — 12:26 AM
Scott, I would love to hear more about your experiences at Merrill. I am in the middle of the interview process and would like to hear more first hand experiences. Please tell me more mwa207@gmail.com.
Thanks,
Abe