Schwab IMPACT is one place where the marketers and consumers clamor for each other.
Brooke's Note: Imagine if there were a place where virtually the entire industry showed up to spend three days under one roof, with players in each subsegment displaying their wares but you were the only one in your product category. Pretty good, right? Well, that's the alternate universe Schwab creates annually with IMPACT, and it's hard to imagine that it doesn't go a ways toward solidifying the firm's position as front-runner among RIA custodians. Yes, everyone is at IMPACT except for TD Ameritrade, Fidelity, Pershing and the rest of Schwab's RIA custody competitors. Schwab pays dearly for that privilege but it gets some help in exchange for sharing slices of the stage. Here is what our own advertising chief, Frank Noto, observed about how that beehive of activity has its own intrinsic order — if you slow down and look closely enough. See: An advertiser's-eye view from among the booths of the FPA convention's exhibit hall.
Ever wonder why Chicago is called The Second City? "Because it's not New York City" is usually the most common response from the visiting East Coasters. But no — the city adopted the moniker after the first Chicago burned down. I learned that and other tidbits on my bus ride from McCormick Place to my hotel after a long day at the IMPACT Expo.
Like much about Schwab IMPACT, it was borderline too-much-information as both a whole new city and an entire industry at its marketing best are vying for finite human bandwidth. For three-plus days, Nov. 14-16, the IMPACT Expo was alive with everything RIA in technology, service and product.
Between advisors and exhibitors, the exchange of information is constant and overwhelming at times. Those staffing the booths all seemed to be happily entrenched in the RIA market, welcoming the advisors with smiles, handshakes and ink pens that work briefly. The expo traffic was heavy, and the consensus was that conversations were of a high quality.
ShamWow!
Like anyone who steps into the exhibit hall, I am struck dumb initially and wonder what order there can be in such a universe. But after I had spent the better part of a few days in that atmosphere, it slowed down enough for me that I could observe some discreet happenings and trends worthy of note. See: An advertiser's-eye view of Schwab IMPACT and the mini-city of marketing it created.
Sometimes sponsor succeeded by almost literally outshouting the competition carnival barker style.
The Technology Expo showcases were located in corners of the Expo hall. Companies such as Black Diamond, Junxure, Laserfiche, Salesforce, Microsoft, and Envestnet | Tamarac each scheduled 30-minute segments during one of the Expo breaks. These opportunities were open venues on the show floor. Each of the sponsored presenters would just start talking into a microphone, in front of their displays. As Tim Welsh ofNexus Strategy LLC stated, it was sort of like the "ShamWow!" guy. Within minutes, a large crowd would form to listen, filling about 75 seats, and soon there were plenty of people standing to watch, too.]
Other advertisers simply made a bigger financial commitment to get a bigger slice of the RIAs' divided attention. There is a hierarchy of booth placement, based on the level of one's IMPACT sponsorship. The levels are bronze, silver, gold, platinum, diamond, and the top spot, called marquee. William Blair & Co. LLC owned the top shelf. See: The 2012 Schwab IMPACT conference comes off with a theatrical flair.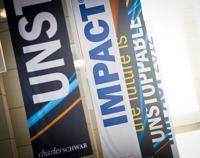 Schwab gives itself the majestic presence.

Fergie at the mound
While Schwab takes care of the newer, exhibiting companies, I focused a couple days' walking the hall on speaking with some of the major sponsors. These companies have made a huge financial commitment to this RIA lovefest, and how they utilized the situation most likely determines the return on investment for the Expo. Many told me there's no point of spending the time, energy and money on IMPACT unless it is part of a game plan that includes any number of components, besides a booth.
Booth standers must be prepped with the key points they want to present advisors. Meetings are pre-planned out with existing and potential relationships. It's important for an exhibiting company to show a differentiating factor in their booth, such as a sweet giveaway, a sports' personality, or a top portfolio manager. As a sort of marketing dessert, an after-hours events is a key follow-on.
One favorite booth destination, John Hancock Funds usually has a regional sports figure signing autographs or taking photos with attendees every year at IMPACT. This year, Hall of Famer Ferguson Jenkins manned the booth for a session on Thursday. I was reminded how great a pitcher he was, and that the Cubs were actually pretty good during most of his career in Chicago.
Though I was puzzled that some in the Steel Path booth had never heard of RIABiz.com (there are still some of you but, thankfully, fewer and fewer), the firm had a significant, visible presence in the Expo. With a large percentage of its business coming from RIAs, Steel Path's third stint as an IMPACT sponsor was about educating RIAs about the firm's offer of master limited partnerships and products that provide a broader portfolio strategy.
I admitted to a few sponsors that I had never heard of them. Tocqueville Asset Management LP started out as a private-client, boutique player. In its second year of sponsorship, it was promoting its long-term investment strategies, and specifically, its Tocqueville Gold Fund. Being at IMPACT is now a critical component in generating a wider awareness among RIAs. And, yes, the Tocqueville folks had heard of RIABiz. See: Schwab bids to become the 'Zagat' of RIA technology and to nix ink signatures from RIA life.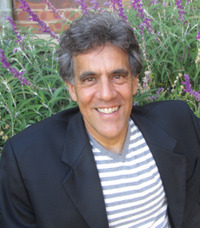 Frank Noto met a few people
with no knowledge of RIABiz and
saw to it they were rescued
from their ignorance.
Veterans and newbies
American Realty Capital Trust Inc. specializes in creating real estate investment opportunities with properties on the corner of "Main and Main Streets." The fourth-year sponsor's great booth location seemed to be appropriately … on the corner of Main and Main in the expo hall, too.
Northern Trust Corp.'s FlexShares Exchange Traded Funds increased its sponsorship this year, allowing the ETF provider to go beyond having a speaker entitlement. It helped create a session that focused on engaging, serving and retaining the female client. In a packed session moderated by InvestmentNews publisher Suzanne Siracuse, a panel of experts on women and investing showed their grasp on the current segmentation of that market. This event happened outside the exhibit hall in a conference room. See: Eavesdropping on the Women Advisors Forum: Rainmakers share their secrets. Hint: They revolve around finding a niche.
Some of the newer sponsors from last year were back with follow-up strategies. At IMPACT in San Francisco last year, Guggenheim Investments had its coming-out party — new branding, etc. Its second year of sponsorship in Chicago was devoted to promoting the launch of its alternatives platform. See: How Julian Koski's maverick stock picking method led to a merger with Guggenheim.
Conversely, some companies have been IMPACT sponsors for many years. Thornburg Investment Management Inc. has continued its involvement through the ups and downs of the market. Consistency works, and the firm has deepened its relationships in the RIA market. This year, during its 30th anniversary, the Santa Fe, N.M., money manager opened a London office.
A step ahead of the Grim Reaper
Over the years, the Principal Financial Group Inc. has transformed itself from an insurance company into an investment company/retirement plan provider. Its involvement with IMPACT started six years ago, and it has upgraded its sponsorship level even as its awareness level among RIAs is growing. Corporate involvement on major sporting telecasts has surely helped them with establishing a broader identity.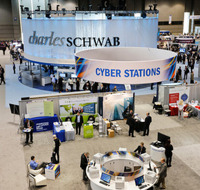 Schwab was eating its own booth
cooking by the cauldron.
Of course, I took a keen interest in what I could glean about the future of the publishing side of the advisory business. Despite hearing from most advisors that they get little news from print trade publications anymore, there were signs that print is not dead — at least if several publishers have their say. Monthly magazines were displayed — slick-looking and thick with ads in their neat, undisturbed piles.
Hints on print
The discussion among the marketing people at the expo revealed that some publishers are finally being aggressive in pushing online/digital programs, but are now giving away print advertising as added-value. It was the other way around only a couple of years ago, when print was the priority and online was used as added value. It would seem difficult to start charging for what was free two years ago. (Full disclosure: We sell only online advertising at RIABiz.) See: Why the slow-evolving metro New York area is still on course to be the capital of the RIA business.
In an interview with RIABiz, Michelle Draper, senior vice president of institutional services marketing at Schwab Advisor Services, mentioned that her company's "RIA Stands for You" campaign will be primarily a digital one in the mass media, which is not unlike Schwab's primary strategy in the RIA marketplace. Given the dearth of print options for reaching RIAs, it is indicative of many firms looking to reach the RIA niche by using digital ad programs. Though until the Grim Reaper of Print shows up, there probably are some good deals to be had for print advertising in 2013. See: Schwab is set to connect RIAs outside its referral network to HNW investors through its 'Got-milk'-style campaign.
At the end of two days of tired legs, it was apparent that most of the major IMPACT sponsors with whom I spoke agreed that their commitment was worth the chunk of budget it took to get in front of such high-level advisors. Schwab provides sponsors with a rewarding environment in which to generate awareness for their products and services. Whether these companies have the wherewithal or systems in place to parlay IMPACT into a solid ROI during the next few months will really be the measure of success. They all had nice booths and great locations, but one would hope that when they left the IMPACT Expo's Second City edition they had an even better understanding of the ever-changing world of RIAs.
---
---
Mentioned in this article:
---
---
---
Elmer Rich III
Hyper-competition in all markets. Be interesting to see the data on advisor media usage, print vs. online. Assume advertiser decisions are based on latest readership/viewer/clicks/etc data.
Elmer Rich III
Just came across this:
"Web News Readers Have Greater Attention Span: Study
People who use the Internet to read the news have a greater attention span than print readers, according to a U.S. study that refutes the idea that Web surfers jump around and don't read much.
- online readers read 77 percent of what they chose to read
- broadsheet newspaper readers read an average of 62 percent
- tabloid readers about 57 percent.
... this was the first large public study internationally to compare the differences between how people read the news online and in newspapers… this exploded the myth that Web readers had a shorter attention span."
Longer excerpt from study here – http://wp.me/pXvvI-ru