News, Vision & Voice for the Advisory Community
RIA Stands for You will use things like digital New Yorker ads, messaging and candid videos with RIAs is funneling down to phone calls from virgin prospects
November 19, 2012 — 5:12 AM UTC by Brooke Southall
Schwab Advisor Services will connect consumers to advisors through a program that, it says, falls completely outside the realm of Schwab Advisor Network. SAN is a referral network through which Schwab branch officers direct high-net-worth investors to about 150 pre-screened RIA firms that Schwab deems worthy to handle the business.
The new system, Advisor Tool, is part of Schwab's RIA Stands for You marketing campaign, and it is a listing service that puts some badly needed brass tacks into Schwab's advertising on behalf of RIA custodial clients. The RIA Stands for You marketing campaign is a '"Got milk?"-variety advertising program that intends to lift clients by lifting the whole category. See: Schwab to pump millions of dollars into promoting RIAs as a channel.
Words to action
"Before there was no call to action; now they have that," says Timothy Welsh, who consults with firms on how to market to RIAs through Nexus Strategy LLC.
One difference from SAN is that Advisor Tool may bring into the action a larger swath of Schwab's 6,850 non-SAN advisors. SAN leads are generated by retail advertising that brings people to branches. The RIA leads are a by product. The Advisor Tool leads are generated by directly marketing RIAs.
"We are still working on screening factors, but the idea is that advisors on the Schwab platform will have the option to participate," Schwab spokeswoman Susan Forman wrote in an e-mail. "When investors are interested in finding an independent advisor, they can key in their ZIP code and get a listing that they can then explore. The goal is if someone is on our site and looking for an advisor, we can make the connection. This should not be thought of as a referral system — but as a listing service."
Andrew Lin's firm, Signature Estate and Investment Advisors LLC of Los Angeles is a big user of the Schwab Advisor Network but he says he does not feel particularly threatened by the new program. SEIA manages about $2.7 billion of assets. See: How a $2 billion LA-based Schwab RIA doubled in size in five years with a laid-back California style.
h2, Successful in own right
"Though on the surface it may seem that the new Advisor Tool could distract from the more traditional Schwab Advisor Network, I think there is a high probability that it will be successful in its own right and not materially affect the SAN program," Lin says. "There are an incredible number of independent RIAs each with their own unique value proposition. Clients with complex cases will most likely become overwhelmed (by the choices offered through listings) and contact their local Schwab financial consultant for guidance anyway — leading clients to the solution that is best fit for the client with (RIAs in) SAN being one of the many solutions for complex cases."
Griffin Meyers, principal of Advanced Advisor Consulting in San Diego agrees that the leads are likely to be much different — depending on just how much Schwab gets involved. See: How an RIA can capitalize on referral programs offered by Schwab, TD and Fidelity.
"How they construct the directory —which I assume will only be advisors that custody at Schwab — will determine how and if it would be a threat to SAN firms. Will Schwab play a role in the introduction? Will firms pay to be on the list and will Schwab get paid on the intro like they do via SAN? All questions that we don't know yet.
"I think there is a fundamental difference when a Schwab rep makes a recommendation to a SAN advisor for a client vs. a client exploring a firm off of a list. First, Schwab is essentially putting thier stamp of approval on the SAN firms since they monitor and conduct due diligence on the firms. Second, this will always be a relationship based business and many people look for guidance when determining if an RIA is the right fit for them."
RIA Stands for You bears some similarity to Advizent LLC, the startup branding and screening effort being engineered by Steve Lockshin and Charles Goldman. See: Steve Lockshin and Charles Goldman begin to unveil Advizent, a venture that could put thousands of RIAs under a single cooperative.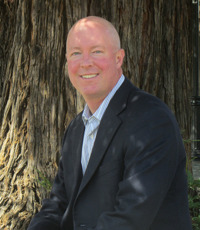 Timothy Welsh: "Before there was no
call to action; now they have
that.
Millions in ad spends
Schwab anticipates that it won't be long before it generates a flow of RIA-seeking investors through its newfangled effort that it is in the process of stepping up.
The firm is bolstering its RIA Stands for You campaign by offering a two-pronged approach aimed at providing materials that
advisors can send out to clients and also still directly advertising to individuals, says Michelle Draper, senior vice president of institutional services marketing.
"Schwab's doing the heavy lifting and creating the message, and we are also giving the rest of the campaign to advisors to leverage it."
Some of the big barbells hoisted by Schwab include a series of videos of consumers talking to other consumers about working with an RIA. This will be used by advisors and Schwab as a way of presenting a value proposition that sometimes defies easy descriptions but is helped by voice inflections and body language. See: What is the value proposition of a financial advisor — and how is a budding RIA culture upping the ante?.
Advertising, as stated before, will be reliant on digital media such as the websites of the New Yorker and Conde Nast publications aimed at upscale investors. The RIA Stands for You budget now is in the millions, according to Bernie Clark, executive vice president of Schwab Advisor Services. "Advisors just love this concept," he says.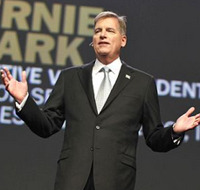 Bernie Clark: Advisors just love this
concept.
Got next moves?
But whether those dollars look well spent will very much depend on the devilish details that Schwab has yet to reveal.
"When you type in a zip code in the Bay area, do you get 300 to 400 RIAs or just ones screened for the Schwab Advisor Network?" Welsh wonders.
Welsh says that the Certified Financial Planner Board of Standards Inc. has introduced a similar-sounding system that some advisors say is not so useful because of the bombardment of search results.
The program was originally imagined as a "Got milk?" concept for RIA advice but for now it remains a purely Schwab effort. Still, Schwab execs point out that "Got milk?" itself started out just in California before establishing a much broader alliance of dairy producers — leading to speculation that other financial services could still be brought in.
Draper says Schwab didn't talk to other custodians when it launched the campaign a year ago. "Some of this draws to alliances," she says. "There's a lot of potential. You can't take anything off the table."
---
Mentioned in this article:
---
---
Share your thoughts and opinions with the author or other readers.
Steve Lockshin said:
November 19, 2012 — 5:37 PM UTC
The "Got Milk" campaign is an interesting analogy. Having worked with these folks when they established their initial pool of capital (once the program went national in 1995), I am very familiar with the campaign. From an awareness perspective, the concept is great. From a practical perspective, the paths diverge. The milk processors originally agreed to contribute $0.03 for each gallon processed; a very democratic way of charging the larger processors more and the smaller processors less. All processors in the industry participated.
The current challenge is that our industry is not well thought of by the consumer. Instead of sending a unified message, the industry has chosen (repeatedly) not to work together to promote the awareness of top-shelf industry firms and what best practices resemble. As a result we remain fragmented.
Clearly Schwab will only profile firms on Schwab's platform. What about the great advisory firm at Fidelity or TDA or any other platform provider? Is this about the consumer or Schwab? What will the standards be and how will they be verified? And, what will spending a few million per year do to combat the billions spent by the name brands?
The major beneficiaries of RIA growth (the custodians, asset managers, and the RIA themselves) have an opportunity to work together to create consumer awareness and exponentially multiply the voice that the industry has. Right now we have one player (Schwab) stepping up to talk about the industry and promote firms on their platform (only). Until the industry unites we are committed to being a cottage industry. Don't get me wrong, the category is growing and lots of RIAs have very nice businesses that support their lifestyle; a minority of which operate as real businesses, independent of the founders. However, until the category operates as a unit, we are committed to being under-recognized and the consumer likely under-served.
Elmer Rich III said:
November 19, 2012 — 7:15 PM UTC
Wow, there is a lot in this one article.
I have actually done consumer marketing, owned an ad agency and worked extensively in market research. Here are some thoughts.
The fact of the matter is that consumer, B2C, media may not work with what is essentially a B2B sales challenge. People investing substantial assets and their life saving are much more similar to people seeking a doctor, surgeon and other B2B services.
A simple truism is that people want to see a "mirror" in all communications. So investors want to see themselves mirrored back, RIAs want to see themselves mirrored in the ad/web and the marketing people want to see their corporate interests mirrored in the ads. It's human nature.
So who is this campaign really speaking to and mirroring? Typically, the people paying for and making decisions on the ads want their interests "mirrored." Even unconsciously they will make decision based on their personal interests – as does the ad agency, the media, etc.. That's a very long food chain before it gets to the advisor or investor.
No doubt Schwab is hoping for immediate business benefits for it's key business goals. It should boost their retail brand.
"RIA Stands for You" is an aspirational statement and awfully oblique. We are hard nosed marketers and "speaking for the industry" we would never let our clients do. Most of the impact of any advertising comes from the dollor amount or "spend." The influence of the actual campaign is impossible to measure.
Let us also caution, and we have studied this for years, the evidence for any effectiveness in web advertising is weak — at best. TV is still the main outreach media. The web is cheap and promises a lot of numbers – but much more proof it drives behavior is needed. Nielsen has some decent studies on this. They are not encouraging.
The advisor industry needs to get some real data on all of this before spending a lot more money.
---
---