News, Vision & Voice for the Advisory Community
Bernie Clark all but donned top hat and tails for a dramatic presentation of upcoming initiatives, and a last-minute celeb subbed for a famed basketball coach
November 15, 2012 — 8:49 PM UTC by Guest Columnist Timothy D. Welsh
Brooke's Note: When it's your job to write the of-record overview article about a the multi-day event of loosely connected happenings, it's tempting to throw up your hands. Where to begin? The answer is to take it bit by bit and let the article unfold. Tim Welsh has done it again — showing a reporterly reserve and attention to detail — but with just enough tipping of his hand that show his knowledge of the business to add some spice. Thank you, Tim.
Long the Big Top of RIA industry conferences, the Schwab IMPACT conference brought together nearly 3,000 RIA industry participants for three days in cold and blustery Chicago this week with sleekly produced main events, many of which had a decidedly theatrical bent.
Under the theme of "Unstoppable," Schwab Advisor Services showed off its size, strength and scale as the unquestioned leader of all things RIA. Sprawled over a good chunk of the massive McCormick Center, IMPACT activities were centered around a double-football-field-length exhibit hall crammed with more than 350 exhibitors showcasing the latest in asset management programs, advisor technology and other services RIAs use on a daily basis.
Razzmatazz
Bernie Clark, executive vice president of Schwab Advisor Services and head of the company's RIA business, noted in his opening remarks Wednesday that advisors are "explorers" and are pioneering new and better ways to deliver financial advice. "You are like Magellan," he said.
Bucking the trend from past IMPACTs, Clark didn't use a series of PowerPoint slides to tee up the various initiatives Schwab would be rolling out for advisors. Instead, the event masterminds behind IMPACT borrowed a page from Broadway and created a heavily produced and scripted monologue. After a video montage, Clark made a dramatic entrance from the shadows to describe what would be new for Schwab's 7,000 RIAs in a talk synchronized with back-screen visuals. See: Inside a reporter's notebook at Schwab's IMPACT. The effect was striking and at times even a bit eerie.
These high-profile initiatives were aimed at some of the structural issues RIAs have in expanding and developing their businesses, such as succession planning, talent development and investor awareness. See: Schwab is creating an RIA MBA-equivalent to grease the skids of internal succession — and internships to build an RIA worker-bee talent grab pile. As part of these efforts, Schwab will be rolling out a new RIA internship program to help advisors find the next generation of advisors, along with a new e-learning program to develop this new talent. In addition, Schwab will be enhancing its RIA Stands For You campaign designed to educate investors on the many benefits of working with an independent RIA. See: How Schwab's RIA advertising campaign could pay quick dividends for some advisors.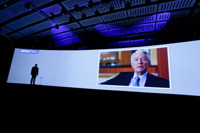 An enormous image of Chuck Schwab
overlooks the assembled advisors at the
McCormack Center Wednesday.
Announce now, build later
The final major initiative Schwab announced was the "Marketsquare" addition to its Schwab Intelligent Integration technology platform. Market Square is designed to be a Yelp or Zagat guide website where advisors can research technology vendors, post comments and benefit from the experience of others. See: Schwab bids to become the 'Zagat' of RIA technology and to nix ink signatures from RIA life.
While many of these initiatives were following the "announce first, build later" strategy and won't be available in some cases until 2014, advisors and exhibitors were buzzing about how these bold moves could change many industry dynamics. See: What Neesha Hathi has to say about Schwab's oh-so-slow-but-steady technology initiative.
To the moon and back
A fascinating keynote presentation by Peter Diamandis, chief executive of the X Prize Foundation and co-founder of Singularity University, followed Clark's opening remarks. Diamandis is a visionary who is using incentive competitions to solve large-scale problems through his foundation. These incentive competitions harness the creativity from people all over the world to focus attention on a problem and to come up with innovative solutions.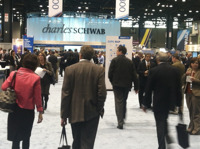 The exhibit hall at McCormick Center
was two football fields long.
"Small teams can accomplish more when they are uniquely focused on solving a problem, and we can use incentive competitions to transform our world," Diamandis said. X Prize got started when Diamandis created a competition for a team to develop a vehicle that could go into space, return to earth and repeat the trip two weeks later. He offered a $10 million prize to whoever completed it first. The only issue at the time was that Diamandis did not have the $10 million for the prize. "I always knew that some organization would step up and sponsor the competition, that is why we called it the X prize." Fortunately, a wealthy family did indeed sponsor the competition and the resulting entries spawned an entire industry dedicated to private space exploration. Based on the success of the first X Prize, Diamandis has gone on to offer prizes for developing environmental-cleanup systems, and solving health issues and other global human problems.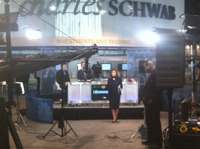 CNBC's Maria Bartiromo broadcasts live from
the Schwab IMPACT exhibit hall.
Trailblazers
Speaking of prizes, Schwab handed out its prestigious IMPACT awards at the conference, recognizing outstanding and leading advisory firms. Winning for "Best in Business" was the Foster Group of Des Moines, Iowa, while Glassman Wealth Services LLC of McLean, Va., won the Pacesetter award for the fastest growth of an emerging firm and Sullivan Bruyette Speros & Blayney Inc.,also of McLean, took the inaugural Trailblazer IMPACT award for firms that combine entrepreneurial aspirations with giving back to the industry. See: What Schwab's best three RIAs for 2011 say about how they got there.
Sessions, sessions, sessions
Throughout the conference, attendees were able to access educational sessions on just about any investment, wealth management, practice management or technology topic. Nearly 100 individual sessions were available — sometimes with more than a dozen to choose from each hour.
Of particularly interest were the expo showcases that featured top technology vendors highlighting their tools and solutions in a dedicated area right in the middle of the exhibit hall floor. Firms such as Junxure, Black Diamond, and Envestnet Inc. along with Schwab's SII partners, demonstrated the latest enhancements that promise to make advisors more efficient and profitable.
Even the chairman of the company, Chuck Schwab, got in on the action, participating on a celebrity panel discussion moderated by CNBC's Maria Bartiromo. Joining Chuck were Scott Nuttall and George Roberts of KKR & Co., the legendary private-equity buyout firm. A key theme discussed was the need for alternative investments to provide yield and downside protection in a low-interest-rate environment. Why Chuck Schwab is fine with boosted taxes — and even Dodd Frank — and believes RIAs should be, too.
While KKR typically works with large institutions and pension funds, it was here at IMPACT to go downmarket and offer a couple of funds targeted at the advisor audience and retail investors, with the first alternative-type investments offered through Schwab. See:
Born to be wild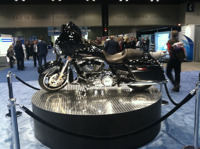 A gleaming Harley-Davidson was raffled off
during the IMPACT conference.
Rounding out the other keynote speakers were longtime IMPACT favorites Liz Ann Sonders, chief investment strategist for Schwab, and political strategist Greg Valliere of the Potomac Research Group. Also in the lineup was Keith Wandell, the CEO of Harley-Davidson Motor Co.,who shared his thoughts on managing one of the world's most famous brands. As part of his presentation, his company made available a Harley to be raffled off to support a veterans' charity. Attendees stood in long lines looking to score a chance at the beautiful bike. See: Liz Ann Sonders: Markets may have to tank before lawmakers step back from the fiscal cliff.
Pinch-hitting at the last minute for Phil Jackson, former coach of the Chicago Bulls and Los Angeles Lakers, who was initially scheduled to provide the final keynote, was actor Alan Alda. The buzz in the exhibit hall was that Jackson canceled because his name had been bandied about for the Lakers' coaching vacancy.
Parties on the pier
IMPACT has always had a reputation for throwing the best parties, dinners and after-hours gatherings of any industry event. Advisors and Schwab employees target this event each year to let loose and celebrate the success of the industry. This year did not disappoint, as attendees took over many of Chicago's finest restaurants and clubs to network, connect with old friends and make deals.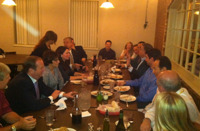 Greg Friedman and Joel Bruckenstein at
Tom Giachetti's dinner, at which the
Chianti flowed freely.
One high-profile dinner was hosted by celebrity compliance attorney, Tom Giachetti of the Stark & Stark law firm. At an intimate, old- style-Italian restaurant in the Vernon Park neighborhood on Wednesday night, industry luminaries Joel Bruckenstein of T3, Greg Friedman of CRM Software and execs from Clarfeld Financial Advisors and other large RIAs shared a family-style dinner. The big industry issues were vetted over pasta, chicken and bountiful carafes of Chianti.
The gala event was held on Chicago's famous Navy Pier and was followed by the much sought after, invitation only, ETF party. Produced by industry luminary Tom Lydon, attendees were scrambling for the infamous poker chip invitation given out by a consortium of ETF providers. Attendees wined, dined and danced into the late hours.
In a sign of the times, this party now even has its own Twitter account, @ETFParty.
Editor's Note: Tim Welsh is a former marketing director of Schwab Institutional and does work for competing RIA custodians in his enterprise, including TD Ameritrade. His views are his own — which is why we like them.
Timothy D. Welsh, CFP® is president and founder of Nexus Strategy LLC, a leading consulting firm to the wealth management industry, and can be reached at tim@nexus-strategy.com or on Twitter @Nexus Strategy.
---
Mentioned in this article:
---
---
Share your thoughts and opinions with the author or other readers.
---