News, Vision & Voice for the Advisory Community
Speaking at IMPACT, Schwab's chief strategist also weighs in on the net effect of long-term low interest rates and the looming cliff after the looming cliff: The debt ceiling
November 14, 2012 — 5:24 PM UTC by Lisa Shidler
Liz Ann Sonders is confident that lawmakers can avoid careening off the fiscal cliff by the end of the year, but the stock market may have to take a hit to force them to jump into action.
Sonders, chief investment strategist with Charles Schwab & Co. Inc., was one of the first speakers Tuesday morning at the San Francisco-based company's IMPACT conference in Chicago — one of the nation's biggest gatherings of RIAs. See: What Schwab's best three RIAs for 2011 say about how they got there.
"There may need to be a riot point," Sonders said. "I think if there's going to be a trigger point, it'll come from the stock market more than the bond market. I believe the likelihood of getting a deal done is better than what the skeptics believe." See: Bill Gross and Liz Ann Sonders are Dr. Gloom and Ms. (Fairly) Optimistic before Schwab IMPACT crowd .
Sonders, speaking at McCormick Place on Chicago's South Side, made predictions about the nation's economic future and placing bets on how legislators may handle this massive problem. Also speaking was Greg Valliere, chief political strategist of Potomac Research Group. See: Fiscal Cliff is ready for his close-up — whether we are or not.
Valliere also worries that the markets may have to take a dive before lawmakers can strike a deal. "People have looked me in the face and said that the markets have to go through a tough stretch before something gets done, but my reaction is, "Why do we have to go through a bad stretch." Right now, there's no angry markets and that might be the missing catalyst. That may have to come into the mix in the next few weeks."
Revenge of the can
Sonders and Valliere agree that a short-term patch won't bolster confidence in consumers and certainly won't cause companies to start spending or hiring again. Many business owners have been reluctant to spend because of uncertainty about tax rates and health care costs.
And a short-term solution — often called kicking the can down the road — could anger many Americans who already have little confidence in Congress. A number of grassroots groups have begun pressuring lawmakers on both sides of the political aisle to make real policy changes that will have a lasting impact. One such effort, thecankicksback.org, is set up to lobby lawmakers to reduce the debt.
"The scrutiny from the public is much greater than it's been in the past," said Sonders.
Sonders feels that a specific deal hashing out issues such as the alternative minimum tax, spending and real tax reform could be a real boost to the economy and also propel business owners to start spending again because they'll feel more confident about the future.
The unreal deal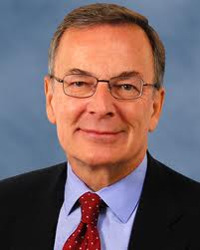 Greg Valliere spoke alongside Sonders on
Tuesday: We're in a Kumbaya phase
where everyone says the right things
to get something done.
On the heels of the recent election, Valliere believes a deal can be reached because Republicans and Democrats feel pressure to work together. "I'm in the minority who actually thinks we can get something done in December," Valliere said. "We're in a Kumbaya phase where everyone says the right things to get something done."
But unlike Sonders, Valliere isn't very upbeat about the notion that lawmakers can pass real long-term solutions. He's fearful that they'll simply make a short-term deal in December and then won't be able to reach consensus for real reform.
"If Congress can't reform the post office, how can they really reform anything?"
Valliere also says that once the fiscal cliff issue gets resolved, lawmakers will do battle once again this winter on the issue of the debt ceiling. He feels it's once again likely that lawmakers will be stalled by gridlock and won't be able to reach a real deal. He predicts that President Obama will increase the debt ceiling by executive authority if he can't get the go-ahead from Congress. See: What went down at Barron's Top Independent Advisors Summit in the Arizona desert.
Sonders says housing will be one sorely needed source of good news in an otherwise gloomy economy.
"I've been optimistic on housing since earlier this year when people looked at me like I had two heads," she says. "Housing isn't the elixir that solves all of our problems, but I think it's a really important bright spot in the economy."
Listening to Chuck
But aside from that, there are still many areas to be concerned about, Sonders said, pointing out that this summer's was the third consecutive midyear economic slowdown.
"We're digging ourselves out of quite a hole," she said after her speech on Tuesday evening.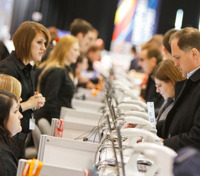 Advisors hurried to register at IMPACT
to hear the prognosis from Liz
Ann Sonders, who is known to
go against the flow.
Low interest rates will persist for at least a few years, and Sonders thinks that long-term low interest rates can have detrimental impacts on the economy.
"One of the problems — and this is something that Chuck Schwab talks about all of the time — is that part of the economy is negatively impacted by the low interest rates, particularly in regard to] savers who count on income from interest rates," she said. See: In a rare IMPACT appearance, Chuck Schwab predicts a 'significant turn' for the better.
Sonders pointed out that the economy hasn't experienced such a long stretch of low interest rates. "There are people who are hurt by the low interest rates and there are people who are helped by the low interest rates," she said. "Overall, I think these low interest rates are more of a hit to the economy than a help to the economy. We know why the Federal Reserve is doing this, but the simple math is, it's a drag on the economy."
Sonders also feels that earnings estimates are too high. "If you set the bar low enough, then the percentage of companies who can beat it goes up. I think we are going to have to take a haircut on earnings," she said. "Analysts aren't making any move till they get a better sense of health care and taxes. A lot of people think analysts are in la-la land. I think they're waiting until we get clarity on issues such as taxes and health care to get their models in place."
---
---
Share your thoughts and opinions with the author or other readers.
---