News, Vision & Voice for the Advisory Community
On the heels of the l'affaire Rhoades the nonprofit mounts a search to replace its longtime leader when she steps down next year
November 12, 2012 — 9:45 PM UTC by Lisa Shidler
The National Association of Personal Financial Advisors' longtime CEO and executive director Ellen Turf will be leaving the organization on Aug. 31, — appropriately or ironically — due to a life-plan made in conjunction with her family's financial planner.
Turf, 60, who has led NAPFA for nearly 14 years, and has been with NAPFA for 21 years, announced her intent to leave in a letter to NAPFA leaders in early October. She didn't want to formally announce the plans until NAPFA completed one of its conferences that ended last week.
"We just had our Baltimore conference and in typical 'Ellen' fashion she didn't want to take away from the Baltimore conference and chose to make her announcement afterward," says NAPFA chairwoman Lauren Locker. Locker was appointed after Ron Rhoades' controversial abdication of the CEO spot in August. See: Ron Rhoades: Staying on at NAPFA would have given ammunition to RIA industry foes.
Job too well done?
Ironically, Turf's decision to leave next year is part of a life plan she and her husband established with their financial planner. She plans to enjoy time with her husband, travel and spend time with grandchildren.
"We're cheering her on," Locker says. "This is her decision. We as an organization are very proud that she's been able to do this. We wish all of our clients could do this," Locker says.
Next stop, knitting
Turf says she's not sure if she'll retire or step into another type of career such as teaching or perhaps even take some classes herself. But she felt that it was the time to step away. She wants the opportunity to spend more time with her three grandchildren, travel and work on her knitting. She feels fortunate that she's in the financial position where where she can leave the organization and retire if she chooses to do so.
"I want to step back and look at the landscape and see what I want to do for the rest of my life. Do I want to be retired or do I want to get another job?" she says. "I'm not sure exactly what I want to do and I won't be able to make plans until I'm done with this."
Turf says she didn't feel worn out at NAPFA but instead feels that she's taken the organization as far as she can. "This little organization has matured and I do feel like I've done everything I could do. NAPFA has been wonderful to me, but I'm ready to move on," she says.
When asked about her legacy with the organization, Turf says she feels she's been flexible and also stayed at the forefront helping to build the organization's membership. The membership has grown from about 600 members when she took the helm to nearly 2,500 members.
"I think I've been at the cutting edge of all sorts of different things we've done in the organization," she says. "I feel I've been able to put my fingerprint on a lot of things. It's been a great run."
Regardless, Turf says it'll be tough to leavve. "I want them to find someone who can really take this organization to the next level," she says. There's so much going on in the industry that I'm kind of sad I won't be here to get involved."
Search begins
Turf's contract expires in October 2013 and Locker says the organization would have readily extended the contract if Turf wanted to remain on board.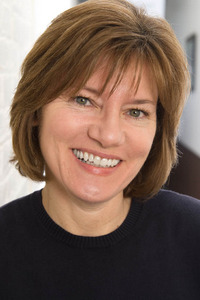 Lauren Locker: In n typical 'Ellen'
fashion she didn't want to take
away from the Baltimore conference.

Already, Locker says, the nonprofit organization has crafted a job description and intends to hire a consulting and business executive search firm to help them conduct a thorough search. NAPFA leadership has also established a search committee and is hopeful to have someone in place before Turf leaves.
What they're looking for
Locker says the group wants a leader who will be able to meet with constituent groups and stay abreast of key legislative issues that are important to NAPFA.
"It needs to be someone who is very nimble in accessing and capitalizing on opportunities coming up. We have a lot of fiduciary and regulatory issues that the person needs to stay abreast of," Locker says. "The new person has to be able to react quickly and wisely and that's the key. It's very interesting times." See: NAPFA conference hits hopeful note as members look to the future.
Brooke's Note: Ellen, you'll be missed.
---
Mentioned in this article:
---
---
Share your thoughts and opinions with the author or other readers.
Amelia said:
February 1, 2013 — 1:17 AM UTC
Sorry to see Ellen go. Good luck in the future.
---
---