News, Vision & Voice for the Advisory Community
The reshuffle, which brings aboard an ex-MSSB vice chairman, is no prelude to a sale new chief Howard Edelstein insists
November 1, 2012 — 6:00 PM UTC by Kelly O'Mara
Brooke's Note: BondDesk is really the company behind the custodians for a major chunk of the bonds that RIAs buy through the big custodians. They are also (full disclosure) our neighbors here in the village of Mill Valley and I've run over there for a cup of sugar more than once. I've always seen them as a company that exists somewhere on the border line of Big Company and Entrepreneurial Enterprise. So when I heard that the CEO they recently brought aboard from Bloomberg was making way for a hands-on investor, I thought it said quite a bit about who they are as a company and who we are as an industry as they hone in on wealth management with a separate hire.
After serving as chairman for BondDesk Group for the last two years, Howard Edelstein is now adding to his duties and taking over as CEO.
Edelstein replaces Kim Bang, who took the CEO job just over a year ago, and will focus making the company more profitable. Bang will leave the company. See: Executive leaves Bloomberg with ambitious plan to unify the retail bond market.
Double duty
While there are dozens of competing bond markets, also known as alternative trading systems, including BondPoint, Tradeweb and Advisors Asset Management, BondDesk is the industry leader with nearly a third of all annual retail trades. It is a primary desktop trading platform bond exchange for many RIAs who custody their assets with Pershing Advisor Solutions and Fidelity Institutional Wealth Services. It is also used by Schwab Advisor Services.
"Howard has been a really active chairman," says Brent Burns, president of Asset Dedication of Mill Valley, Calif., a firm that works closely with BondDesk. "He was doing a lot of things a CEO would do anyway."
As chairman, Edelstein performed many of the functions of the CEO and operated as a link between the New York-, Rochester, Mich.- and Mill Valley, Calif.-based bond-trading platform and the private-equity company, Advent International Corporation, that bought BondDesk Group in 2006.
No slight intended
Edelstein says that the corporate restructuring is not a reflection Kim's performance as CEO.
"Kim and I are actually really close, good friends," he says, and the two discussed the changes at the company extensively, before reaching the decision. "When Kim joined the company, it was a different company and the market was a different market," says Edelstein.
Burns agrees that Bang's exit "wasn't any slight," he says, but simply a business restructuring decision.
Part of Bang's original plan when he was hired was to roll-out a technology system for direct retail. To that end, he was successful in implementing Bond Works, which created workstations for advisors and brokers to have direct access to BondDesk's fixed income wealth management platform.
Edelstein, who was previously CEO of Thomson Financial ESG and CEO of Radianz, says his hands-on involvement has typically been welcomed. He's found over the last two years is that the BondDesk CEO often appreciates his previous experience as a CEO and the assistance he can offer.
"Sometimes, the CEO needs a little help," says Edelstein.
But with the bond market struggling right now, largely due to dropping interest rates, it just didn't make sense for the company to have two experienced people performing the same functions, says Burns. Edelstein will stay on as chairman, as well as take over the CEO responsibilities. He is also an operating partner at Advent, which he argues allows him to work with both sides of the business. See: What plunging equity prices say about bonds as a hedge for stocks.
"Frankly, it makes a lot of sense to me," says Burns.
Emphasis added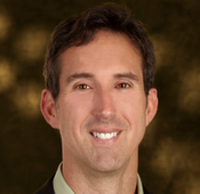 Brent Burns: Frankly, it makes a
lot of sense to me.
In addition to the executive suite shake-up, BondDesk has hired new heads for its two main divisions, and will focus on pushing sales in those divisions: wealth management and capital markets and ATS. The company will focus heavily on these two divisions, while other sales, such as their small institutional business, take a back seat, because these areas promise the most growth in the current economy, says Edelstein.
Craig Pfeiffer, a former vice chairman at Morgan Stanley Smith Barney, was hired this month to head the wealth management division, which will try to increase sales in the wealth management community. In August, John Bagley was brought on to head the other division, capital markets and ATS. Bagley was previously head of municipal training, underwriting and institutional sales at UBS. See: U.S. Trust's latest hires and what's expected of them.
Everything for sale?
While Edelstein acknowledges that "with private equity, everything's for sale all the time," he insists the changes weren't driven by a pending sale, though he does think the moves will increase the value of the company in the event of a sale down the road. See: RIAs can turn stockpiled private equity cash to clients' advantage and into AUM.
"We believe it will add to the value of the company," says Edelstein.
"Howard's track record and experience in financial technology and market structure, combined with the addition of wealth management industry veterans Craig Pfeiffer and John Bagley, makes BondDesk uniquely qualified to help its clients navigate a rapidly evolving fixed income trading environment," says Chris Egan, managing director at Advent International Corporation and a BondDesk director.
Eastward migration
BondDesk has closed some of its offices in Mill Valley, Calif., where it was founded, and moved people to New York. Without the founder, Charles Almond, who lived in Mill Valley, involved anymore, it simply didn't make sense to keep so much of the business focused on a small town, says Edelstein. Almond moved out of the CEO position and became chairman in 2004, but then moved off the board after Advent private equity bought the company. See: Focus Financial VC backer says IPO still on the table after private auction yields no sale.
BondDesk hit a high with trades in 2009, as people looked for stable investment sources after the crash, but it was only a temporary bubble. Since then, BondDesk has made staffing adjustments. They were also in a period of development, says Edelstein, spending the last three years building the new advisor technology workstations. But once it was rolled out, it only made sense to decrease the number of people, he says.
"As the business has grown up, it's shifted to New York," says Burns.
None of the current changes are because BondDesk is struggling more than anyone else, say both Burns and Edelstein. The company has made its cuts and changes over the last few years, in response to the market, and has also been attracting business by undercutting competitor's prices.
"They've made those adjustments all along," says Burns.
---
---
Share your thoughts and opinions with the author or other readers.
---