News, Vision & Voice for the Advisory Community
The Middleburg, Va., roll-up-like hybrid RIA is switching some horses after its CEO and founder exited and some funding sources dried up
October 5, 2012 — 3:03 AM UTC by Kelly O'Mara
Brooke's Note: When I first saw news that roll-up-like venture Washington Wealth Management was moving its assets to LPL, I was surprised. Now that I know the details, it makes sense. Though LPL Financial appears to be the big winner, it is not doing it by a knockout. Instead, it is doing so as a great big important piece to the custody and trading puzzle that also includes all four of the major RIA custodians. So does this diminish LPL's win because it isn't getting the whole loaf? My take: it's just the opposite. A company that lives by exclusive deals can die by them, too. A company willing to play to its strengths really has a broad market of profitable business to pursue and fewer vulnerabilities to its competitors. LPL has always been a very exclusive-deal-type company but has been edging toward a more open approach for a few years. This WWM appears to be an even more decisive move in that direction.
After founder and CEO Tony Sirianni left Middleburg, Va.-based Washington Wealth Management LLC earlier this year, the firm didn't slow down, but is instead picking up steam — even if it's in a new direction. It has now signed a deal moving 15 advisors onto LPL Financial broker-dealer platform, and will affiliate with LPL's RIA, as part of a plan to grow from its current $750 million in assets under administration to $3 billion in assets by the end of 2013.
Despite strong opinions in the past from Sirianni, who remains a shareholder, about serving as an independent alternative to wirehouses, Washington Wealth CEO Rob Bartenstein says the move to LPL doesn't represent any philosophical change for WWM and that the company is still committed to helping advisors turn independent. See: Former MSSB exec powers up Washington Wealth Management as branch-manager franchise.
"Washington Wealth is not abandoning anything we've stood for since our inception," says Bartenstein.
One person familiar with Washington Wealth said that the firm's move away from its current custodians may cost it referrals.
The firm will keep some assets at the custodians it currently uses, Pershing, TD Ameritrade Institutional and Fidelity Institutional Wealth Services, but it is adding Schwab Advisor Services to its custody roster to keep assets there as well, according to Bartenstein. And it is receiving referrals from Fidelity, TD and Schwab, he adds. LPL will serve as the company's broker-dealer, but will allow WWM's advisors to use either their own tech platforms or LPL's tech platform to connect to other custodians.
"The hybrid platform is a multicustodial offering," says Bill Morrissey, LPL's executive vice president of business development.
Working like a surgeon
Washington Wealth was founded in 2010 by Sirianni and Eric Nettere, who still serves as the company's chairman, as a step between total independence and working at a wirehouse. Advisors pay 30% of their revenue to Washington Wealth in return for back-office support — compliance in particular. Bartenstein compares it to a surgeon working at a hospital. "You don't want to prep patients and do billing," he says.
The main part of the Washington Wealth strategy has come in the past from attracting top-level Wall Street executives to serve as branch managers, recruiting advisors from wirehouses and offering them support in expanding their business. The company currently has eight offices and 15 advisors with about $750 million in assets. See: How Washington Wealth is using a million-dollar carrot to lure centers of massive wirehouse influence.
"As opposed to simply being an aggregator, we have no intention of creating the physical space for advisors to go independent, and then be left to themselves," says Bartenstein.
Just two weeks ago, the firm attracted its newest advisor (and the first to go onto the LPL platform). Domari Wealth Management LLC, headed by advisor Brian Danelian, brought its $135 million in assets from Wells Fargo Advisors LLC to Washington Wealth's Los Angeles-area office.
Despite being around for just over two years, Washington Wealth began bringing on advisors only in late 2011 after "getting its sea legs," says Bartenstein. Thus nearly all the growth has come in the past 10 months.
Bartenstein, himself, joined the company in November 2011, coming from Morgan Stanley. And, WWM President John Simmons, who was a regional director at Morgan Stanley, only recently had his non-compete agreement lifted, says Bartenstein. He's optimistic that with things lining up, the firm will be at $1 billion in assets by the end of 2012 and on its way to $3 billion next year.
A platform you can't outgrow
To make that happen, WWM had to move away from the multi-broker-dealer platform because it was "inefficient," says Bartenstein. Signing on to LPL's broker-dealer gives the company a "national footprint" and is a "huge plus," Bartenstein says.
"It's a platform we'll never outgrow," he says.
What really sweetened the deal, says Bartenstein, was the multicustodial hybrid platform that allows advisors to have options. LPL will hold the licenses for the 15 registered advisors at WWM, but they can opt to use LPL's RIA, or park assets at LPL, or keep assets elsewhere and use LPL's technology platform with feeds to other custodians or use their own technology platform. Most people, say Morrissey and Bartenstein, aren't aware of the different models LPL has. See: LPL's hybrid RIA platform is fast off the mark and names new leaders for 2010.
"We have a better understanding than the marketplace right now of what LPL actually is," says Bartenstein.
Washington Wealth previously used Spire Investment Partners LLC and Mid-Atlantic Capital Group Inc. as their primary broker-dealers. Spire CEO David Blisk says the parting was "amicable," but says his company also offers a national footprint and relationships with Pershing, Fidelity and Schwab. See: Spire wins another hybrid with an eye on expansion.
"We're a different firm, that's all. They want something different, and I think LPL can help them," says Blisk.
The super-OSJ depot
What LPL seems to be able to offer is support for these kinds of large offices of supervisory jurisdiction, or super-OSJs, many of which have signed on to LPL recently, including Advantage Financial Group Inc., Bridgeworth Financial LLC and Delaware Valley Financial Group LLC. The Washington Wealth deal was "on the heels of several other groups," says Morrissey. "We're the platform of choice for larger groups of advisors." See: What LPL's recruitment of a $2-billion beehive of NPC advisors says about its new sweet spot in the industry.
Washington Wealth has invested heavily in its growth in the last two years, luring high-paid executives away from bigger companies and adding seven offices in the last year. Some of those initial funding sources have dried up, but Bartenstein says the company is constantly reinvesting its profits.
"WWM has always enjoyed ample capital to meet our growth plans. As with the vast majority of businesses, we fund our growth plans through a combination of initial capital commitments from our founders and ongoing net-income reinvestments in our business," says Bartenstein.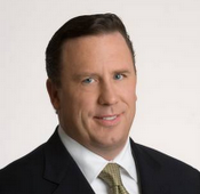 Bill Morrissey: LPL Financial has always
provided some transition assistance to advisors
who move to our platform.

LPL did provide some transition assistance funding to Washington Wealth, but Morrissey says the amount of funding didn't go beyond standard transition assistance. "As a matter of policy, LPL Financial has always provided some transition assistance to advisors who move to our platform in the form of funding that helps to cover certain basic expenses of their move," says Morrissey. "The specific amounts vary according to how complex — and therefore expensive — the transition in question is."
Pipeline of referrals
Part of the plan for growth hinges on referrals — both from branch managers, who come with their own Rolodexes of advisors who might be eager to leave the wirehouses, and from custodians. In addition to LPL, Bartenstein says the company is getting referrals from Fidelity and from Schwab — despite the fact that talks about keeping assets with the latter are ongoing.
"They're sending us referrals. This is a win-win for everybody," says Bartenstein. "Each custodian believes in their platform and wants to compete."
Schwab wouldn't comment on whether it sends referrals to Washington Wealth. Jon Beatty, senior vice president of Schwab Advisor Services, simply says, "We are excited about our relationship with Washington Wealth Management and we look forward to working with them to help advisors achieve independence."
But, Bartenstein believes the pipeline will continue to bring in business from people fleeing wirehouses. "To call our pipeline robust is a gross understatement," says Bartenstein.
A few more advisor additions are in the pipeline, making him confident that the firm will get to $1 billion by the end of the year, as it focuses on expanding its presence in the current cities its in — San Diego, Los Angeles, Las Vegas, Seattle, Westport, Conn., Middleburg, Richmond, Va,, and Miami. Next year, it'll focus on expanding to three or four new metro areas as it chases $3 billion.
"Certainly [$3 billion is] just a goal and something we could conceivably surpass," says Bartenstein.
---
Mentioned in this article:
---
---
Share your thoughts and opinions with the author or other readers.
---