News, Vision & Voice for the Advisory Community
The quiet is deafening
October 30, 2012 — 5:26 PM UTC by Brooke Southall
Typically when I get up in the morning and look at our readership software, I see a map of the United States with little marks representing people visiting RIABiz. At 7 a.m. Pacific Time, most of those readers are on the East Coast. And most of those East Coast readers are in New York.
Not today. Shockingly I saw next to none at all in the tri-state area.
I had already known that New York was slipping off the map as I couldn't reach either of my editors last evening, both Manhattan based. It forced me to call on my little-used copy-editing skills. You might notice.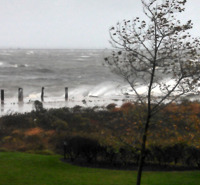 Port Monmouth was just bracing when
Lorraine Mannix [Frank Noto's sister] took
this shot yesterday morning. The vegetation
no longer exists.
There are also some stories that were embargoed until yesterday that remain on hold by corporations that want a bigger audience.
On a lighter sider, I called Nevin Freeman, our Brooklyn-based chief technical officer. Nevin is from Oregon and rarely betrays much emotion (until nighttime) so I listened carefully. He laughed and said it just looked like a bunch of rain from where he was sitting. That phone call happened before power outages reigned supreme.
Frank Noto, our business chief and desk mate, is in contact with his sister, Lorrainne, who lives in Port Monmouth, N.J., 50 feet from the ocean — right at the mouth of New York Harbor. She sent us a picture, that includes chaos and trees. She's trying to get us the follow up where Nature has stripped away the trees.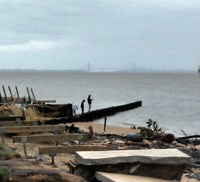 Aftermath…with NYC in distance. [Lorraine Mannix
photo]
I got a note from my mother saying things aren't so bad up in Maine and that the grandkids were having a Halloween party.
Personally, I'm having a sense of deja vu back to 9/11 when New York was hurting and in disarray and we were having beautiful Indian Summer here — and it was hardly enjoyable. It was almost offensive, like a cocktail dress at a wake. It's the same today and yesterday, though we have morning fog over Mill Valley right now. Another similarity: I'm hearing from New Yorkers stranded here who have plenty of time to get together for drinks.
We know you'll be back New York and the Northeast, all piss and vinegar, in a few days. But in the meantime, know you're missed and know that it's not all that fun without you. See: Why the slow-evolving metro New York area is still on course to be the capital of the RIA business.
---
---
Share your thoughts and opinions with the author or other readers.
Maria Marsala said:
October 30, 2012 — 7:32 PM UTC
Feeling helpless out here near Seattle. Most I can do is say prayers.
— a Native NYer
Here are some photos from Staten Island
http://www.silive.com/news/index.ssf/2012/10/everything_staten_islanders_ne.html
Brooke Southall said:
October 30, 2012 — 7:33 PM UTC
I think you speak for many, Maria.
Brooke
Sydney LeBlanc said:
October 31, 2012 — 6:22 PM UTC
Brooke, your line about the cocktail dress at a wake gave me the shivers. How true. All of our prayers and thoughts from the west coast are with our friends/colleagues on the east coast.
---
---