News, Vision & Voice for the Advisory Community
The Financial Planning Association aims to rally around the CFP designation, bring in fresh blood and build membership back up
October 3, 2012 — 3:29 AM UTC by Guest Columnist Timothy Welsh
Under stormy and rainy Texas skies, the Financial Planning Association kicked off its annual conference with not only new leadership, but also a new message to advisors and investors alike.
From Sept. 29 to Oct. 2, nearly 2,000 advisors, exhibitors, students and FPA staff gathered at the mammoth Henry Gonzalez Conference Center in downtown San Antonio, just a stone's throw away from the Alamo, for four days of CFP educational content, high-profile keynote speeches and many networking events.
While the FPA and its predecessor organizations have been holding annual member conferences for decades, what made this one noteworthy were the key announcements of a new chief executive — Lauren Schadle — and a new president-elect, Janet Stanzak. Additionally, the FPA made the bold step of declaring that the CFP designation will be the way that the FPA will unite the financial planning profession. See: Advisors talk over the future of financial planning at FPA Experience 2011."
Rigorous standards
Why shouldn't there be a high barrier to entry for people who are charged with looking after investors' life savings?" the current president, Paul Auslander, declared in his opening remarks. "The rigor of the exam, the continuing education requirements, the fiduciary standard of care and the consumer awareness of the CFP marks make it critical that we have one designation, one profession and therefore there should be one association for planners to be part of, and that is the FPA. It takes guts and money to lead, and that is why we are stepping up."
Throughout the general sessions, FPA honored departing CEO Marv Tuttle for his 29 years of service to the FPA and a predecessor organization, the Institute of Certified Financial Planners. Tuttle, a well-liked and esteemed executive, has led FPA since 2003. Schadle, will take the reins from Tuttle at an interesting inflection point for the association.
When it was founded more than a decade ago upon the merger of the ICFP and the International Association for Financial Planning, the FPA had nearly 30,000 members and a bright future. However, that number has been steadily declining over the years as the FPA has taken high-profile positions that have alienated certain members and segments of the financial services industry.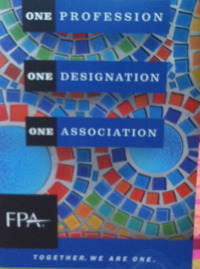 The FPA is working at creating
a unifying message.
The high-profile issues over the years have been the FPA's successful lawsuit against the SEC to overturn the "Merrill Lynch Rule" and its staunch support of the fiduciary standard. These were seen at the time as "anti-broker-dealer" and "anti-insurance" stands, which made it difficult for those segments of the industry to justify partnering with the FPA. Although those were definitely pro-RIA stances, I think everyone now is pretty much aligned on the fiduciary issue. And it has been more than five years since the Merrill Rule was resolved, so the FPA's reputation as anti-broker is fading — and that is driving the recent and growing success of the Major Firms outreach.
Recently, that membership decline has stabilized and FPA now finds itself with just over 23,000 members. In response, Schadle will kick off her tenure with a focus on expanding the association by building member value and strengthening the "one designation, one profession, one association" leadership message.
"My focus will be on fine-tuning our business activities and the fundamentals — the things FPA does best, including building a strong practice management value proposition to help our members grow and enhance their businesses as well as unifying the profession around the CFP designation," she said.
Practice management deliverables
As part of that practice management focus, the FPA announced several initiatives to provide the tools, resources and programs advisors will need to run and build a better business. Chief among them is the "Practitioners Resource" guide, which lists dozens of products and services that FPA members can tap into to help manage their firms, arranged around such critical topics as growth, efficiency, risk management, client service, business continuity and general office support.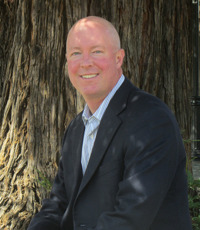 Tim Welsh saw signs that the
FPA is making a real effort
toward turning around declining membership.
"Advisors already have a strong background in the technical subjects of providing planning advice," noted Jaleen Edwards, the FPA's managing director of business development and strategic alliances. "However, what they need now are resources in business management, efficiency and growing their practices to succeed in today's much more challenging environment." One example of this new offering is "FPA Practice Match," an online succession-planning service to enable FPA members to anonymously and securely search for compatible merger, sale or acquisition candidates.
"The Practitioners Resource guide is just the beginning of what we will be delivering to members," said Edwards. "We envision a total and complete platform for FPA members to solve their most pressing business management challenges."
Along these lines, the conference agenda had plenty of practice management sessions, highlighted by tech guru Bill Winterberg's "Transformational Technology" presentation. Winterberg, using hundreds of PowerPoint slides, showed how advisors can better collaborate with clients and improve their client service model by adopting online tools that are free or low-cost.
Compelling keynotes
A staple of FPA annual conferences is the high-profile general session keynote presentations, and this year's did not disappoint.
Kicking off the conference was the entertaining political opposite couple, James Carville and Mary Matalin. In a somewhat scripted shtick, Matalin tried to dispel the perception that Romney is fading fast, while Obama is surging. "The one thing about politics is that sometimes perception becomes reality," Matalin said. "No one can predict this election yet, because in reality, the differences between Obama and Romney are really not as big as people are being told."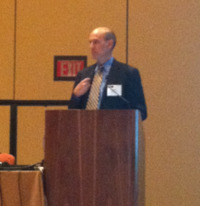 Skip Schweiss held forth at the
Major Firms symposium.
While this rhetoric seemed to initially resonate with the crowd, Carville took his turn to counter his wife's position with the fact that Obama has a 4 or 5 point lead and it will take a monumental misstep by Obama to allow Romney to catch up this late in the campaign. "We're about to go into the fourth quarter with the debates and the only chance Romney has is to reframe the election by picking one issue and making it the focus. If he attacks the president on multiple fronts, he will lose."
Complementing the political discourse was a motivational talk given by a Medal of Honor-winning soldier, Salvatore Giunta, which received multiple standing ovations. Giunta told the story of why he enlisted into the military at 18 to serve his country and the circumstances surrounding his actions during the Afghanistan war.
"My brothers in arms did way more than I did on that day," Giunta said humbly when relating the story of how he charged the line multiple times to rescue several U.S. soldiers during an ambush and firefight. "I was trained and prepared to respond and do what is necessary to neutralize the threat. As an all-volunteer military, we are trained to lead by example and if it wasn't me it would have been someone else."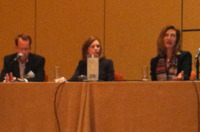 Matt Reeves of Waddell Reed, Marcia
Wooley of MetLife and Marcy
Keckler of Ameriprise
Pre-conference – Major Firms meeting
Because FPA Experience is the main event in the financial planning industry, it attracts a wide range of attendees. As part of that center-of-the-universe positioning, the FPA held a pre-conference event for executives of the major financial services firms who support the financial planning process in their companies. These included all of the industry's big wirehouses, banks, insurance companies, broker-dealers and megaRIAs.
The mission behind the Major Firms initiative is to build a bridge into those large firms as that is where the primary growth of CFP certificants lies. The independent industry is not creating new advisors, rather the major firms are, so the growth imperative for the FPA lies in the major firms. Currently, the FPA does a great job with independent advisors, however, because the major-firm advisors are typically employees, there is a different value proposition. The goal of the Major Firms initiative is to unbundle the best of what the FPA can offer in terms of education, training and community and make it work for the employee advisor. Through the Major Firms outreach, FPA is creating an executive community and building relationships for future partnership. See: How the FPA's national conference is nudging large firms toward fiduciary care.
Nearly 100 executives and companies were represented and spent a day and a half learning how best to evangelize and deliver financial planning in the employee-advisor, large-firm setting. Compelling presentations from Philip Palaveev of the The Ensemble Group on how to incent and organize team-based practices were well received, along with multiple enterprise technology presentations from industry leaders such as Oleg Tishkevich, CEO of Finance Logix, who demonstrated the latest in financial planning mobile applications.
In its seventh year, the FPA Major Firms Symposium has been steadily growing and now attracts executives from countries as far away as Australia and India who shared how regulations were changing their financial planning industries. Many of these reforms are similar to what is contained in the Dodd-Frank Act here in the U.S., including the imposition of a fiduciary duty and even to the extent of banning commissions entirely, which may be a model for how regulatory reform will play out here.
See: Eavesdropping on FPA Australia: The group is booting big-companies and pushing advisors hard to earn their CFPs.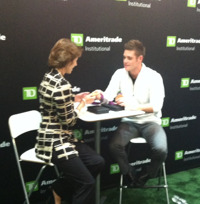 Two-time Olympic-medal winning diver Boudia posed
with attendees and TD Ameritrade paid
the bill.
River walking
Of course. whenever you gather 2,000 people together in one contained area, there are bound to be multiple networking events, parties and social events. In the case of FPA Experience, it did not disappoint.
Given the venue's proximity to San Antonio's famous River Walk area, dozens of restaurants, bars and nightspots were within walking distance. Showing off its marketing prowess, TD Ameritrade led the way with two-time Olympic-medal winning diver David Boudia, who posed with attendees and his medals for celebrity photo opportunities at the TD booth in the exhibit hall and at their invitation-only VIP party at a cantina on the River Walk. For attendees, the most difficult choice was not which session to attend, but rather which party or dinner to imbibe at each night of the event.
Throughout the conference, multiple events were dedicated to honoring Marv Tuttle for his leadership in steering the industry's largest association over the years. As a result, he was definitely the most popular man at the event.
From all of us, Marv, thanks for your service, inspiration and leadership!
Timothy D. Welsh, CFP, is president and founder of Nexus Strategy LLC, a leading consulting firm to the wealth management industry. He can be reached at tim@nexus-strategy.com or on Twitter @NexusStrategy.
---
Mentioned in this article:
---
---
Share your thoughts and opinions with the author or other readers.
---