News, Vision & Voice for the Advisory Community
Gerber Kawasaki's selection of the big broker down the SoCal road started with a LinkedIn message to Esther Stearns
October 25, 2012 — 3:10 AM UTC by Brooke Southall
Brooke's Note: For the most part I'd say that RIA social-media strategy is an oxymoron and relatively non-existent despite all the talk. Though many advisors are fighting to win the accounts of Facebook employees, few have any interest in the kinds of people who use Facebook, i.e., young and impecunious ones. Enter Ross Gerber, who is bringing in dozens of clients by social media means every week. And LPL's Bill Morrissey quickly corrected me when I suggested these clients might be loss leaders in the short term. This is a situation to watch.
LPL Financial LLC is courting youth with a new recruit.
The Boston-, Charlotte, N.C.- and San Diego-based broker-dealer announced yesterday that it is bringing aboard a firm of 19 advisors whose average age is 28 and whose average clients aren't much older than that (mid-30s).
Gerber Kawasaki Wealth & Investment Management of Santa Monica, Calif. is jumping from SagePoint Financial, a Phoenix-based firm in the Advisor Group network of independent broker-dealers. Ross Gerber, 41, president and CEO of Gerber Kawasaki, says that he was not fully comfortable keeping his assets in a subsidiary of American International Group Inc. "They changed the name to SagePoint Financial but really it was AIG."
Jeff Auld, president and CEO of SagePoint, responded to a request for comment about this concern with: "Ross and [partner] Danilo [Kawasaki] have a successful practice and we wish them and their clients the best."
Gerber Kawasaki has assets under advisement of $175 million from thousands of clients. There are 275 wealth management accounts with an average of $300,000-plus and thousands of clients with assets of less than $150,000 in assets. See: LPL cannibalizes executive talent and launches mass-market entity.
"It's really two businesses," says Gerber. "We are cultivating a new generation of financial advisors." Kawasaki is 33.
Mom's not on Facebook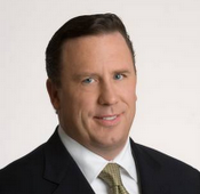 Bill Morrissey: Their social-media strategy is
really special.
The thousands of mass-affluent clients have mostly arrived through one social-media medium or the other. The firm draws about 30 new clients a week, often through Facebook. The company also makes use of Google, Twitter and even Yelp. See: Three ways to use social media in turbulent markets.
Bill Morrissey, executive vice president of business development for LPL, says that indeed Gerber Kawasaki brings a new wrinkle to his clientele.
"Their social-media strategy is really special," he says.
Still, Gerber allows that social media isn't all gravy.
"There's a huge advantage and a huge disadvantage. My mom doesn't use social media. People over 40 don't use social media." See: Ex-RIA chief: 'How I learned more in a month as a client than in 20 years as CEO'.
When asked whether low-balance investors were, in effect, a loss leader, Morrissey was quick to say that his company's technology and Gerber Kawasaki's approach made even very small clients profitable.
One reason they're profitable is low acquisition cost related to the social media approach to prospecting. It has 4,000 Facebook followers and 1,500 Twitter followers, and its advisors often meet often with our national clients via Skype.
For a goof
Once it found that young clients had begun commenting on the site on Yelp, the company was sure to establish a professional profile there. IGerber Kawasaki makes heavy use of Google's AdWords program. The beauty of it is that the advertising can effectively target financial planning clients who live in close proximity to Santa Monica.
Gerber Kawasaki has also just developed a Mint-like financial planning app called MyMoneyPage. It'll be launched in January but has been posted to the RIA's Facebook page and gets about 20 users a day rom people who its principals had never heard of.
The RIA also carefully tweets and posts Facebook messages in keeping with the spirits of those websites.
"People don't care about the stock market and financial planning. They want engagement," he says. "If I put up something about Romney being a goof, I get engagement all afternoon."
Gerber says that LPL stacked up well against the competition.
"We thoroughly reviewed the leading broker-dealers and custodians in the country, and LPL Financial was the ideal choice. We believe the many tools and resources they offer, together with the integration of their broker-dealer, custodial and clearing capabilities, will enable us to provide our clients with an efficient and cost-effective service."
Linked
His one complaint is a detail of the technology.
"We'll love it when it gets off of Internet Explorer," he says. Gerber prefers Chrome, Google's browser.
Gerber first found LPL after reading an article about its proposed mass-market strategy, headed by Esther Stearns, which sounds like his own. See: LPL cannibalizes executive talent and launches mass-market entity.
He got in touch with Stearns through her LinkedIn page and she referred him to the conventional side of the business. "[Al McIntee of LPL] literally got in his car the next day and drove to Santa Monica from San Diego," Gerber says.
The two-hour-drive proximity and LPL's commitment of 2,000 employees to the state of California made a difference to Gerber. His other two major vendors — Pacific Investment Management Co. LLC and American Funds — are also in the Los Angeles metro region. See: Why Pimco's brand is most sterling and PowerS,hares, Vanguard and ProShares are fast-gaining.
Gerber started his career 19 years ago out of college with SunAmerica Inc., which is now part of AIG.
---
Mentioned in this article:
---
---
Share your thoughts and opinions with the author or other readers.
---