News, Vision & Voice for the Advisory Community
A Keats Connelly investor made good on his threat to move north when Obama won in '08, now the firm has fingers crossed for a Romney win
October 2, 2012 — 4:29 AM UTC by Lisa Shidler
Brooke's Note: If you're a Republican and Romney loses on Nov. 6, it's going to be a bad day. But your day will probably be better than the one experienced by the principals of Keats Connelly who have a client who has taken out some of its frustrations on their AUM.
With emotions running high during this polarized U.S. election, one Arizona RIA hopes that a client will return if former Massachusetts Gov. Mitt Romney is elected president. See: A $3.4-billion DFA RIA sends his social media presence sky high with a 'Yep, I Built That' strategy.
Phoenix-based Keats Connelly & Associates LLC has an erstwhile $100 million client who, after the election of President Obama in 2008, opted to return to Canada where he had previously lived. The firm had worked with this individual on a retainer basis for a number of years and is hoping he'll return in the event that the Republican candidate prevails in November. To that end, the RIA last year added RBC as a custodian. See: How a custody relationship with RBC may net an advisor $100 million on day one.
But the prospect is not moving any assets until after the election. "We are still hoping that if Romney becomes the president, that we will get him as a client," says Keats Connelly CEO Dale Walters. "He's living on principles."
Reverse commutes
"I've had a handful of clients who have had me help them move to Canada," says Walters. But despite the close proximity of Canada and the United States and the fact that the two governments are closely tied together, he says some of his clients are tired of the United States' government spending.
"Most of them feel the U.S. has general fiscal irresponsibility," he says. "They feel that Canada has a strong banking system and that ours is on the verge of collapsing and they think they'll be fine in Canada."
But Walters questions the wisdom of such a move. "I don't think it's the right decision because if the U.S. goes down economically so does Canada. If you're really worried, you should go somewhere like New Zealand or Australia." In fact, Walters points out that while every situation is different, in many cases Canadians face steeper taxes than U.S. residents.
"Even if the taxes do increase in the U.S., they'll still be lower than in Canada," Walters says. "There have been a number of presidents over the 54 years that I've been alive that I didn't like, but I didn't consider moving."
Typically, his firm's sweet spot has been helping Canadians move to the U.S. The RIA manages about $300 million in assets and specializes in the complex cross-border tax planning issues.
The firm is awaiting the go-ahead from Canadian authorities to begin offering investment services in Canada, but for now when clients move north of the border, his firm loses them. See: Advisor spotlight: Following the snowbirds, Canadian firm expands south.
If that guy wins, I'm leaving!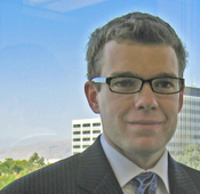 Jeff Sheldon: People don't usually act
on their anger.
Typically people are fired up during an election, and some threaten to move to another country if it doesn't go their way. But they don't usually act on their anger, says Jeff Sheldon, president of Cardinal Point Wealth Management LLC in San Jose, Calif. His firm originally opened its doors in Canada and now has locations in the states. The firm manages more than $50 million in the U.S. and advises on more than $250 million in assets in Canada.
"Every election, whether it's the U.S. or Canada, there's always talk about people making the choice to move across the border," Sheldon says. "There are so many factors you need to take into account before you make that decision. It's not just a matter of saying, 'I don't like this individual.' You have to look into health care, the debt ceiling and many other factors."
Sheldon does say his firm has had a handful of clients over the years who have made the decision based on political reasons, but that clients generally decide where to live based on where family is located.
"They put political decisions aside and focus on what's most important to them," he says. "People always say, 'This time is different', but I don't expect a lot of people to move regardless of who gets elected."
---
---
Share your thoughts and opinions with the author or other readers.
---