News, Vision & Voice for the Advisory Community
The Tiburon CEO Summit had its usual charge of energy as Walter Bettinger, Ric Edelman, Mike Durbin and Bernie Clark appeared at every turn
October 18, 2012 — 5:42 AM UTC by Brooke Southall
Brooke's Note: The Tiburon CEO Summit is an anomaly — and a good one. In the fragmented RIA business, there are few common denominators for us all — and fewer still for high-level wealth management executives. But we are all denominated in a sense by Chip Roame, who owns Tiburon CEO Summit and has the energy not only to create a virtual web but a real one twice a year. "We see ourselves as a CEO strategy firm. It's not about hedge funds, it's: How do you make money in the hedge fund business," Roame said as a way of explaining where he's coming from. So I go to his events expecting to see the convening of people and ideas typically restricted to random dreams — and useful thoughts and inspirations ensue. I was not disappointed this time around.
Ric Edelman knows that you don't get to be Barron's number one financial advisor three of the past four years unless you use your time efficiently. See: 8 notable takeaways from the spring 2012 Tiburon CEO Summit.
Traveling to San Francisco is a big time commitment — especially if it's to hang out with a bunch of fellow CEOs at the Ritz Carlton. There's lots of good information and networking to be had, but it's not necessarily a 'productive' trip — or is it?
Newly made money
Edelman, whose firm, Edelman Financial Group Inc., manages $8.5 billion of assets, managed to schedule a seminar in Silicon Valley for about 200 people representing 125 households. Bottom line: he netted between 50 and 60 clients with average assets of about $500,000 or more than $25 million of assets under management. Edelman has offices in the Northern California outposts of Mountain View and Walnut Creek to manage these accounts, but he's not necessarily trying to handle suddenly rich young investors created by LinkedIn or Facebook IPOs.
"They could be the clients from hell," he says. "They get the money so early [in their careers]. They have a master-of-the-universe culture." (Still, he allows that he's impressed by what Buckingham Asset Management LLC is doing with Founders Financial Network LLC. See: Why sudden wealth at Facebook is gushing into a $17-billion RIA and triggered a merger of two DFA giants.
Of course, the impressive thing about the Tiburon CEO Summit, which is put on every six months — alternating between New York City and San Francisco — is that Edelman is just another guy you bump into in the hallways at the event who is generous with his time and enjoying the rarefied atmosphere.
Inner Schwab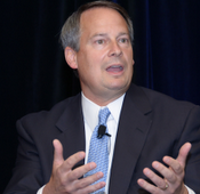 Walter Bettinger took some ribbing about
his ETF price cuts.
Another person I spotted, unguarded by PR staff, was Walter Bettinger, CEO of The Charles Schwab Corp., whom I had never met in person. I asked if he'd take a few moments, and I was able to talk with him about his company's recent purchase of ThomasPartners Inc. He offered thoughts that I used in this article: See: A look inside Schwab's second big deal with a small asset manager. I also asked him about his company's aggressive moves with ETFs, both in terms of pricing and in pursuing a Manhattan Project of sorts to create a 401(k) platform where ETFs can be used — something no large company has accomplished. See: Schwab's CEO engages in a Q&A about how his company's deep-discount, more-advice 401(k) plan will work .
He said he was proud that Schwab was initiating moves that were benefiting clients of Schwab and its competitors who had to compete with the pricing and products. "If competitors try to go below us [on price], great, customers will win."
Bettinger also made a comment that made me think that he may be finding his inner Chuck Schwab now that he's walked a few years in Chuck's shoes.
"The Charles Schwab brand is a challenger brand," he said. "We're not going to change our spots."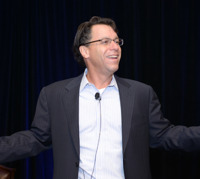 Chip Roame has put the IBD
model under intellectual probation — a
major take-away for many attendees.
About an hour after our chat, Bettinger received an award from Tiburon Strategic Advisors in a ceremony closed to the media.
Take-away wisdom
Before the Schwab CEO received his award, Chip Roame, managing principal of Tiburon Strategic Advisors LLC, gave his state-of-the-financial-services-industry speech. He opened by saying that it also was the state-of-the-wealth-management-industry speech because virtually all the exciting action is occurring in that subsector. See: 10 things worth knowing from yesterday's Tiburon CEO Summit.
Anyone who has sat through these speeches will, as one attendee, AppCrown LLC owner Franklln Tsung, said, feel like they are sipping from a fire hose, because so much is covered.
Yet a random handful of people derived the same fresh take-away that I did when I spoke with them after the speech. Roame has always — almost as a contrarian — been one of the diehards promoting the independent-broker-dealer model. His views were data driven — as he is immersed in data from multiple sources. Roame has always pointed to the fact that the IBD business' growth has basically mirrored the rise of the RIA sector. Now he's seeing the glass as being perhaps half full for companies that are all-in on this model.
IBDs challenged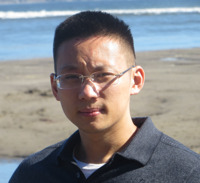 Frankin Tsung arrived a couple of
days early for the CEO Summit,
so I subjected him to a
day of travel up the coast.

"The business at IBDs is really challenged right now," he says. "The RIA market is going to do well. I'm not convinced the IBD market is going to do well."
Indeed, profit margins have been squeezed unmercifully, and larger reps often find the economics of forming an RIA to be favorable. See: Advisor Spotlight: How a big-time IBD rep ended up as a Schwab RIA.
When I talked with Roame after his speech, he added that he's not sure he'd call LPL an IBD anymore for the purposes of this discussion, and that he had recently even heard its CEO, Mark Casady, refer to his business as an asset custodian. He also said that he continues to be somewhat mystified by how much private equity is being invested in broker-dealers. He pointed out that private-equity firms expect giant returns on capital, and he wonders what path to this outcome they could be envisioning. The bellwether for whether an IBD properly stoked with private equity can do great things is Cetera and Roame says he's watching to see what happens there. See: Why exactly private equity firms are dumping money into IBDs at a time when many are going bust.
Product driven
In a chat after the speech, Atindra Barua, president and CEO of TrustFort LLC, a Woburn, Mass.-based company that provides the technology behind the technology for a number of broker-dealers and RIAs that serve 2 million end investors, says he believes that IBDs are in the process of acquiring technology that could tilt things back in their favor. One IBD rep in attendance was Tif Joyce who affiliates with LPL.
While IBDs may have slipped a rung in Roame's estimation, RIAs have hung steady or even risen — as underscored by this remark: "What RIAs do with products is where the product market is going." See: Pershing study: Why the IBD talent market is headed for trouble and what might reverse the trend. Though most attendees were execs, there were also some RIA principals attending including Ted Rich of Vinoy Capital, Scott Hanson of Hanson McClain and Jon Jones of Brighton Jones. The latter advisor made news lately for saying he would be pleased to write a six-figure check to be part of a viable Advizent. See: Why a $2-billion RIA is embracing the idea of a $1 million annual marketing tab, and how Advizent fits in.
Scott Hanson, Securities America's top advisor before his practice converted to an RIA, recently made a big technology switch. See: Orion wins another RIA with $1 billion-plus in AUM.
Roame says that — along these lines — another group that seems to be promising is the roll-up-like ventures. the fundamental difference between today's and yesterday's roll-ups being that they now have a plan for the advisors to succeed once they come aboard.
ETF shakeout
There were a couple other shifts that Roame identified — including one on the regulatory side.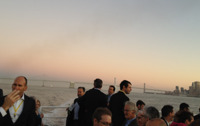 Scott Hansen holds forth on the
ferry to Tiburon for dinner.
"Everyone was picking FINRA a year ago, and now more people are picking the SEC as the regulator of RIAs, he said.
Another change: a shakeout in the ETF business. Roame called out Bettinger who was leaning against the wall in the back of the room, and said he was leading the "race to the bottom" in terms of pricing. "Schwab undercut even Vanguard." Bettinger gave a wry smile. See: How Russell is faring since joining the competitive ETF party with an all-star ex-Barclays crew.
Chip pointed out that Russell Investments and Scottrade Advisor Services, a division of Scottrade, Inc. have exited the ETF business. "If you're an also-ran ETF [provider], what kind of business model are you going to run?"
Risking old age
Another sea change in RIA behavior Roame noted is their behavior in buying mutual funds. For years, advisors were junkies for the no-transaction-fee funds on platforms such as Schwab's OneSource. he said that advisors are increasingly opting to pay a transaction fee to put clients in institutional-class funds that carry lower fees. "Institutional is going through the roof," he said.
He also put annuities on his watch list, saying that they have essentially been moving sideways for years despite market conditions — a crying need for guaranteed income — that seem highly favorable for these unconvincing products. See: An annuity even an RIA could love: no commissions, no fees, solid returns and the highest investment security on the planet.
"If ever there was a time for annuities to well, this is it," he says. "Your risk isn't that you're going to die when you're 75, it's that you're going to live to be 110."
Swan song
After Kelly O'Mara and I attended speeches open to the media and had short conferences with Barua, Bettinger and Edelman, we had longer meetings with Fidelity Institutional Wealth Services' Mike Durbin, David Canter and Bob Oros; Bernie Clark of Schwab Advisor Services; and Harry Markowitz representing Loring Ward as a member of its investment committee.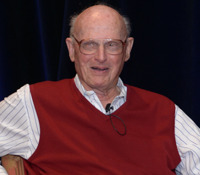 Harry Markowitz says that a black
swan has never surfaced in finance
— at least not in the
United States.
The Markowitz interview was videotaped and may be available here later. Though I was an economics major in college and have been covering finance as a journalist for 20 years, I'd be lying if I didn't admit that much of what the Nobel laureate in economic sciences said went over my head. See: Why the Yale endowment model has potentially calamitous pitfalls according to … Yale itself.
But Markowitz said one thing that will stick with me forever and that any advisor worth his or her salt should chew on: There has never, for all intents and purposes, ever been a so-called black swan event in modern U.S. investing history (though one happened in Germany back in the hyperinflation days). Speaking of 1987 (also 2001 and 2009), he said: "If you were long and non-leveraged, it was a non-event."
This did not mean that he believes in strict buy and hold. "It's hold and rebalance," he said.
Final note: The fruits of chats with Durbin and Clark will appear in future articles.
---
Mentioned in this article:
AppCrown, LLC
Outsourcer, CRM Software, Tech: Other
Top Executive: Ted Tsung
TrustFort
Financial Planning Software
Top Executive: Atindra Barua
---
---
Share your thoughts and opinions with the author or other readers.
Robert Boslego said:
October 19, 2012 — 4:01 AM UTC
Been chewing on that Markowtitz comment as to what his thoughts may be. Perhaps the video would clarify that.
I'm quite sure that most investors would agree that 2008-09 was a "Black Swan" event, or at least, not a non-event. Consider university endowments, for example. The major ones reported that diversification along the lines of Markowtiz' theory failed, and there were many spending and other major disruptions that resulted.
In more detail, let's examine the comment "there has never, for all intents and purposes, ever been a so-called Black Swan event in modern U.S. investing history…if you were long and non-leveraged."
It depends on how you define a Black Swan event. For this purpose, let's take the Black Swan author's (Nassim Taleb) definition of an event deemed improbable yet causing massive consequences.
Consider an investor who, at the beginning of 1999, had a diversified stock portfolio worth $500,000. Based on Markowitz' method of using expected mean returns, our investor used 9.2%, the historical capital markets history at that time, according to the Yale University Investments Office, to calculate his expected portfolio value for his 10-year investment horizon.
He was long and non-leveraged and the outcome was not a non-event. He expected to have a portfolio worth $1.2 million by the end of 2008.
Assuming he earned the average US equity market returns, his portfolio would be worth just over $400 thousand at the end of 2008. Such an outcome for a 10-year holding period was very improbable, given historical stock market returns. And this outcome, having 65% less than he expected, would cause massive consequences for him if he would be shifting his portfolio to "safe" investments and begin drawing it for his retirement.
http://webdeti.net/frm/profile.php?mode=viewprofil said:
June 26, 2014 — 12:14 AM UTC
Apple cider vinegar, at times referred to as cider vinegar or ACV, is established from cider or apple ought to. It's turn into really well-known due to its many very well being rewards and beauty properties. Because of to it large potassium content, it truly is best to consult with a perfectly staying care expert just in advance of taking ACV. Regardless of the reality that it is attainable to create your very own apple cider vinegar, you'll be able to uncover it in a very all-natural state at any perfectly becoming foodstuff keep. Let's check out a few of the benefits of apple cider vinegar.
http://earthtouchdesigns.com/page9.php said:
June 26, 2014 — 1:46 AM UTC
The very best are planned to permit you rather vacation skill. Relish the entire versatility of indulging any endeavor for the leisure. Hear to calm or raise tunes, and have enjoyment alongside one another together with your affiliates, co-workers or household within the dwelling house section. If dwelling lengthy- amount of money inside a pricey hostel could be a sizable-scale dent within your notecase, build bookings inside a maintained luxury suite. It really is intended for any long maintain inside of the town, an extravagance suite with hotel- like accommodation. Luxury, system and solace in the truly fully- furnished with and artfully planned luxury suite may possibly be a vacationeer's illusion for calm, house and quiet on their own vacation or trip.
---
---