News, Vision & Voice for the Advisory Community
Buys, goodbyes, advisors saying 'i' do, an escalating tech arms race and Sallie Krawcheck's ups and downs were just some of the topics that piqued your interest in 2011
January 9, 2012 — 4:55 AM UTC by Lisa Shidler
2011 in the RIA world was nothing if not eventful, filled with technology battles by custodians trying to one-up each other, high-profile hires and fires, mergers, massive changes at big companies and the birth of small companies, to name just a few. Last year, as always, we wrote stories that we hoped would intrigue and enlighten our readers. And as always, readers voted with their "clicks" to tell us whether we were right or wrong. Now, with results in from all precincts, we present a list of most-read RIABiz headlines in 2011 and why they were so important.
When S&P took the unprecedented step of downgrading the U.S. debt rating late on a Friday in August, RIAs and industry leaders — along with the rest of the country — were downright nervous about the opening bell on Monday. But guest columnist Ben Valore-Caplan calmed RIA nerves by provided some no-nonsense counsel. "Scared investors do scary things. We do not think that it makes sense to dump the stocks and bonds of profitable companies in order to buy the debt of a government that is being downgraded, but that is precisely what has happened over the past few weeks."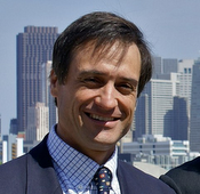 Brooke Southall: Nobody has yet developed
an "elevator pitch" description of an
RIA.
Before Brooke wrote this story, RIABiz tech whiz Nevin Freeman learned that the question "What is an RIA" is asked on Google 1.2 million times per month. So it should come as no surprise that an article on that very subject was one of your most eagerly perused stories of 2011. It's a deceptively simple question. As the RIA movement gains steam, it's likely this question will continue to be asked — and the answer continue to evolve — in 2012.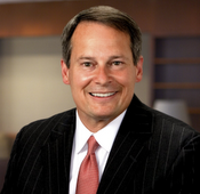 Walt Bettinger: An important segment of
retail client business first experienced Schwab
as 401k plan participants and we
have every reason to believe that
trend will continue.
When RIABiz broke the news that Schwab was introducing all-index mutual funds and ETF strategy to 401(k) plans, the industry reacted strongly. Proponents of this plan said Schwab was smart to use ETFs and, by doing so, could make significant headway into the 401(k) arena at the expense of Fidelity. But opponents argued that it would be difficult for participants to understand. After the story came out, Schwab contacted us, saying we put too much emphasis on the ETF portion of the plan. The result was a Q&A with Walt Bettinger published the next week in which he dug deeper into the firm's ETF strategy. See: Schwab's CEO engages in a Q&A about how his company's deep-discount, more-advice 401(k) plan will work .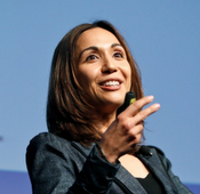 Neesha Hathi: It would be much
simpler to say: Let's make Schwab
Advisor Center the center of the
universe.
RIAs are not immune to the allure of all things "i" from Apple. This story shows how one advisor is using his iPad to boost his business.
And speaking of technology, in 2011 custodians continued — and escalated — their battle royal to develop the perfect platform for advisors. Here are some of the top stories detailing each custodian's effort to outdo competitors in the technology arena.
• Schwab's intriguing and long-gestating technology initiative was a hot topic in 2011. See: What Neesha Hathi has to say about Schwab's oh-so-slow-but-steady technology initiative.
• Fidelity got an early lead in the tech arms race in 2009 when it melded Siebel, Advent and NaviPlan and in 2011 it more than doubled its technology vendors, See: "Fidelity is set to add Envestnet, Redtail, Morningstar, AppCrown and SalesForce to WealthCentral":http://www.riabiz.com/a/8714004.
• Last year TD Ameritrade officially launched an integrated effort built around SalesForce customer relationship management system on its Veo platform using nearly 30 technology providers — including CRM, financial planning and portfolio management firms. See: Once good for a few million, TD Ameritrade's foot-in-the-door strategy is starting to net billions.
• Not to be left behind in the race for the ultimate tech platform, Pershing introduced a number of facets to its NetX360 platform including a mobile app. "See: Pershing keeps ahead in the mobile space with an Android app and mobile trading." In 2011, the company continued to invest in its open-architecture product platforms across mutual funds, money market funds, alternative investments, managed accounts and annuities. Pershing also launched a no-transaction-fee alternative investments platform to complement its existing offering. See: Pershing is working to create a better alternative assets experience.

Ed Swenson: This is the Holy
Grail of the independent space.
A story about Dynasty Financial Partners was one of our most-read stories when it came out in late 2010 (See: What exactly is Dynasty Financial Partners and why is the Smith Barney execs' startup gaining so much attention?) and the firm continued to excite reader interest in 2011. The fast-growing company is causing major changes in the RIA arena and in December we wrote about how Dynasty brokered and financed an impressive deal with Envestnet Inc. to build a platform that gives RIAs access to an industry-leading research firm Callan Associates Inc.
David and Goliath stories are perennially popular with RIABiz readers. This one told the story of two advisors, Scott Thomas and Todd McChesney, who wanted to bolster their retirement business and ultimately beat out John Hancock by demonstrating their fees could be cheaper than larger firms.
Industry leaders were floored by the Advent-Black Diamond deal mostly because, as Brooke mentioned in his note, it was almost like the Hatfields and the McCoys joining forces. Stories about mergers and even merger discussions are typically big hits on RIABiz. Take, for example, a December item about LPL and Fortigent looking into a merger. See: LPL and Fortigent may be cooking up a merger, sources say." When the merger was officially announced Tuesday, you wanted to read all about that, too. See: LPL makes big advance into the RIA business with Fortigent acquisition.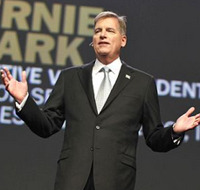 Bernie Clark addressed a major gaffe
head on.
In 2011, Schwab mistakenly sent a letter to RIAs' clients that made it seem like the company was poaching its RIAs. Rather than waiting for the controversy to die down, Bernie Clark, Schwab's head of RIA unit, tackled the problem head on, penning an apology late one night and also speaking openly to the media about the issue. The prompt and forthright approach seemed to work: A matter of weeks later the hubbub was all but forgotten. "See: Schwab's rapid response to letter snafu seems to be smoothing ruffled feathers."
This story illustrated the fact that despite continued economic headwinds, RIAs were in fact still growing. One company, RIA Database, has created a thriving business by tracking the needs of the infinitely differentiated needs of a consumer base in an orderly, precise fashion. We got some great information from the company.
The industry seems endlessly fascinated with what Sallie Krawcheck is up to. See: Sallie Krawcheck, A Recruiter's Nightmare. When she departed Merrill Lynch in September it became a national story and sparked intense speculation in the advisory community about whether her ouster would result in changes in compensation. See: Merrill Lynch brokers brace for sweeping comp changes as Sallie Krawcheck departs BoA and takes her advocacy with her. The answer came just before the new year in the form of a memo by Krawcheck's successor, David Darnell, that outlined a new policy wherein advisors, for the most part, would be paid only for clients with more than $250,000 in assets. See: Merrill Lynch unveils changes to broker compensation. For its part, Merrill says that it's not breaking its word. Regardless, the story lit a fire under our readers right at year's end.
---
Mentioned in this article:
---
---
Share your thoughts and opinions with the author or other readers.
---