With Sallie Krawcheck purged, 'the game is about to change in a big way', a former Merrill exec says.
Brooke's Note: Mindy Diamond, who recruits Merrill Lynch brokers; Tim Welsh, who once worked at Merrill; and a former high-level Merrill exec who comments for RIABiz on special occasions all lent their perspective regarding this unforeseen event — as did Fred St. Laurent, who previously wrote :Sallie Krawcheck, A Recruiter's Nightmare. One thing is for certain, this morning many more Merrill Lynch brokers are seriously entertaining lives as RIAs.
Mindy Diamond had long since left the office and was contemplating a semi-peaceful evening at home last night. That's when her cell phone starting buzzing and buzzing and buzzing.
When brokers heard the news that wealth management division head Sallie Krawcheck had departed Merrill and had been replaced by someone from the banking side of Bank of America, they needed to talk to their recruiter the way a desperate home seller needs reassurance from their real estate broker.
The slew of incoming calls to Diamond Consultants all came from Merrill Lynch advisors with big books of business who have been kicking around the idea of breaking away – some of them for years, Diamond reported.
In the statement announcing Krawcheck's departure, Bank of America CEO Brian Moynihan also revealed that Tom Montag and David Darnell had been appointed co-chief operating officers. The shakeup has Montag running investment banking and operations that serve companies and institutional investors. Darnell will oversee matters regarding individual customers – everything from credit cards, mortgages and deposits to wealth management.
"Today is a significant step in the continued transformation of our company," Moynihan said in the statement. "David and Tom are leaders skilled at driving profitability and growth by focusing their businesses on all we can do for customers. They are accountable now for delivering our entire franchise to all our customers and clients … Simplifying at the scale in which we operate requires difficult decisions … We wish [Krawcheck] well and look forward to [her] continued leadership and business successes in the future."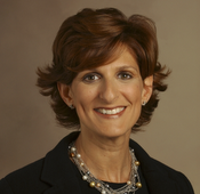 Mindy Diamond: There will be mass-exodus-times-10
from Merrill if they mess with
compensation.
The devil you know
In Diamond's opinion, no tears will be shed on account of Krawcheck's abrupt exit. On the contrary, advisors' initial negative reactions when she assumed the post have since been exacerbated by Krawcheck's inaccessibility and the scant amount of time she spent visiting branches.
But while Krawcheck may not have won any popularity contests, advisors at least saw her as one of their own, coming up as she did from the brokerage side of the business.
"Sallie was the only buffer between the brokers and the bankers," said Fred St. Laurent, managing director of recruiting firm Chase Professionals. "Now the bankers are in charge of a machine that she tuned to bring in $5 billion since 2009. If anybody at Merrill is in the good riddance crowd, they won't be for long."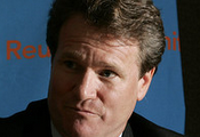 Brian Moynihan: Simplifying at the scale
in which we operate requires difficult
decisions.
An ominous passage in Moynihan's statement is not likely to calm such fears.
"Removing a layer of operations management, aligning leaders with our customer groups, and simplifying the organization reflect the primary objectives of the Project New BAC, begun in April 2011. These and other organizational improvements will eventually take effect across the consumer, home loans and support areas covered by phase I of New BAC, and are expected to result in significant expense reductions as the first phase concludes in coming weeks. Phase II of New BAC will begin in October and conclude in March 2012," the release reads.
Compensation consternation
With Bank of America's shares plunging and its purchase of Countrywide Financial Corp. giving rise to fears that the bank is still loaded with toxic debt, all options are on the table down at the company's Charlotte, N.C. headquarters, according to a former Merrill Lynch executive who asked not to be identified. See: Merrill Lynch and Bank of America cultural tension may spin out a new round of breakaways, recruiters say.
"Think you have seen cost cutting at BOA-ML in the past? You haven't seen anything yet," he writes in an e-mail. "Just you wait and see – the new sheriff in town has been a commercial banker his entire career. The game is about to change in a big way."
Indeed, using Krawcheck's removal as a cautionary tale, the new leader may view changing comp as the path to greater job security. The name of the game is "grow your assets and/or cut your costs – or we cut your head," the former Merrill exec says.
Diamond, however, believes it's not (quite) time to panic. The reaction to any change in compensation cannot be overstated, she says. "This will be mass-exodus-times-10 if they mess with compensation."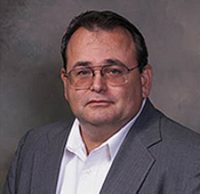 Fred St. Laurent: Sallie was the
only buffer between the brokers and
the bankers.
The culture lives on
Whiteboard calculations aside, Krawcheck may never have had much job security at Merrill Lynch to begin with, according to Tim Welsh of Nexus Strategy who worked there in the 1990s. See: Six things to consider when reading Sallie Krawcheck's comments in interviews.
"I think that no one who didn't rise through the broker ranks has ever been able to successfully lead Merrill. It's always been a 'we'll tolerate you, but not follow you' approach by the Thundering Herd for any non-broker executive. Even now that ML is part of Bank of America, that culture lives on," says Welsh.
"As for Sallie, she hasn't been able to keep any job in the wealth management business, so there shouldn't be too many surprises here. I can still see her trying to defend the wirehouse model, saying that Merrill really wasn't losing to the independent RIA channel, yet the facts completely refuted her claims. Ultimately, these realities caught up to her, particularly in the recent volatile markets and the rapidly deteriorating situation at B of A."
Uneasy lies the head
Based on last night's press release, Krawcheck seemed resigned to her fate.
"I am pleased with the work the team has done, in particular the strong performance of the business," she is quoted as saying. "It has been an honor to lead Bank of America Global Wealth and Investment Management during a challenging time."
But in this fraught environment no one can afford to be complacent.
"As for Montag, he is a former non-broker Goldman executive, so I expect him to suffer a similar fate three-to-five years from now," says Welsh.
Unrelated to Krawcheck's ouster, Diamond says her phone was already jumping off the hook over the past eight days because of all the bad news related to Bank of America and its share price. Many advisors see January 2012 as an inflection point because their retention bonuses will have been paid in full. Up until now, Merrill troops have been postponing decisions about breaking away until they have cash in hand, thus giving Bank of America a chance show that it was sincere about leaving Merrill Lynch culture intact. "Now advisors are saying, 'I can't wait around [to collect the last few dollars of the retention bonuses]. I can't lose my clients,'" Diamond says.
---
Related Moves
---
September 10, 2019 – 10:52 PM
---
---
Mentioned in this article:
---
---
---
Stephen Winks
September 11, 2011 — 3:23 PM
TJ Gilsenan,
Let's not forget the structural considerations that impede every broker and advisor from acknowledging fiduciary status. Surely every broker and adviser wants to act in the consumer's best interest. In order to simplify advice so it is easy to execute, scale is required with out the denigration of the highest fiduciary standard. Scale is beyond the reach of the individual practitioner and requires the industry itself to manage conflicts of interest which are outside the control of the individual adviser. So large scale institutional support for fiduciary standing is required if fiduciary standing is to be made safe, scalable, easy to execute and manage. This large scale institutionalized support for fiduciary standing of the advisor presently does not exist in the independent broker/dealer world. This is why an act on Congress is required to make the industry support brokers and advisors who want to axct in the best interest of the consumer.
It is also why it is in the self interest of the industry not to support fiduciary standing. Not because the industry's economics are lesser, as they are greatly improved with higher earnings, margins and three times the earnings multiple. The industry's opposition is simply to push back on change which precludes broker access to significant advances in innovation and requires a different management skill set to support brokers in addressing and managing investment and administrative values on behalf of the consumer in the consumers best interest. Brokers are accountable and responsible under a fiduciary standard which requires a different level of support. Presently brokers are neither accountable or responsible and have no onging duties to their clients once they earn their commission. This has resulted in the loss of trust and confidence of the investing public.
Our industry's top RIAs have long since relinquished their brokerage lisenses to avoid the appearance of conflicts of interest. Trade execution is treated as a cost center rather than a profit center. Large investors like CALPERs have achieved a negative trading cost environment (utilizing the highly innovative Computer Aided Decisions source code).
If the consumer's best interest is to prevail so the trust and confidence of the investing public is preserved and protected—the brokerage industry must approach things differently. Harvards Clayto Christensen (Innovators Dilemma) observes, the biggest mistake established industry's make when faced with industry redefining innovation is to look at innovation in the context of their existing business model when a new business model is in order.
Thus, independent broker/dealers are no more prepared than the wirehouses in support of fiduciary standing and they do not the intellectual or financial capital of the wirehouses. Thus, either the wirehouses dispense with their insularity to the need of the consumer and adviser, or an entirely new advisory services industry emerges to respond to the needs of the investing public. This is made possible by brokers and advisors voting with their feet, so the wirehouses have to respond—which will result in firms competing on the basis of the depth and breadth of counsel they support.
SCW
TJ Gilsenan
September 10, 2011 — 8:59 PM
Great opportunity for independent advisors. How many of your clients and prospects maintain a Merrill Lynch relationship? This is the perfect time to reach out to them with an offer to take over their Merrill accounts.
I might also consider writing a blog post about the importance of stability in an investment advisory firm to the success of its clients. Or tweeting a few links to articles talking about the upheaval at ML.
RIA practices are stable employee-owned businesses. Now is the time to remind Merrill clients of that.
Stephen Winks
September 8, 2011 — 1:31 AM
Ron Edde,
I agree with your observation, and still hold Krawcheck in high regard.
She has the guts to press the point in the best interests of the consumer and broker, which I find extremely rare. Most guys at that level go along to get along which precludes principled leadership even when called for by Congress and regulators. Essentially there is no leadership comming from the brokerage industry when it comes to supporting the fiduciary standing of the broker, an embarassment to every professional manager in the industry.
Will Merrill brokers see through a banker that has no interest the industry or the broker other than the integration of bank products? Absolutely. What the industry needs is progressive management in support of advisory services and what BoA is providing is irrelevent bank products—a total disconnect establishing total mis-understanding of the drivers of a competitive market place and the leadership vacuum which must be filled. I am aware of several top Merrill brokers, some of whom advise billions, who would confirm your sentiment—that the Merrill measure of success is out of synch with the needs of the industry, is devoid of the industry market leadership now required and reflects only the interest of BoA which is a non-starter as top brokers have choices and will vote with their feet.
My comment on Krawcheck simply establishes she is highly capable something required of private equity firms like the Carlyle Group. If she has the vision so she can take full advantage of the insularity of the brokerage industry which has refused to be responsive to the needs of the investing public, where brokers are not responsible or accountable for their recommendations which cripples the brokers ability to add value—we might well see her again in a different role as innovator.
Every Merrill broker wants a preemptive client value proposition in which they can demonstrate by statutory documentation and expert opinion letter that they are acting in the consumer's best interest, with their expert counsel being faster, better and cheaper than commison sales. Through much needed innovation, Krawcheck in fact can make Merrill a high cost low value added alternative because BoA does not understand the needs of the consumer and adviser. Krawcheck will actually support the fiduciary standing of the broker, while Merrill pushes back counter to the best interest of the consumer.
This is indeed a very strategic move by BoA, but it may have the exactly the opposite result than that intended as BoA does not understand the competitive business environment in todays brokerage business. Importantly, BoA got rid of the person that made Merrill work for BoA who had the vision to establish much needed market leadership in advisory services.
SCW
Elmer Rich III
September 7, 2011 — 4:15 PM
Shows what happens when you think you're buying something for nothing. Long time ago a head of a Wall St. global bank's very successful investment management unit to us: "Bankers only care about one thing — loans." Regardless of the profit contribution, no other business line seems to matter inside a bank. Don't believe the PR. They don't.
Ron Edde
September 7, 2011 — 7:01 PM
My personal feelings about Sallie Krawcheck aside, she was a master at spin. I distinctly remember her quote, on television, about how she had polled the Merrill advisors and determined that "nearly half of them felt the merger with B of A was a good thing." Of course, if one who is not hampered by diminished faculties ponders that for even a nanosecond, the clear conclusion would be that over half of the advisors were not in that camp.
On the other hand, Sallie was an advocate for the advisors being able to focus on investment brokerage and not on selling clients a credit card they didn't need. She has now been replaced by an individual whose training, background, and focus is on cost-cutting; and maximizing revenues by making loans and selling bank accounts. If there are any Merrill brokers who don't think that this is going to be a game-changing event for the thundering herd, they are beyond naive.
Stephen Winks
September 7, 2011 — 5:18 PM
Saddened by Krawchecks departure.
Sallie was the only top Wall Street executive to support the fiduciary standing of the broker. She cared about the trust of the investing public and the awkward position of brokers not being able to acknowledge they render advice or have an ongoing fiduciary obligation to act on behalf of their clients in the clients best interest.
Given Merrill's take over now by commercial bankers, one of the industry's storied franchises will no longer be able to fulfill the promise of industry leadership in advisory services just when leadership in advisory services is so essential to success.
This might be the most opportune moment in Krawcheck's career. The industry's needs are great as it attempts to restore public trust. Krawcheck is no longer stuck with an outdated business model where it is not possible to act in the consumer's best interest, and can start anew.
There are thousands of brokers and advisors who are dieing for a more relevent business model where fiduciary standing is safe, scalable and easy to execute and manage that is preemptive to and cheaper than commission sales and affords three times the earnings multiple.
Krawcheck may well be happy to leave BoA with a high cost low value added business model run by bankers that could care less about brokers. She may well see a superior alternative attractive to thousands of top brokers and advisers with significant assets as her legacy to the industry.
SCW