News, Vision & Voice for the Advisory Community
The Chicago company is also opening the call to any advisor - regardless of whether they do business with its TAMP
September 27, 2011 — 4:03 AM UTC by Brooke Southall
Call it a skull session, a support group, a high-level briefing or a nervous coffee break, Envestnet has been hosting a half-hour conference call and inviting its clients ever since the downgrade of US debt sent markets spiraling in August. See: 100 advisors convene with Envestnet's Crager and Stategas' Rissmiller to share strategies for managing the market turmoil.
With market volatility and the accompanying angst showing no signs of letting up, the Chicago-based company has quietly kept the calls coming ever since its first one on Aug. 10. Envestnet has $139 billion in total assets distributed and managed and more than 904,000 investor accounts.
Squawking
Envestnet announced yesterday that it is opening the squawk-box-like service to non-Envestnet advisors and it plans to make the calls a Wednesday-morning fixture at 9 a.m. Eastern time – at least as long as there is the emotional and analytical need, according to Bill Crager, president of Envestnet in a release. The calls are led by Brandon Thomas, CIO of Envestnet-PMC, who offers information about economic trends and gives investting insights.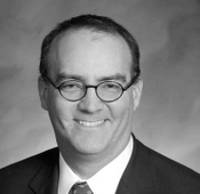 Brandon Thomas is leading the calls
for anxious advisors.
"Our first Market Morning call was put together in August to help advisors deal with a suddenly turbulent market environment. So many advisors dialed in. We realized there was great demand for timely information and analysis that was easily accessible."
Envestnet is getting between 40 and 100 advisors per call and they run the gamut in terms of size of practice, according to a spokeswoman. The company believes it can expand that number by opening the calls to a wider audience and committing longer term to this call.
"We expect the Market Morning series to grow, to continue to attract high-profile investment professionals and to provide valuable insights," Crager said in the release.
To get on Envestnet's list, go here.
---
Mentioned in this article:
---
---
Share your thoughts and opinions with the author or other readers.
---