Brian Hamburger, founder of MarketCounsel's Member Summit 2011, expects 200 advisors with between $100 million and $1 billion in assets
Brooke's Note: There was a time when there were two kinds of RIA conferences – big ones and small ones. There also weren't all that many of them. Those days are over as more and more varied ones pop up. This article gives some perspective on the phenomenon and how it plays out this fall.
Conferences aimed at RIAs are inconvenient, expensive, time-consuming – and very much on the rise.
Thousands of financial advisors will be gathering in the coming weeks for some of the most elite advisory conferences in the industry:
- The MarketCounsel Summit draws advisors with an acute interest in compliance and regulatory issues.
- The Center for Due Diligence makes its case for helping advisors who want to specialize in winning 401(k) assets.
- The Business & Wealth Management Forum seeks to grab ground as a premier practice management event.
- Schwab IMPACT seeks to build on its reputation for effectively hitting on all of these cylinders – and then some.
So why is the conference business booming at a time when convening digitally is cheaper and easier than ever to do?
"Advisors want to talk to other advisors and people they do business with," says Timothy Welsh, principal of Nexus Strategy LLC of Larkspur, Calif. "That's why virtual trade shows never took off."
He adds that vendors love conferences because it's a great way to efficiently get in front of specialized segments of multitudes of advisors.
"That's why you're starting to see so much fragmentation."
MarketCounsel brings on the big guns
MarketCounsel's Member Summit 2011 – its fourth annual gathering – will feature two custodian leaders: Tom Bradley, president of TD Ameritrade and Mark Tibergien, chief executive of Pershing Advisor Solutions.
Also speaking at the event, held from Oct. 12 to Oct. 14 at Coral Gables, Fla., will be Eric Clarke, president of Orion Advisor Services, LLC Denise Voigt Crawford, former president of NASAA; and Mindy Diamond, president of Diamond Consultants.
The conference has steadily grown from just 35 attendees the first year to about 125 last year. This year there will be about 200 attendees, says attorney Brian Hamburger, founder of Hamburger Law Firm and MarketCounsel. Most of the advisors have about $100 million to $1 billion or more in assets. See: The MarketCounsel Member Summit hums in the Nevada desert.
"There are not many conferences that come from trusted service providers that really try to appeal to a niche audience," Hamburger says. See: Two upcoming elite industry summits promise elbow rubbing and brainstorming par excellence.

Tom Bradley will speak at MarketCounsel's
Member Summit and so will Mark
Tibergien.
The conference will broach some controversial topics during its sessions including the "SRO Showdown." Hamburger expects this will be a hot topic with some in favor of self-regulation and others against it.
Participants can pick and choose sessions, but the conferences does have two unique tracks – a compliance track with sessions about risk verifications as well as technology tips, and the executive track, which focuses on how to recruit top talent and how to apply metrics to grow a business.
Hamburger wants the conference to be intimate enough that advisors will be able to meet with industry leaders, custodians and peers to chat one-on-one about issues.
"Often times, advisors may feel their voices get muffled but when we get them in a room to get their voices heard they feel excited and enthusiastic," Hamburger says. "We so rarely have the ability to have these types of conversations with these kind of people all in one room."
Wild and crazy nights at CFDD
Some of the nation's top retirement advisors will be attending this year's Center for Due Diligence conference Oct. 17 to Oct. 19 in Chicago. It will focus on the growing desire of financial advisors to gather 401(k) assets – a particular area of RIA interest. See: Dimensional Fund Advisors gins up its first conference dedicated to the 401(k) market.
Over 1,000 retirement plan specialists are currently registered, including more than 400 of the industry's most accomplished retirement plan advisors as well as those advisors who are eager to enter the 401(k) arena.
This year's theme, "Participant Advice, Retirement Income & New Growth Strategies," is placing an emphasis on the opportunities for advisors in the non-profit space, says Phil Chiricotti, president of CFDD. See: Advisors: Help protect precious nonprofits by avoiding these four mistakes.
While the sessions during the day are all business, Chiricotti, prides himself in offering a unique conference with lots of entertainment at night which often keeps advisors at the hotel for several hours after the seminars are finished.
In fact, past conferences have featured a Harley-Davidson theme, as well as a country western theme. Last year, an Elvis theme prevailed, with pictures of The King featured all over the exhibit hall. In the past, vendors have offered some flair at their booths as well. For instance, one year a vendor brought in a crocodile for participants to be photographed with. It was a big hit – except for the advertising salesman from a trade publication whose boot was urinated on by the croc.
"I don't know if there will be any wild animals there [this year]," Chiricotti says.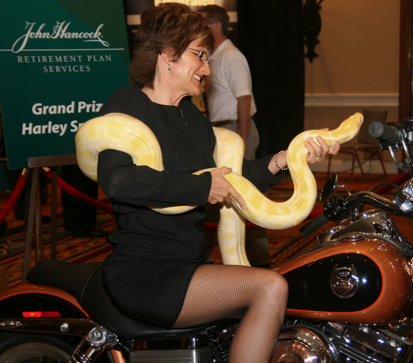 Last year's CFDD event was not
all about 401k's as this shot
with a Georgia school teacher shows.

There will, however, be a disco theme featuring professional dancers, instructors as well as contests and awards. The grand prize is a luxury vacation for two at the Las Vegas Bellagio Hotel.
While the evening events are generally fun-spirited, the events during the day are filled with specific content aimed at advisors who are interested is expanding or entering the retirement arena, Chiricotti says.
Industry 401(k) attorney and expert Marcia Wagner will be speaking. There are dozens of breakout sessions including, "Developing a Retirement Plan Advisory Practice for the New Era," "A model Investment Advisory Agreement for the New Era," "The Secret Sauce: "Using Liquidity and Momentum to Pick Alpha Managers and "Benchmarking and Evaluating Retirement Plan Advisory Fees."
Chiricotti has already begun planning for next year's conference, which he says will have a NASCAR theme.
New conference on practice-management
For the first time, Joel Bruckenstein and David Drucker, publishers of Technology Tools for Today newsletter and co-producers of the popular T3 Technology Conference, are hosting a Business & Wealth Management Forum in partnership with Bob Veres and Jean Sinclair, publishers of Inside Information, a subscription-based newsletter for advisors.. See: Bob Veres' vision: Scalable, multi-partner RIA firms will be profitable and powerful enough to beat the wirehouses.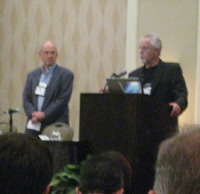 Joel Bruckenstein and David Drucker are
working to replicate their success with
technology in the practice-management realm.
The conference will be held Oct. 13 to Oct. 15 at the Westin O'Hare in Chicago. The number of exhibitors has been limited to 40 but the conference could draw as many as 250 attendees.
The conference is also drawing some heavy-hitting speakers such as Tibergien; Matthew Lynch, CEO for Capital Analysts; Don Phillips, president of fund research at Morningstar; and Stephanie Bogan, president of consulting firm Quantavis Consulting.
There are practice management sessions titled "Planning After the Great Recession" and "Build your Options Knowledge to Help Grow and Differentiate your firm." Some of the technology sessions are focused on best ways to incorporate technology like CRM, iPads and tablets into an advisor's practice.
While the bread and butter of this conference will be its practice-management sessions, Bruckenstein says there will also be some technology sessions similar to those at the popular T3 conference.
"It'll be for sophisticated advisors and younger breakaways," he says. "Our reputation is great for technology and we don't expect this to be any different."
Schwab plans major IMPACT
Next to the FPA conference, Schwab's annual IMPACT conference is one of the industry's largest, and this year is no exception, says Bernie Clark, executive vice president the head of the company's advisory division.
Financial Planning Association held its big conference Sept. 15 to Sept. 17 in San Diego with 2,100 attendees and 146 exhibitors. To some extent, Schwab stole the show there with its big announcement regarding its advertising campaign promoting RIAs. See: Schwab to pump millions of dollars into promoting RIAs as a channel.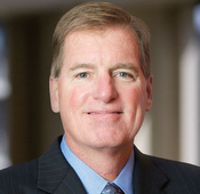 Bernie Clark: We wanted to bring
international flair [to Schwab IMPACT] and
the subjects that Tony Blair will
be speaking about will be quite
interesting to advisors.
Clark expects this year's conference, which will be held in Schwab's hometown of San Francisco from Nov. 1 to Nov. 4, to draw as many as 2,000 advisors with a total of nearly 5,000 attendees, including vendors.
Though the conference does not specialize in specific topics as do many of the emerging events, it more than holds its own in terms of scale and legacy.
"Schwab is a franchise event," Welsh says. "Even though it's general, it's the only Super Bowl of RIAs. The FPA [conference] is split" between brokers and RIAs.
Some key speakers at IMPACT will be bond king Bill Gross, founder, managing director and co-chief investment officer of PIMCO. On the international front, Tony Blair, former prime minister of the United Kingdom, will also be a speaker.
Clark says both of these speakers offer key insights to advisors.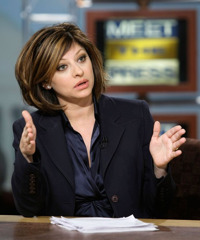 Maria Bartiromo will interview Charles Schwab
at this year's IMPACT.
"Gross is always interesting but it's probably magnified in the last few years given what's happening in the markets," Clark says.
"We also wanted to bring international flair and the subjects that Tony Blair will be speaking about will be quite interesting to advisors."
Maria Bartiromo anchor of CNBC's Closing Bell and managing editor of Wall Street Journal Report will have an in-depth conversation with Charles "Chuck" Schwab about his views on the economy and what investors are thinking. See: 'Chuck' Schwab, Tony Blair to headline IMPACT 2011.
Captain Mark Kelly, an astronaut and shuttle commander and the husband of Congresswoman Gabrielle Giffords, will also be one of the speakers at Schwab. Kelly was an astronaut on four space shuttle missions between 2001 and 2011.
Schwab's conference is the perfect place for advisors to schmooze with colleagues, competitors and industry leaders, but the company also uses it as a prospecting tool, Clark says.
There will be a record-breaking 300 exhibitors and 60 educational sessions. A few of those already announced include: "A Practical Guide to Implementing Alternatives to Your Portfolio," "Today's Wired World; Learning the Power of the Internet to Market Your Firm," and "Best Practices for Staying Compliant in the New Regulatory Environment."
"We use advisors to determine what sessions we should have," Clark says. "We get a great deal in input from advisors about the specific content."
Final Note: One conference unmentioned here is the Tiburon CEO Summit to be held October 12 – 13 at the Ritz Carlton Hotel in San Francisco. It's for executives mostly and Brooke Southall plans to cover it for RIABiz. See: 10 things I learned at yesterday's Tiburon CEO Summit.
---
---
Mentioned in this article:
---
---
---
Blane Warrene
September 26, 2011 — 7:33 PM
We could not agree more on the sentiment of live events versus virtual. We have found that connecting in person remains a powerful way to build relationships. Virtual events, such as webinars, are an excellent additional to the approach of working with peers, customers, partners and prospects – but not a replacement for the face to face meeting.
We are participating in several of the events mentioned – and often it is one of the only opportunities to meet in a targeted way with folks in a particular discipline on a large scale (compliance, practice management, technology). Well worth the investment.
Roxytha SamDim
April 15, 2016 — 11:16 AM
Hey ! I am thankful for the information . Does anyone know if my assistant might locate a fillable a form copy to complete ?
Bill Winterberg
September 26, 2011 — 8:48 PM
RIA conferences are only inconvenient if one attends and gets low returns in terms of new ideas, connections, and business opportunities.
As a speaker for many RIA events, I work hard to embed high value and practical takeaways in each of my presentations. I hope attendees appreciate learning something new about how to apply technology to their businesses and conference organizers benefit from positive feedback and increased attendance at future events because of the quality content provided.