TJ Gilsenan: Consider the entire campaign a real-time experiment in content marketing. I highly encourage Schwab to share this information with advisors.
Brooke's Note: It came out off the blue and it's uncharted territory. The result is that its hard to analyze Schwab's plans to promote RIAs as a channel. But TJ, a former long-time Schwab custody sales executive and currently a social media consultant for RIAs, has taken a good initial crack at it here.
Speaking at the 2011 FPA experience conference in San Diego, Bernie Clark, head of Schwab Advisor Services, announced plans for an advertising campaign designed to support registered investment advisors (RIAs). Schwab is committed to spending millions of dollars in 2011 and 2012 to help provide visibility for and clarity around the RIA industry, according to published sources. See: Schwab to pump millions of dollars into promoting RIAs as a channel.
Why is this big news?
It appears that the majority of the RIA-stands-for-you campaign will take place online. Most of the press coverage of Clark's speech described the campaign as including a logo, a website specific to the campaign, and content that can be used on advisor's website.
Here's what it means to you.
Validation of the online channel as a marketing tool for advisors.
Schwab is no slouch when it comes to marketing. In fact one might argue that it is one of the premier marketers in financial services. So when it makes a choice about how to reach a certain audience, it's worth paying attention.
We all know the endgame of the campaign is more assets for Schwab by way of more assets for advisors. Nothing wrong with that.
But to be successful, Schwab has to reach investors who have the assets and interest level necessary to hire an RIA. By running the campaign online, Schwab is telling us that it believes these prospective clients can best be reached using the web.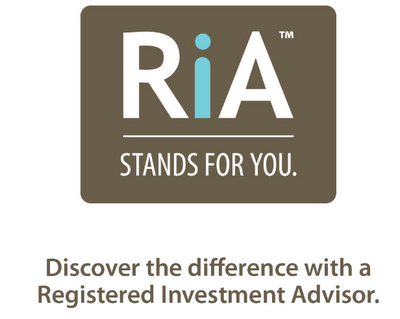 Can this logo be made familiar
to HNW investors?
Content for advisor websites
One of the major challenges of attracting the attention of both website visitors and search engines is fresh content. It looks as if Schwab will be providing ready-made website content that advisors can use on their own sites. This is a great opportunity to put the marketing muscle of Schwab to work for you.
The online content that comes with this campaign is your chance to give your website visitors something new. I'd pay particular attention to the availability of videos. They make for highly engaging content. For more on that check out "What can Video do for a Financial Advisor,"
Opportunities in social media
Many of the same challenges that apply to advisor websites apply to advisor social-media profiles – particularly the one about finding new content. If you're active in social media, consider using the web-ready content that Schwab provides on your social-media profiles.
Also, because this is primarily an online campaign, I suspect Schwab will leverage social media to help create visibility. Chances are it'll have a Facebook business page, a Twitter account, and maybe even a YouTube channel. This gives you a number of opportunities.
You could consider adding your voice to the discussion by posting a comment to the campaign's Facebook page. Or you could take advantage of Schwab's message by re-tweeting it to your Twitter followers. If you're not in position to post video on your own website, you could direct visitors to the campaign's YouTube channel.
Opportunity to improve advisors' use and understanding of online marketing
This is a big one. Everything that is done online is measurable. Schwab will know how many people visited the campaign's website, where they came from, and what they did while they were there. It will know which articles were read the most and which videos were viewed the most. Consider the entire campaign a real-time experiment in content marketing. I highly encourage Schwab to share this information with advisors.
Imagine how helpful it would be in know that three times as many people viewed a video about retirement income planning than one about college funding. (I know which video I'd want on my website,) Or what keywords people entered into the Google search that brought them to the website. Or how many people found the site through social media. Advisors can use such data to improve their own online marketing results.
It looks like another month or so before the campaign kicks off. Consider using the time to figure out the best way for your firm to benefit from Schwab's campaign.
TJ Gilsenan is the president of The Interactive Advisor, a firm specializing in social-media marketing, website design, and search engine optimization for financial advisors. He is a former financial advisor who spent 17 years working in the RIA custody business including Schwab Advisor services 1992 – 2005 and Pershing Advisor Solutions 2005- 2009.
---
---
Jeff Spears
September 22, 2011 — 1:55 AM
Rolling out this program online using social media will emphasize that independent advisors have a strategic advantage over Wall Street when it comes to social media. Looks like Schwab wants to help us leverage this advantage.
http://www.foroestudiante.com/member.php?action=pr
And as though the iPad functions outlined higher than were not enough, the Apple iPad could also be made use of being an iBook reader. Decide on from the wide assortment of various titles and categories the iBookstore has in store for you and start looking at a publication right now. Many thanks for looking through this Apple iPad 2 Overview!Apple iPad 32 GB Welcome the Charismatic Innovation
http://thescripter.com/_search.htm
They are merely several concepts of steps to generate by yourself turn out to be taller. Abide by these routines and posture suggestions and also you ought to contain the capacity to look at a height improve with time. Jointly with the exercises, an feeding on strategy whole of protein and calcium may also support you turn into taller.