Marie Swift led a roundtable discussion that yielded some novel thoughts
Brooke's Note: It's never the obvious things that make a conference useful. It's that unexpected contact made at lunch or that tidbit mentioned that came to you on the flight home. With that thinking in mind, here are some attendee contributions that passed the tidbit test and should prove interesting for people who did and did not attend the FPA Experience event that ran last week (Sept. 15-Sept. 17) in San Diego.
Future of the Financial Planning Profession
by Marie Swift
One of the most interesting small group conversations I had while at FPA Experience 2011 in San Diego occurred on Saturday afternoon in one of the Community Building rooms. FPA allows attendees to reserve a room and declare a particular topic of conversation.
I booked a room to discuss The Future of Financial Planning, a never-ending topic of interest to me (and, I assume, to you too). I was delighted when the following participants showed up:
John Duckworth, CFP, a wealth management advisor at Trust Company of Illinois (John is a NextGen planner) — TrustCoIl.com
Ash Murphy, Paraplanner and IT Associate with David White & Associates, a wealth creation and preservation firm (Ash is a NextGen planner) — DWAssociates.com
Gabe Mays, CFP, a financial planning student in his 30's who just completed his masters in financial services and is in the process of obtaining a PhD (Gabe is a NextGen planner)
Lou Stanasolovich, CFP, CEO and President Legend Financial Advisors (one of the most respected RIAs in the nation with over 40 employees, many of them college interns or NextGen planners), and publisher of Risk-Controlled Investing newsletter — Legend-Financial.com
Randy Gardner, JD, LLM, CPA, attorney at law (author with Julie Welch of 101 Tax Saving Ideas) and professor of tax and financial planning at University of Missouri Kansas City — EstatePlanInc.com
Andy Millard, CFP, founder of fee-only Millard & Company (and one of the first advisors to participate in the Web 2.0 and Social Media Boot Camp led by me and sponsored by FPA in March 2009) — Low-Stress-Investing.com
Kevin Condon, PhD, CFP, EVP Advisor Services with myFinancialAdvice.com, a cloud-based client/advisor matchmaking service and fee-only advice delivery platform (and a long-time CFP practitioner) — MyFinancialAdvice.com
While these cool people could have been visiting with peers and gathering insights in the exhibit hall, they chose to hoof it on up to the north forty, "over the river and through the woods" so to speak, and spend forty-five minutes with me sharing their thoughts.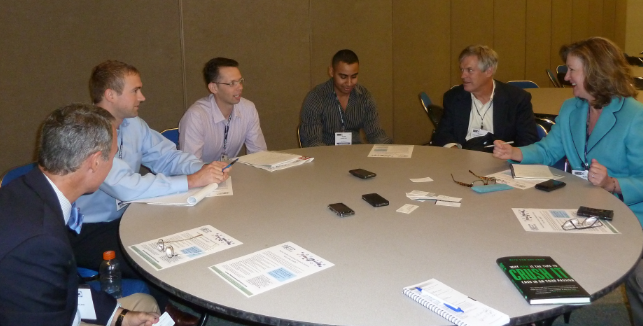 The room was dim but the
thoughts were bright. Seated left to
right: Andy Millard, John Duckworth, Ash
Murphy, Gabe Mays, Randy Gardner, Marie
Swift.
Kevin Condon, a tenured member of the financial planning community, started off the conversation by sharing how he has seen the use of online tools grow over the years. He and Ron Peremel started MyFinancialAdvice.com 7-8 years ago — "back when the web was immature" — as a way to bring planners and the general public together for modular, commission-free advice using an online dashboard to facilitate real-time interaction. That business has grown as more and more consumers have embraced the World Wide Web and are more comfortable with a virtual relationship.
Furious conversations
Today Condon says the web has matured. There are millions of "furious conversations" going on via social media outlets such as Twitter, Facebook, LinkedIn and YouTube. That's one of the reasons his firm has established a new service, Online Advisor Central, to provide practical training, management and monetization tools for social advisors. They are having a free introductory webinar on October 12, 2011 at 3:00 pm ET. Just go to OnlineAdvisorCentral.com to register.
The group agreed that social media is creating a "front porch" experience for people. "It's nice to have a place to talk about going through the door before actually going through the door," said one of the NextGen planners.
Andy Millard, a former teacher and high school principal, has been creating video communications for his clients using a small Kodak digital camera or his laptop to record short, timely messages that he sends out an email service such as MailChimp or Constant Contact. He also posts the videos on his blog — AndyMillard.Blogspot.com.
Clients love the personal connection the videos create. "I use cue cards and a script now," Millard says. "I used to just turn on the camera and wing it but I found I rambled on and the videos turned out to be too long." Millard realized that people's attention spans are short, so he tries to keep his videos to 2-3 minutes tops. He also has a private You Tube channel just for clients where he posts video clips telling clients why they need to sign a new client agreement, how to fill out an account form, etc.
Clients email back
During a particularly volatile day in the markets, he quickly crafted a script, recorded a video, sent it via MailChimp to his clients and posted it on his blog. "People e-mailed back to say how much they appreciated that I was on the job, paying attention," said Millard. "It curbed the phone calls I would have normally received."
When Millard had a "portfolio update event" in his company's conference room, he offered three times during the day for clients to drop by. About 60 clients floated in over the course of the day. He paid a local videographer to capture the content. The edited clip was 48 minutes long — too big to load to YouTube or his blog. So he created labels and asked the video tech to burn DVDs, which Millard had his staff mail to clients (including those who couldn't come in person), along with a cover letter. The cost was surprisingly low — just under $200 all in.
Little old lady with no email?
This brought up the question: What do you do if some of your clients don't use e-mail or the Internet. Don't all the social media gurus spout statistics saying that every little old lady is now on Facebook just to see photos of her grandkids? The table laughed. While some of the round table participants said "forget about them, they'll just have to do without — its just too inefficient to create a multiple ways to communicate en mass to clients", a couple of the participants said that they weren't comfortable with leaving them out of the equation; nor did they want to create special exceptions to the norm.
Lou Stanasolovich, a tenured planner who has a good number of older that are not online, said they use a robo-calling service such as VoiceShot or Call-em-All to mass communicate with clients. Lou will craft and read a message using a telephone line, save it and the systems sends it out to everyone all at once. Oh, that sound perfect, we all agreed.
But, Lou added, after a while "we learned to program the robo-calls so they went out after hours. If our clients saw on their caller ID that we'd called them and it was within standard business hours, they'd just call us back and say 'I see you called … what's up?' This caused quite a bottleneck of inbound and outbound phone calls. If we set the service to call in the evening, they were more likely to pick up and listen."
"It would be a good idea to post that audio on your website, too," someone said.
We talked about the trend to outsource so that planners could focus on their core competencies. "It's gotten to the point where you almost need a director of outsourced services to manage all the third-party resources," said Ash.
Everyone agreed that finding ways to keep the personal touch — the intimacy — was important. In a world where everything could become digital, people still enjoy the tangible: a good meal, a movie night out, a handshake and a smile. Going back to the "what do you do with clients who don't use e-mail?" question and tying into the "humans like the tangible, too" I told the group about AmazingMail, an automated, cloud-based service that allows you to create great-looking, low-cost postcards — that's another great way to create a touch to supplement virtual communications or steer people online.
Ash Murphy said they have found new ways to free up time shifting some of the workload onto the client. They use cloud-based systems such as PreciseFP (a dynamic fact-finding system where clients fill out their own forms) and MoneyGuidePro.
1-900 calls for mass affluent
Stanasolovich suggested that planners could set up a 900 number and charge something like 5 cents a minute for telephone advice if they wanted to serve the middle market and offer a "telephone only service." If you coupled that with some of the other ideas offered by the round table participants, you might create enough capacity to add new clients without adding more staff.
Stanasolovich, for instance, is rolling out a stripped down version of his wealth management firm's portfolio management service. "It will all be online reporting and e-communication. We won't meet in person. We won't do financial planning. We won't consult on held-away assets such as 529 plans and 401(k)s," he said.
Condon and Gardner said they are seeing a shift toward "real time planning" where the advisor does as much work as they can, providing the client with insights and advice right there and then. "This cuts out steps for the advisor and provides immediate value for the client," Gardner says. "There's a lot of good that can be done in just an hour's time consulting — whether that's done on the phone or in real time using a live video chat service such as Skype or a real-time collaboration interface such as GoToMeeting."
Bob Dylan may have said it best: The times, they are a-changin'!
Marie Swift is a nationally recognized consultant who has for over twenty years worked exclusively with some of the industry's top financial institutions, training organizations, investment advisory and financial planning firms. A top rated speaker at dozens of industry events including FPA, NAPFA, TD Ameritrade Institutional, Securities America, Schwab Institutional, NFL Players Association, Financial Network, Pershing and Lockwood conferences, Marie is dedicated to elevating the conversation in the industry.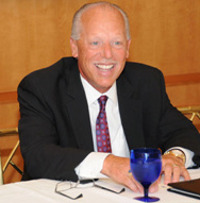 John Brackett: Issuing a 1099 to
the employee for theft is not
only a marvelous idea but also
a legal remedy for these heinous
crimes.
Tax me if you can
by John Brackett
The most enjoyable and poignant session for me was the keynote speech by Frank W. Abagnale who, today, is one of the world's most respected authorities on the subjects of forgery, embezzlement and secure documents. For over thirty years he has lectured to and consulted with hundreds of financial institutions, corporations and government agencies around the world.
But it wasn't always that way. At one time, when he was fairly young, Abagnale committed some very serious crimes. Forty years ago, he was known as one of the world's most famous "confidence men." This was depicted most graphically in his best-selling book, Catch Me If You Can, a film of which was also made, directed by Steven Spielberg with Leonardo DiCaprio and Tom Hanks.
Between the ages of 16 and 21, he successfully posed as an airline pilot, an attorney, a college professor and a pediatrician, in addition to cashing $2.5 million in fraudulent checks in every state and 26 foreign countries. Apprehended by the French police when he was 21 years old, he served time in the French, Swedish and U. S. prison systems. After five years he was released on the condition that he would help the federal government, without remuneration, by teaching and assisting federal law enforcement agencies.
It was reassuring to hear someone actually take responsibility for committing a crime and be willing to accept the punishment from three different countries.
Because punishment for fraud and recovery of stolen funds are so rare, Abagnale believes that prevention is the only viable course of action. His discussion on protecting our clients from identity theft is something we should all take seriously.
Frank's comments regarding protecting ourselves from theft by employees was alarming to me. The FBI has stated that it is not the new employee, but the most highly regarded employee that steals from an employer.
His disclosure of the most useful tool that we have to correct this crime was amazing: Issuing a 1099 to the employee for theft is not only a marvelous idea but also a legal remedy for these heinous crimes. I, for one, will be passing this suggestion on to all of our advisors (I mentor, train and supervise hundreds of advisors under the BAR Financial Network banner) to share with their clients.
Overall, the FPA Conference provides a forum for independent, fee-based advisors to share ideas and client scenarios with others. Advisors left the meeting with the mantra "client first" on the tip of their tongue. I have long used — and will continue to use — the mantra "do the right thing" in my business dealings and have encouraged the registered representatives in my region to embrace that mantra, too. If everyone would only "do the right thing," we'd be able to avoid heinous crimes such as the ones perpetrated by Bernie Madoff and Allen Stanford.
Following his honorable discharge in 1975 from active military duty with the United States Air Force Intelligence Division, John Brackett entered the securities business as a registered representative for a large broker/dealer in Southern California. In 1989, John became a Regional Director of one of the founding regions of Financial Network. Ever since, he has been helping financial institutions and registered representatives grow their business. In 1998, John merged with the group that would become BAR Financial, LLC. Today, with an office in Pleasant Hill, California, Brackett is responsible for managing the firm's independent representative channel, recruiting and mergers and acquisitions.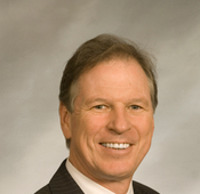 David Hubbard: I did not feel
any push in regard to investment
products nor any push in regard
to investment sales.
Returning to FPA Experience after several years of absence
by David Hubbard
As I had not attended an FPA conference in a number of years, I was quite pleased to see that the vast majority of exhibitors, speakers and workshops were focused on giving financial advisors ideas, tools and resources that help to improve their practices and give best advice to their clients. I did not feel any push in regard to investment products nor any push in regard to investment sales. Rather, the focus was on the financial advisor and assisting the financial advisor to provide good advice.
Seeing as how there is a huge debate in the industry regarding fiduciary duty, it was nice to see the FPA trying to get above this argument. While I did hear various opinions on the subject at the conference, most people were in agreement that financial advisors should work to do the right thing for their clients regardless of how they are paid. The FPA even put blue sports wristbands in the tote bags that said "Clients First."
It was also good to see a host of young professionals in attendance at the conference. The conference organizers had divided up the various sessions into eight "communities of interest" that included a special track just for young professionals.
Lastly, it was nice to know that the media, both the ones that cover our industry as well as those focused on consumers, all felt the conference was worthy of their attendance. It is good that they sent their top executives in addition to staff reporters. This is huge evidence that our industry and the Financial Planning Association is deemed to be important to the country.
San Diego was a warm and wonderful setting for the conference, making it easy to walk back and forth from the convention center to my hotel. Many of us enjoyed private dinner parties and hospitality suites after hours. This additional social interaction is an important part of any conference. The sidebar and hallway conversations I had were especially good.
Editor's Note: See: Advisor spotlight: A Chicagoland RIA shows how to weave a business out of revenue-sharing deals for more on David Hubbard.
David J. Hubbard is President of Exemplar Financial Network and a Registered Principal and Regional Director for Financial Network Investment Corporation, an independent broker dealer. As one of the largest Regions within the Financial Network system, Exemplar functions almost like a mini-broker/dealer within a big broker/dealer. As Regional Director, Dave has assisted hundreds of financial advisors to help establish and grow their practices.
---
Related Moves
August 2, 2019 – 12:48 AM
---
---
Mentioned in this article:
---
---
---
Loic Jeanjean
September 21, 2011 — 10:32 PM
Glad to see that 2 firms mentioned in your article are using AdvisorWebsites.com to host their website and/or blog!